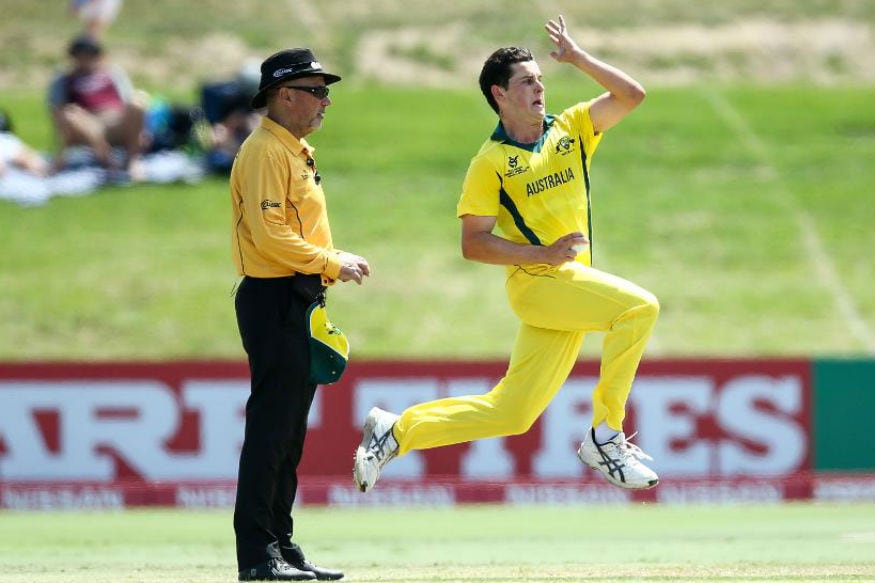 A brutal 156 from Nathan McSweeney drove Australia to 370, before the best-ever U19 CWC figures from Jason Ralston dismissed Papua New Guinea for 59, although late rallies from Papua New Guinea restricted a total which looked set to finish well in excess of 400 at one stage and helped them avoid their lowest-ever U19 CWC total.
It was McSweeney's first innings at this tournament, but there was no rustiness as he set about making up for lost time. The opener was particularly savage through and over the leg side, targeting the short boundary and striking into the trees time and again. Jakob Bhula's two-day-old U19 record score of 180 looked in grave danger, as indeed did 200, but shortly after reaching his 150 with another towering six McSweeney was caught close to the wicket attempting another big shot.
Aside from that innings however, PNG can be pleased with how they limited Australia. An early wicket, remarkably their first in the 2018 ICC Under 19 Cricket World Cup, sparked jubilant celebrations, and though a 250-run partnership followed, PNG at least managed to restrict the scoring of Australia's captain Jason Sangha, who faced just nine fewer balls than McSweeney but scored 68 fewer runs.
Both men fell within the space of two balls to James Tau, and though there was no hat-trick, the bowling side managed to drag the run rate back somewhat. Austin Waugh especially struggled to score fluently, striking at less than 100 before being caught on the boundary, and while Param Uppal's brisk knock included perhaps the biggest hit of the day, a huge six which cleared the straight boundary, PNG did not wilt, and managed to claim his and three other Australian wickets. The collapse of sorts read 5/35, though Australia still made 370.
With the bat Papua New Guinea again struggled early on, slipping to 26/7 within nine overs. The records for the shortest-ever U19 CWC innings (70 balls) and their lowest-ever total (53) looked in danger, but they managed to surpass both thanks to a gutsy knock of 20 from 42 balls by Leke Morea. He dragged PNG to 57/8, and when he fell, defeat soon followed.
Australia will be delighted by how Jason Ralston bowled in particular; with searing pace and accuracy he lopped off the the top, taking four of the first seven wickets to fall, before returning to claim the final three, finishing with figures of 7/15, the best-ever analysis in the U19 CWC. The final margin of 311 runs was the second-largest in a U19 CWC game.
In the grand scheme it might matter little, but the heart showed by PNG, after a chastening tournament and starts to their day in both disciplines deserves great credit.