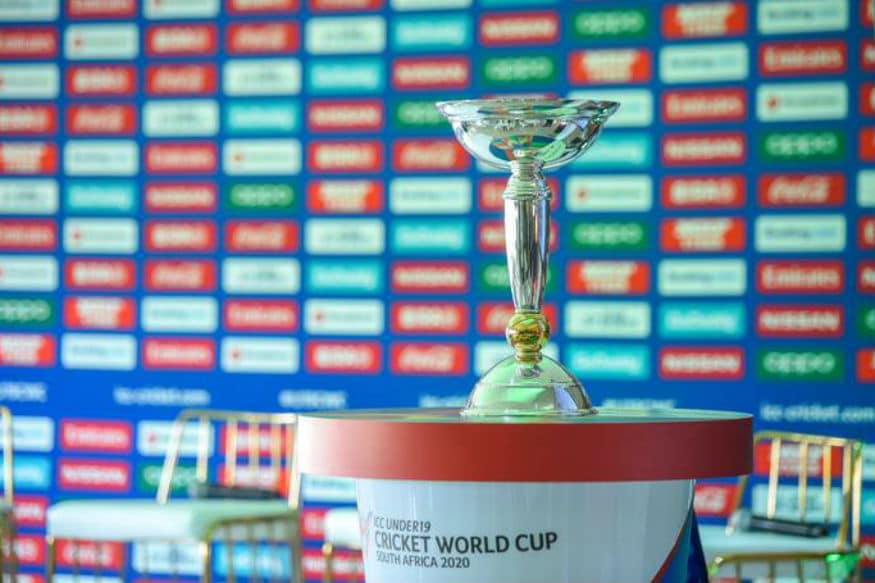 The ICC Under 19 Cricket World Cup is set to begin from January 17 in South Africa, and India will enter the tournament as one of the favourites, looking to defend their title. They will be hoping to win the tournament for the fifth time, and certainly have the squad to do so.
Here are what the Groups for the tournament look like:
Group A: India, Japan, New Zealand, Sri Lanka
Group B: Australia, England, Nigeria, West Indies
Group C: Bangladesh, Pakistan, Scotland, Zimbabwe
Group D: Afghanistan, Canada, South Africa, United Arab Emirates
The top two teams from each group will qualify for the next round, while the bottom two sides will qualify for the Plate Round.
Schedule of Matches:
Jan 17, Fri
South Africa U19 vs Afghanistan U19, 1st Match, Group D, Diamond Oval, Kimberley
Jan 18, Sat
Bangladesh U19 vs Zimbabwe U19, 2nd Match, Group C, Senwes Park, Potchefstroom
New Zealand U19 vs Japan U19, 3rd Match, Group A, North-West University No1 Ground, Potchefstroom
United Arab Emirates U19 vs Canada U19, 4th Match, Group D, Mangaung Oval, Bloemfontein
Australia U19 vs West Indies U19, 5th Match, Group B, Diamond Oval, Kimberley
Jan 19, Sun
India U19 vs Sri Lanka U19, 7th Match, Group A
Mangaung Oval, Bloemfontein
Pakistan U19 vs Scotland U19, 6th Match, Group C
North-West University No1 Ground, Potchefstroom
Jan 20, Mon
England U19 vs West Indies U19, 8th Match, Group B
Diamond Oval, Kimberley
Australia U19 vs Nigeria U19, 9th Match, Group B
Country Club B Field, Kimberley
Jan 21, Tue
Bangladesh U19 vs Scotland U19, 10th Match, Group C
Witrand Cricket Field, Potchefstroom
India U19 vs Japan U19, 11th Match, Group A
Mangaung Oval, Bloemfontein
Jan 22, Wed
South Africa U19 vs Canada U19, 12th Match, Group D
Senwes Park, Potchefstroom
Afghanistan U19 vs United Arab Emirates U19, 13th Match, Group D
North-West University No1 Ground, Potchefstroom
Pakistan U19 vs Zimbabwe U19, 14th Match, Group C
Witrand Cricket Field, Potchefstroom
New Zealand U19 vs Sri Lanka U19, 15th Match, Group A
Mangaung Oval, Bloemfontein
Jan 23, Thu
Australia U19 vs England U19, 16th Match, Group B
Diamond Oval, Kimberley
West Indies U19 vs Nigeria U19, 17th Match, Group B
Country Club B Field, Kimberley
Jan 24, Fri
India U19 vs New Zealand U19, 20th Match, Group A
Mangaung Oval, Bloemfontein
Afghanistan U19 vs Canada U19, 19th Match, Group D
North-West University No2 Ground, Potchefstroom
Pakistan U19 vs Bangladesh U19, 18th Match, Group C
Senwes Park, Potchefstroom
Jan 25, Sat
Sri Lanka U19 vs Japan U19, 21st Match, Group A
North-West University No1 Ground, Potchefstroom
Zimbabwe U19 vs Scotland U19, 22nd Match, Group C
Witrand Cricket Field, Potchefstroom
South Africa U19 vs United Arab Emirates U19, 23rd Match, Group D
Mangaung Oval, Bloemfontein
England U19 vs Nigeria U19, 24th Match, Group B
Diamond Oval, Kimberley
Jan 27, Mon
TBC vs TBC, Plate Quarter-Final 2
Witrand Cricket Field, Potchefstroom
TBC vs TBC, Plate Quarter-Final 1
North-West University No2 Ground, Potchefstroom
Jan 28, Tue
TBC vs TBC, Super League Quarter-Final 1
Senwes Park, Potchefstroom
TBC vs TBC, Plate Quarter-Final 3
North-West University No2 Ground, Potchefstroom
TBC vs TBC, Plate Quarter-Final 4
Witrand Cricket Field, Potchefstroom
Jan 29, Wed
TBC vs TBC, Super League Quarter-Final 2
Willowmoore Park, Benoni
Jan 30, Thu
TBC vs TBC, Plate Playoff Semi-Final 2
North-West University No2 Ground, Potchefstroom
TBC vs TBC, Plate Playoff Semi-Final 1
Witrand Cricket Field, Potchefstroom
TBC vs TBC, Plate Semi-Final 1
North-West University No1 Ground, Potchefstroom
TBC vs TBC, Super League Quarter-Final 3
Senwes Park, Potchefstroom
Jan 31, Fri
TBC vs TBC, Super League Quarter-Final 4
Willowmoore Park, Benoni
TBC vs TBC, Plate Semi-Final 2
Diamond Oval, Kimberley
Feb 01, Sat
TBC vs TBC, 13th Place Playoff
Witrand Cricket Field, Potchefstroom
TBC vs TBC, 15th Place Playoff
North-West University No2 Ground, Potchefstroom
TBC vs TBC, 5th Place Playoff Semi-Final 1
Senwes Park, Potchefstroom
Feb 02, Sun
TBC vs TBC, 5th Place Playoff Semi-Final 2
North-West University No1 Ground, Potchefstroom
TBC vs TBC, 11th Place Playoff
Diamond Oval, Kimberley
Feb 03, Mon
TBC vs TBC, Plate Final
Willowmoore Park, Benoni
Feb 04, Tue
TBC vs TBC, Super League Semi-Final 1
Senwes Park, Potchefstroom
Feb 05, Wed
TBC vs TBC, 7th Place Playoff
Willowmoore Park, Benoni
Feb 06, Thu
TBC vs TBC, Super League Semi-Final 2
Senwes Park, Potchefstroom
Feb 07, Fri
TBC vs TBC, 5th Place Playoff
Willowmoore Park, Benoni
Feb 08, Sat
TBC vs TBC, 3rd Place Playoff
Willowmoore Park, Benoni
Feb 09, Sun
TBC vs TBC, Final
Senwes Park, Potchefstroom
(All games start at 10:00 AM Local time (08:00 AM UTC) (01:30 PM IST)