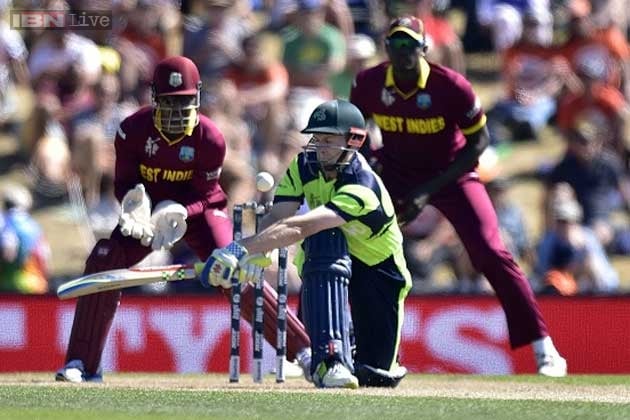 While many would sit back and wait for the knock-out stages to kick off, Ireland have certainly given the apex body more than something to think about. A lot of us sitting in our drawing rooms might have thought it would be a cake walk for the top Test nations to the quarter-finals but Ireland are up to something else.
The victory against England in the 2011 World Cup wasn't a fluke and they have gone a step further this time by taming West Indies first and then pulling off a stunner against UAE to set the cat among the pigeons in Pool B which also consists of defending champions India, along with their arch-rivals Pakistan, other than the UAE, Zimbabwe and South Africa.
Many would now call it the 'Group of Death' and those in the Caribbean islands and on the streets of Karachi will scratch their head and bite their tongue at the thought of a first-round exit.
India are the table-toppers at the moment by winning both their matches and have already put one foot in the quarter-finals door but the rest of the three places are up for grabs with Ireland having every chance of making it by the skin of their teeth.
West Indies
West Indies got off to the worst possible start by losing against Ireland but came back strongly against Zimbabwe to win with a big margin, but they have already played half of their matches, which leaves them with two very tough games, one against India and the other against South Africa. Losing both would mean that the West Indians will have to get the better of UAE and then wait for the rest to fall in place for them in Pool B.
Pakistan
Pakistan are staring down the barrel at the moment with two heavy defeats and are currently right at the bottom of the table, even below UAE on the basis of net run-rate (NRR). While we can be more than hopeful that they will be able to trounce both UAE and Zimbabwe in the next two matches, it will leave them with South Africa and Ireland to deal with. The match against South Africa would be tough, given their form. In a scenario where they lose against the Proteas, the match between Pakistan and Ireland will be a do-or-die encounter for both sides.
Ireland
Ireland on the other hand will do their chances no harm if they carry on the winning momentum against Zimbabwe when both sides lock horns against each other on March 7. The match against India or South Africa for the Irish will be more crucial as one good day against any of these sides will essentially mean that either Pakistan or West Indies are in for a long holiday.
Net Run Rate
A defeat against Pakistan for Ireland, which, as mentioned above, might turn into a do-or-die encounter, may not hurt Ireland as much as it would Pakistan. This is because despite a defeat in that game, Ireland may still be alive in the tournament on the basis of their net run-rate.
To make things even more interesting, Pakistan also might also finish among top four in Pool B if they pull up their socks and do something to improve their NRR. That will leave West Indies with a bitter pill to swallow even if all the three teams end up with six or more points. And to set wheels in motion, the Pakistan-Ireland match is scheduled to be played a couple of hours before the West Indies take on UAE.
South Africa
Having spoken about Pakistan, West Indies and Ireland, it will be stupid to ignore South Africa after a heavy loss against India. The West Indies and Pakistan are two unpredictable sides and if both teams get their act together against SA, the African dream of a World Cup may once again have to live with the 'chokers tag', which a generation of cricketers from that soil will take to their coffin having retired from the game.