The bat drop, the helmet lift, the chest pump, the badge grab, the arms aloft, the roar. That's what a final bow looks like.
Though Faf du Plessis has not officially confirmed he is saying goodbye to anything other than this World Cup, his celebration suggested otherwise. Something ended here at Old Trafford and it feels like its much more than South Africa's campaign, even though we knew that would be the case even before today began.
JP Duminy's fifteen-year, 199-match ODI career ended with a limp 14 runs, Imran Tahir signed off after eight years and 108 matches with another passionate performance, the highlight of which was a celebratory run almost straight into the sunset, and a South African side who checked out of this World Cup two weeks ago are finally leaving, having issued as strong a parting shot as any by beating the the team at the top of the table and spoiling their semi-final plans.
But the victory was bittersweet because it will only set in motion a series of questions about why they only manage to play properly when the pressure is off. Whoever has the answer to that has 15 months to tell Cricket South Africa (CSA) before the T20 World Cup in Australia, when South Africa will try again. Du Plessis has indicated he will be there for that, but watching him today, and knowing that CSA works in mysterious ways, all bets should be off.
The South African captain was unusually emotional through the singing of the national anthem and even more unusually theatrical in his celebration. Even for someone who loves playing against Australia and thrives on getting under their skin, du Plessis' animation appeared a little over the top, given the (lack of) occasion. This was not a must-win match; in fact, it was a match that didn't matter, except that some things seemed to matter a great deal.
Putting on a decent score, for a start, was a priority given South Africa's poor performances earlier in the tournament. Putting on a decent score in the absence of Hashim Amla, who finished as he started - with an injury - was an even bigger priority as it gave South Africa the opportunity to trial the top two that will take them forward.
Quinton de Kock and Aiden Markram put on 79 runs in 11.3 overs and the stamp of approval from Graeme Smith, who tweeted that they should have been South Africa's opening pair "from the start". In saying that, Smith made it clear he thinks Amla's ODI career is over and it's difficult to argue otherwise.
Apart from age and form, purpose also needs to be considered when the question of Amla's future comes up. Amla is 36, had to fight for his spot in this squad and is unlikely to play in another World Cup. South Africa do not play an ODI for another seven months, with their next fixtures scheduled for February next year. By then, they would have completed a Test tour of India and a four-match series at home against England.
If Amla is going to continue to play, it's likely he will concentrate on trying to ensure the back-to-back Test series are not a repeat of what happened four years ago when, on the same schedule, South Africa lost both rubbers. The red-ball team needs Amla's experience and the white-ball outfits need to move on.
Though Markram has hardly set the world alight, he has the potential to develop into something special and South Africa needs to invest in him before a county does. Markram's agent is the same man who oversaw Kolpak deals for Kyle Abbott, Rilee Rossouw and Duanne Olivier so the suspicion that he may be shopping around for Markram is well-founded.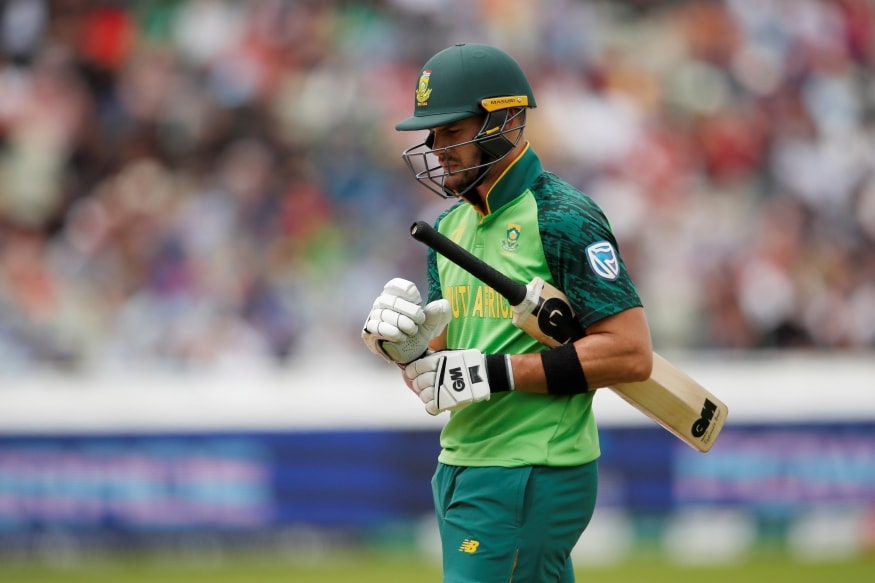 Even if Markram isn't looking, the threat of the talent drain looms so large and South Africa need to hold on to everyone they can, especially those most in danger of leaving, those who could feel disenfranchised by the necessary transformation agenda and equally enchanted by the idea of life in England, with a bank balance in pounds, electricity that stays on and streets that can safely be roamed at night, alone. Glance at the squad and a name like Chris Morris crops up as a Kolpak candidate, despite several reassurances that is not the route he will take.
After this World Cup, so does Rassie van der Dussen, who finished as South Africa's second-highest run-scorer and their find of the tournament. Van der Dussen batted with composure from the first match and notched up three half-centuries in the campaign. His last at Old Trafford should have been converted but perhaps it was just as well it wasn't.
It may have been too poetically correct for the man touted as the future captain to have stolen some of the limelight from the (soon-to-be-former?) current captain. Van der Dussen will have many more opportunities, and if he takes them, he may even get the opportunity to lead a young team.
Though South Africa still need to put the pieces together, their attack showed signs of recovery in their final outing. Kagiso Rabada had his best return of the tournament, Dwaine Pretorius' consistency was on display again and Andile Phehlukwayo, after a poor first over, conceded only five runs off his second and defended 18 runs off the final over.
Lungi Ngidi needs to work on his conditioning but if he can stay fit, South Africa has the making of a pace battery who can compete with the likes of Australia's, India's and New Zealand's.
Finding a spinner, much less a spinner like Imran Tahir, will be the challenge especially as Tabraiz Shamsi looks far off the mark. But South Africa have the ingredients. They have a few years to start mixing and then to consider how to bake the cake ahead of 2023.
The head chef understands that a succession plan needs to be put in place, but in the immediate aftermath of the World Cup does not know when that might start. Even in saying goodbye here, du Plessis pleaded for both himself and Ottis Gibson to continue until T20 World Cup, leaving enough time for a new regime to take over before the next ODI tournament.
Whether his bosses agree with that will be known in a few weeks' time. They may have decided that this era ends here at that du Plessis has taken his final bow. If that's the case, at least he made it a good one.