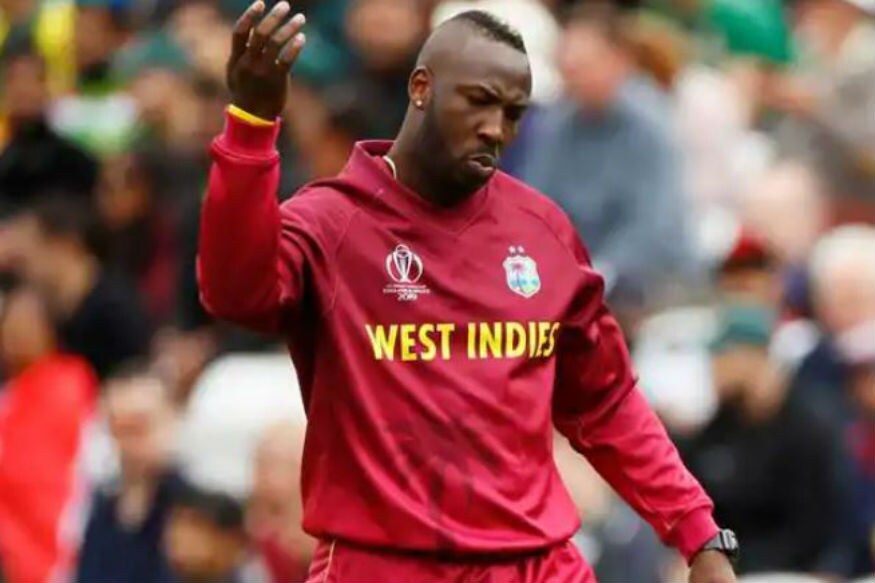 510 runs in 13 innings at an average of 56.66 and strike rate of 204.81. Andre Russell had the world at his feet in IPL 2019. He was destructive, he was incredible, he was sensational, he was unstoppable.
He was the leading run-getter and the leading wicket-taker for his franchise, Kolkata Knight Riders (KKR) in the tournament.
But a month and a half later it all seems to have changed.
Russell is out of the World Cup with a persistent knee problem and West Indies stand on the verge of elimination. The all-rounder could only muster 36 runs in three innings with a highest score of 21.
Barring his spell (2 for 4) against Pakistan, he hasn't made much impact with the ball too picking three more wickets in as many matches.
From Russell – the most dangerous batsman and a potent wicket-taker in domestic T20 cricket to Russell – a rather ordinary all-rounder in ODI cricket – there is a big contrast in these two avatars for the West Indian.
RUSSELL – THE T20 GIANT
Andre Russell has a stupendous T20 domestic record. In 213 T20 innings, he has hammered 4501 runs at an average of 27.44 (excellent for a lower-order batsman) and a brilliant strike rate of 173.45. His exploits include two hundreds and 17 fifties.
He has also picked 245 wickets in 239 T20 innings at an average of 24.71 and strike rate of 18.29.
Russell has had two great seasons for KKR in the IPL. He has scored 826 runs in 27 innings at an average of 41.3 and a mind-boggling strike rate of 196.67! He also picked a total of 24 wickets combined in 2018 and 2019.
Russell has played for several T20 leagues around the world and made a big impact.
He finished as the highest wicket-taker in the Pakistan Super League in 2016 and has the record for the fastest hundred (in 40 deliveries) in the Caribbean Premier League.
He has been prolific with the ball for Sydney Thunder in the Big Bash League with 19 wickets in 15 matches at 23.36 apiece at a strike rate of 17.5.
Russell was the Player of the Tournament in the 2015 IPL, won the CPL in 2013, the IPL in 2014 and the BPL, BBL and PSL all in 2016.
Russell has also been part of a two-time World T20 winning West Indian team – in 2012 and 2016. He has decent returns with the ball from the three World T20 tournaments he has participated in - 15 wickets in 14 innings. But apart from his unbeaten 43 off 20 balls in the semi-final against India in Mumbai in 2016, he has failed to really impress with the bat.
The all-rounder also hasn't been able to replicate his T20 franchise cricket success for the West Indies in ODIs.
AN AVERAGE RECORD IN ODI CRICKET
Russell has aggregated just 1034 runs in 47 innings for the West Indies in ODI cricket. His returns with the ball have been marginally better though – 70 wickets at 31.84 apiece at an economy of 5.84 with five four-wicket hauls.
He made his debut in the 2011 World Cup but with the exception of his first two years (2011 and 2012) and then 2015, he hasn't played more than 4 matches in any calendar year in the format for the West Indies. Injuries, controversies and disciplinary issues have meant that Russell has been more out than in the West Indian ODI team.
Russell had a good debut year in 2011 where he scored 336 runs in 13 innings at an average of 33.6 and also took 21 wickets at 28.71 apiece. Three of his five highest scores came in 2011 including an unbeaten 92 not out off just 64 deliveries against India at North Sound – the highest score by a number 9 in ODI history.
He had good returns in 2012 as well and aggregated 595 runs in 30 innings at 31.31 also picking 39 wickets at 29.94 apiece in his first two years in ODI cricket.
He played a total of 8 ODIs in 2013 and 2014 before being a more permanent member of the team in 2015 where he played 13 matches.
Out of his 12 40-plus knocks in ODI cricket, 12 have come at a strike rate of 150-plus. Moreover, 10 of these 12 innings have come in one of these three years – 2011, 2012 or 2015 – when he had a more secure place and a longer run with the team.
All his five 4-wicket hauls (including 4-49 against England in Chennai in World Cup 2011) also came in 2011 and 2012 which confirm that he gave his best when he was assured a place in the side.
However, a leg injury followed by a one-year suspension after violating anti-doping rules and then a long standing dispute with the WICB meant that Russell was out of the West Indies team till 2018. He did not play any ODI cricket in 2016 and 2017 and has played just 5 ODIs since his return.
Even with all the instability and entry and exit from the team, his strike rate of 130.22 is the highest in ODI cricket history (min. 1000 runs).
Russell's ODI career has been a classic case of "what if". One can only wonder what he would have achieved if he had a more stable presence in the ODI team.
For now, he remains a T20 giant who has massively underachieved in ODI cricket.