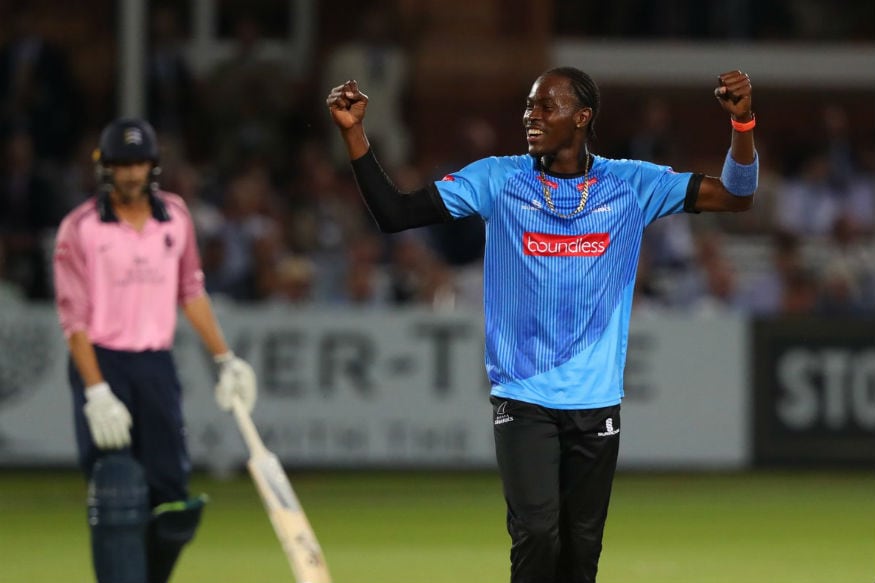 Limited-overs skipper Eoin Morgan believes his top-ranked England ODI side are more excited than nervous ahead of the upcoming World Cup.
Jofra Archer is one player who will be given an opportunity to audition for a World Cup spot but Morgan made it pretty clear that the talented all-rounder won't just be judged on the basis of how he performs on the field.
"When you select a player in a squad or a team it's not purely on performance," Morgan told City A.M.
"Their accountability and what they offer in the changing room and around the team is added in as well because World Cups and trophies are won by teams, not individuals and it's important that you continue to give to a team and a culture as opposed to taking away."
England have come a long way since the embarrassment in the 2015 World Cup and Morgan said that they are being termed as favourites because they have played a good brand of cricket in the last few years.
"I think we're in as strong a position as we could be at this stage. I think we'd be nervous if we were chasing a style of play or identity as a team, or looking for things that weren't there. But the fact that we've been on this journey now for four years, and played some good cricket along the way, particularly at home, gives us more of an element of excitement," he said.
"Over the last two years, being close to world No.1 and then being No.1 hasn't changed us a lot. Getting there is a huge acknowledgement of the work we've been doing and going in the right direction, but how we got there remains the goal and the desire to continuously improve remains one of the aspects of our team. Continuing in that vein does create a lot of expectation, but the expectation is there for a reason, because we have played well."
England recently announced their preliminary 15-man World Cup squad, but Morgan is wary of how things can change. Alex Hales has already been axed from the side after serving a ban for recreational drugs use and the replacement will be named after Ireland and Pakistan series.
England are scheduled to play six ODIs and one T20I ahead of the mega-event and Morgan said it will provide them a chance of testing their bench strength.
"We will obviously be looking at the same players who have played over the last four years, but it'll be a matter of looking at guys who are in form and contributing to wins," England ODI skipper said.
"There will be opportunities for everybody to play because we haven't had serious injuries since Olly Stone back in the summer last year, so the law of averages suggests we're probably due an injury. We need more than that 15 initially; we need guys who are ready to come in and play."
Morgan is happy that there's constant competition in the team but also shed light on the importance of building trust with the regular players who have taken England to new heights in coloured clothing.
"We've had constant competition for places – we've had guys who have been left out at different times and probably would have played in any other team in the world, or been given an opportunity at some stage," Morgan said.
"We had one with Jonny Bairstow, where he was left out for quite some time and was always the next batsman in, which is unfortunate for him. But the level of trust that we put in the guys we have selected in the final XI needs to remain in order to continue playing the way that we play."
The solitary ODI against Ireland will be played on May 3, while the five-match ODI series against Pakistan will get underway from May 8. Before the ODIs, England and Pakistan will also be involved in a one-off T20I on May 5.