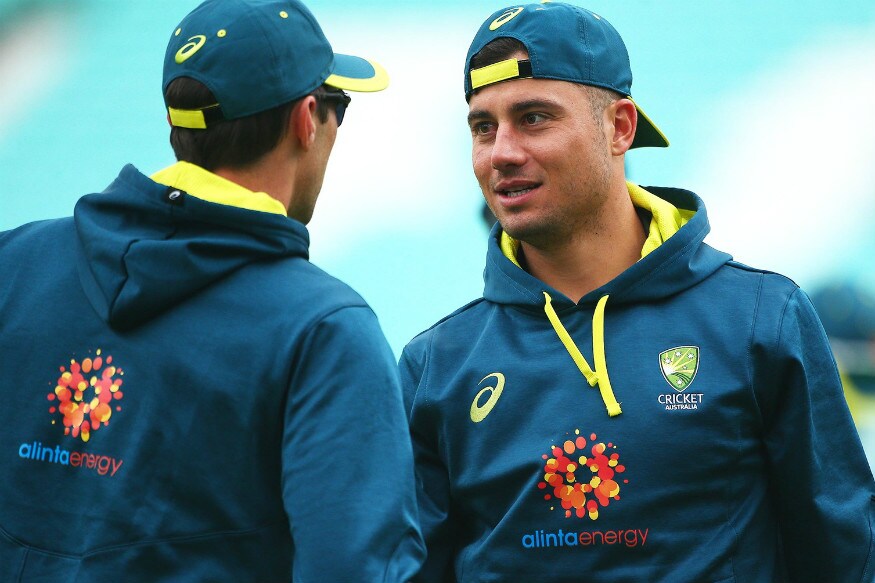 Australian head coach Justin Langer confirmed that all-rounder Marcus Stoinis has recovered from a side strain he suffered earlier in the competition and returned to full fitness. Langer though remained coy over the 29-year-old's return to the side for Australia's next group game against Bangladesh replying with a simple, "He has a chance."
"We've been monitoring him," said the coach on Stoinis. "He's an elite athlete, he's an elite professional.
"He's done everything possible to get himself fit. He wouldn't give up the opportunity for anything, would he? He's determined, so it doesn't surprise me with where he's at now. It's a credit to him, it's a credit to the medical staff that are getting him up. So hopefully he can have a real impact on the tournament," Langer added.
Stoinis' injury has thrown a spanner in Australia's works as Brad Haddin admitted, with the defending champions having to scramble for options. Captain Aaron Finch has been forced to eke out 10 overs from either Glenn Maxwell or himself. Maxwell has done the job largely and played a huge role in pegging back Sri Lanka in the last encounter after the Islanders were off to a blazing start.
Langer admitted that not having Stoinis in the side did affect the balance but also insisted that versatility was Australia's trump card.
"We've played really well with another (team) balance," said Langer. "We played in India and Dubai with two spinners. I'm really confident with whatever balance we go in. It's actually really exciting.
"We said at the start of the tour that we've got lots of options, (we are) very adaptable and that's our strength not our weakness. I get the sense some people think that's our weakness. I actually think it's our strength that we can play according to our opposition, we can play accordingly to grounds, we can play accordingly to managing players. That's a strength, not a weakness," the former Australian opener added.
Stoinis' return to full fitness for the next outing against Bangladesh could also have Australia play one of the frontline spinner's in Adam Zampa or Nathan Lyon. Zampa did play the first three games of the tournament but Stoinis' injury coupled with the overcast conditions on offer have seen the Australians go with four fast bowling options over the last two games.
The Trent Bridge surface where the encounter against Bangladesh will be played has looked a bit dry and Langer suggested Australia might draft in a spinner in place of one of the four pacers.
"That (playing four fast bowlers) might change…That was more brought upon us because Stoinis became injured," said Langer.
"It's been wet, it's been overcast, the wickets get a bit drier. This one (at Trent Bridge) looks dry.
"It might change when we get to Old Trafford, for example. We might look at playing two spinners if it's a dry wicket. It's good to have those options. "
Australia are currently placed second on the league standings with eight points while Bangladesh are fifth on the table. But the Asian side have shown remarkable consistency so far in the World Cup with Shakib al Hasan leading the way. The all-rounder is the leading run-scorer so far in the tournament and has done exceedingly well with the ball.
The Australians, in order to counter Shakib, summoned left-arm spinner Ashton Agar to their training session. Agar, who is in Northampton with the Australia A squad was seen bowling to the likes of David Warner, Steve Smith and Aaron Finch as Australia further their case to make the final four of the World Cup.
"(Shakib is) probably the world's best allrounder and a left-arm spinner," said coach Langer.
"It was great of Ash to come down and great to have him here. This time last year he was in the Australian one-day side. One of our values is professionalism and (it's beneficial) to draw on someone like Ashton Agar to come in and give us a like for like (spinner)."