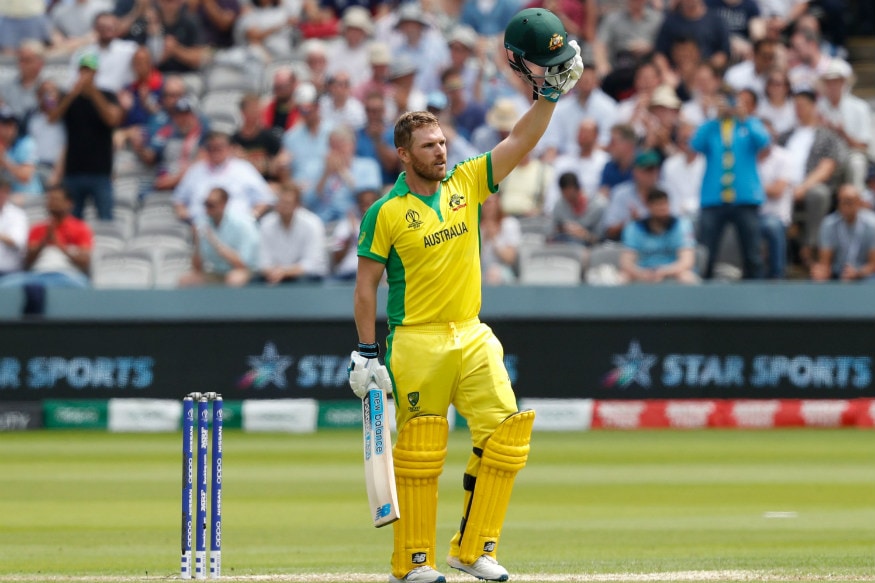 Defending champions Australia have already qualified for the semi-finals of the 2019 ICC World Cup, but aren't going to take their foot off the pedal according to captain Aaron Finch.
Pat Cummins and Mitchell Starc are among the quicks to have played every one of their side's World Cup matches, with seven games in 25 days under their belts so far, and aren't looking for a rest on Saturday when they take on arch-rivals New Zealand at Lord's.
The Australians, according to Finch, will do all they can to defeat the Kiwis, just the like in the final in 2015.
"They (Starc & Cummins) are both feeling really good at the moment," said Finch.
"You don't want to upset the apple cart just for no reason, really. And that also comes down to how they are feeling, as well, and they are both feeling great at the moment. I know that they have got no interest whatsoever in being rested or anything like that.
"As a coaching staff and management of the players, everyone's really on the same page in that regard to keep we want to try and keep our winning momentum and making sure that we are never taking anything for granted in this tournament.
"The guys are in really good form, as well, so you don't want to tempt that. We have a week between the next games which is nice as well."
The Australians have depended heavily on the use of data analytics to help them with their team selection headaches and a similar situation could arise on a used surface if Finch were to pick two spinners.
"We've been really open and clear with that with the players from the start; the expectation of everyone being as flexible as they possibly can be. That comes from the batting order to selection."
"You can read a lot into the numbers, but at the end of the day, there's also a lot of experience in our group with the coaching staff, some senior players that will talk about teams and things like that.
"So there's a lot of experience that sometimes the numbers don't quite add up to what everyone's thinking, as well. So then you have to take some calculated risks and a bit of a punt at times on selection."
"But I think flexibility is the key, and everyone's been on board with that."
The match will revive memories of the World Cup 2015 final in Melbourne, in which ex-wicketkeeper Brad Haddin, now a member of Australia's coaching staff, received criticism for sledging New Zealand batsmen in his final ODI.
But in this edition, there has been a discernible lack of flare-ups between players on opposing sides, although there have been issues of dissent at umpires' decisions.
"I think it has been a great spirit out on the field, regardless of results," Finch said.
"I know the last one was quite an aggressive World Cup on the field, mainly from us. We were quite aggressive in our approach and how we went about things.
"This one has been absolutely brilliant, and I think that's been really pleasing as well."
The Trans-tasman rivals aren't strangers to thrilling contests at the World Cup and there is plenty at stake at Lord's where the temperatures are set to soar in excess of 30 degrees. For starters, a win for New Zealand helps them seal a berth in the final four.
Finch and co are aware that the Kiwis are in fine nick and expect a tough battle as always.
"I think the great thing with New Zealand is that they fight and scrap every single game, regardless of whether it's a World Cup final or it's a club game," he added.
"That's a part of how they play their best cricket, and I know under Kane they certainly do fight and scrap for every run on the field.
"They are a great fielding side. They put pressure on you. They have got world-class players. It's going to be a good game, no doubt.
"I think if you get beaten on the day, you can wear that; if you fall a bit short here and there, you can wear being beaten by a better opposition or who out-classed you or out-skill you on the day."
The 2019 World Cup has evoked a variety of reactions due to the format which is the same as 1992, and Finch is happier going about things in this fashion, but also said he wished there were more teams.
"No, I really like it personally. And this is only a personal opinion. I think compared to the last World Cup, when you're in groups, you can sort of dodge teams. For example, we didn't play South Africa in the last World Cup, and they are such a great side, or they were a great side in that World Cup."
"I really like the idea of having everyone play each other. It would be nice to get some more teams in there but then I think you're looking at a tournament that goes probably a bit too long."