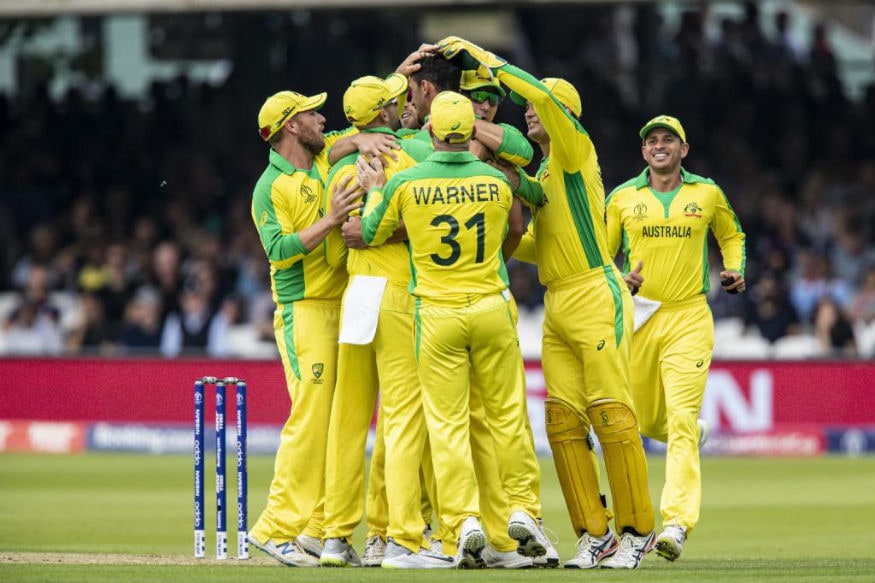 Australia continued their good run in ICC World Cup 2019 beating their neighbours New Zealand by 86 runs in the game at Lord's, London on Saturday (June 29). After the Australian batsmen put up a fighting total, Mitchell Starc led the way once again finishing with a five-wicket haul.
Dominant Aussies

Momentum continues.

Carey continues to impress with bat

Starc a World Cup wicket taking force pic.twitter.com/mhueqDXUZC

— Damien Fleming (@bowlologist) June 29, 2019
New Zealand looking very shaky after this loss and will be cheering India on Sunday.

Australia, like India, are a juggernaut at the moment. #NZvAus #CWC19

— Chetan Narula (@chetannarula) June 29, 2019
Starc- legend.#Michelle5for #cwc2019

— Jason Gillespie (@dizzy259) June 29, 2019
The Aussies are good .. The balcony as well .. !!! #OnOn #CWC19

— Michael Vaughan (@MichaelVaughan) June 29, 2019
If this World Cup doesn't end with an India Australia final, there is no justice #CWC19 #AUSvNZ #NZvAUS

— Jack Mendel (@Mendelpol) June 29, 2019
Starc's 5-fer!

- 4th time Starc has taken 4+ wkts in successive ODIs

- The MOST 5-fers in the @cricketworldcup (3).

- First bowler to take TWO 5-fers against a single opponent in the WC (vz NZ).

- His avg vs NZ in the WC: 5.69#MakeStatsGreatAgain #CWC19 #CmonAussie #NZvAUS

— Victor Tarapore (@VictorTarapore) June 29, 2019
Earlier, New Zealand had Australia on the mat at 46 for 3 with Lockie Ferguson getting the big wickets of David Warner and Steve Smith by hurrying them with pace.
Incredible catch by Guptill.. what a grab and New Zealand being tactically savy... #CWC2019 #cwc19 #AUSvNZ

— Russel Arnold (@RusselArnold69) June 29, 2019
Wooow. What. A. Catch. Martin Guptill with an incredible grab to get Smith #AUSVNZ #NZvAUS

— Jack Mendel (@Mendelpol) June 29, 2019
Finch, Warner and Smith all gone inside the first 12 overs. Gonna be hard to ignore the "Kiwi little brothers" for the rest of this one! #AUSvNZ #CWC19

— Alexis Nunes (@alexisenunes) June 29, 2019
He wasn't going to drop 3 in row. What a spectacular catch by @Martyguptill, and let me just say that is no fluke, he takes them time and time again. Well played #classiccatch #gameover

— Dimi Mascarenhas (@dimimascarenhas) June 29, 2019
Lockie Ferguson performance in this World Cup is why I wanted to see Anrich Nortje in this competition.

There is no substitute for genuine pace.

— Tim-CricketGuy (@Tim32_cricket) June 29, 2019
Ridiculous catch from Guptill. Steve Smith has arguably fallen to the two best catches of the tournament - Cottrell at Trent Bridge and now Guptill at Lord's. #CWC19 #AusvNZ

— Patrick Noone (@patnoonecricket) June 29, 2019
Usman Khawaja (88) and Alex Carey (71) then ensured Australia got to a fighting total before Trent Boult stole the limelight with a hat-trick in the final over of the innings.
Ball on top of bat for much of this innings. Good batting from @Uz_Khawaja and Alex Carey gets Australia to 243-9. Am I forgetting something else that happened... #CWC19 #NZvAUS pic.twitter.com/Hezja83o5r

— Steven Crosby (@_stevencrosby) June 29, 2019
This has been a gem of an innings from Alex Carey, who's having an under-the-radar good World Cup. Now averaging over 70 and striking at 114 for the tournament #CWC19

— Louis Cameron (@LouisDBCameron) June 29, 2019
ALEX CAREY THE ENFORCER (Entering in the death)

38* (27) v

55* (35) v

11* (8) v

20 (21) v

ALEX CAREY THE ANCHOR (Entering before over 22)

45 (55) v

71 (72) v

Few adapt better than the young keeper and future captain. Carey is having a crucial World Cup. #CWC19

— Sam Landsberger (@SamLandsberger) June 29, 2019
Trent Boult has matured in to almost the complete fast bowler for NZ. His hatrick in the figures of 4/51, is a confirmation of his quality.

— Roshan Abeysinghe (@RoshanCricket) June 29, 2019
The other way to see this... New Zealand batting line-up hasn't scored 300 in this #CWC19. One 250-plus score. Made heavy work of 240-odd chases against South Africa and Bangladesh. With 240 behind them, Starc & co. should be able to make NZ work hard again today. #NZvAus

— Chetan Narula (@chetannarula) June 29, 2019
Another over-rate violation and Kane Williamson will be suspended for New Zealand's next match (against England). Today they are toeing the line of the minimum permitted over-rate. #CWC19

— Freddie Wilde (@fwildecricket) June 29, 2019
In the chase, it was Jason Behrendorff again who took out the two Kiwi openers and set the tone for his side before Mitchell Starc took down Kane Williamson as usual and the Kiwis never really recovered from the early blows.
Jason Behrendorff and Shaheen Afridi are the ones who have stolen the show in the last couple of matches, despite the presence of more established bowlers like Starc, Cummins, Amir and Riaz in their respective teams. #CWC19 #NZvAUS

— Prasenjit Dey (@CricPrasen) June 29, 2019
Starc's wickets with the old ball this World Cup, and their runs at that point

Tamim Iqbal 62

Shikhar Dhawan 117

Andre Russell 15

Jason Holder 51

Wahab Riaz 45

Ben Stokes 89

Kane Williamson 40

Deny him a wicket in the middle overs and take the World Cup! #CWC19

— Srinath (@srinathsripath) June 29, 2019
Two men perish after reaching milestones!!

Williamson reaches 6,000 ODI runs and perishes 8 runs later.

Taylor reaches 1,000 ODI runs vs AUS (5th NZ player to do so) and departs soon thereafter.#MakeStatsGreatAgain #AUSvNZ #NZvAUS #CWC19 #CmonAussie #Backtheblackcaps

— Victor Tarapore (@VictorTarapore) June 29, 2019
Australia and India have similar issues - if openers fail, middle order stands exposed, with rear guard action from lower middle order with one top order batsman. Bailed out by bowling strength

— Vinay (@semperfiutd) June 29, 2019
There's a certain in beauty in watching teams defend mediocre totals. Makes you believe that cricket is still a bowler's game as much as it belongs to the batsmen. #AUSvsNZ

— Arundhati Chatterjee (@Arundhati1312) June 29, 2019
When Ish Sodhi hits the best shot in roughly 10 overs, you know it's been dire #CWC19

— Evil Scootus(⚽️+‍♀️)‍♂️ (@evilscootus) June 29, 2019
Australia and India's bowling attack is so so good no other team is even close be it their spinners or fast bowlers and not to forget their fielding

— Ghumman (@emclub77) June 29, 2019
The worst thing for New Zealand apart from the coming defeat is the serious hit on their NRR...

If they lose to England and Pakistan win vs Bangladesh, there is a good chance New Zealand may need other results going in their favour!#AUSvNZ #CWC19

— Shrikant Shankar (@Shrikant_23) June 29, 2019
Some competition going on there. In the last WC also, when Boult got a fifer, Starc bettered it with a 6-fer. In #CWC19 also, Boult got a 4-fer and Starc betters it with a fifer. They bring the best out of each other... #ChampionBowlers

— P₹akash $inha (@Predicto_Praky) June 29, 2019