Birmingham: It takes some guts to drop Kedar Jadhav. And no, it's not even about his batting.
Jadhav's omission meant India had to play with only five bowlers. None of the batsmen in the line up bowl, even part-time, anymore. Three of them - MS Dhoni, Rishabh Pant and Dinesh Karthik - are wicketkeepers. Four if you count KL Rahul. The last time Rohit Sharma bowled in an ODI was in January 2016. The last time Virat Kohli bowled in an ODI was in August 2017.
Jadhav is in the team primarily as a batsman - and he has played a key role in the middle order in recent times - but his part-time off-spin is crucial too. It's one of the reasons he has been a regular starter in the XI over the last two years.
That India could afford to take that risk speaks volumes of their trust in Hardik Pandya the bowler. India now bank on him to bowl 10 overs if need be, like in the game against Bangladesh at Edgbaston. It wasn't always the case in the past, even as recently as last year.
Pandya came into the side as an all-rounder, but it was only in his seventh match that he was trusted to bowl his entire spell of 10 overs. Since then, he has been the fifth bowler, completing his quota of 10 overs once in two-three matches. In 52 matches Pandya has played, he has bowled 10 overs only in 16 innings.
Four of those have come in this World Cup: against Australia, Afghanistan, England and now Bangladesh. He might have well bowled 10 overs against Pakistan and West Indies too, if not for rain and meek capitulation by batsmen in the two respective games.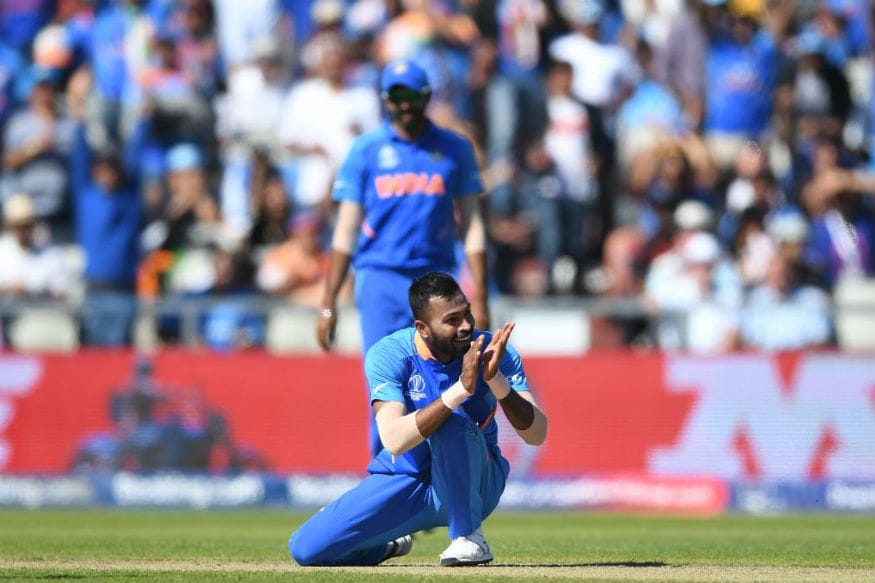 The increasing frequency of Pandya completing his spells relays the trust Kohli has in his all-rounder recently. Things though were very different last year. In 10 matches Pandya played in 2018, he bowled 10-over spells only twice.
Ironically, his bowling was particularly an issue in England last year. England's batsmen targeted Pandya during that tour, taking a liking to his hittable pace and inconsistency in line and length. Pandya's spells in that series read: 10-0-70-1, 5.3-0-39-0 and 7-0-47-0. A year later, Pandya has eight wickets from seven innings this World Cup at an economy of 5.79.
Pandya started slowly, going wicketless in the first two matches against South Africa and Australia. Since then though, he has given India vital breakthroughs in nearly every match - two wickets each against Pakistan and Afghanistan, one against West Indies and now three crucial strikes against Bangladesh. He didn't get a wicket against England, but a spell of 0-60 wasn't too bad, especially given the way England began. He should have had Jason Roy too, if only India had reviewed a caught-behind appeal.
Assessment of Pandya's bowling by key members of the team management say a lot about his evolution. First, here's Kohli.
"We experienced that when Hardik has been put under pressure this tournament, he has come back well. If they hit him in the first three-four overs, he finds a way to contain runs and get you wickets, he's really looking forward to do stuff for the team and that's really helping his cricket," Kohli said of Pandya's bowling. "When he comes on to bowl he thinks as a batsman, he has the gut feel of what a batsman might do. When someone bowls like that you always have that extra bit of cushion. He actually wants the ball, so that he can check the body language (of the batsmen), and what to bowl when."
While Kohli talks about 'thinking like a batsman', bowling coach Bharat Arun points to Pandya working on his variations.
"Over a period time it was a big challenge for him to bowl those 10 overs, and he realised that to be able to bowl those 10 overs he needs to develop a certain armory in his bowling," Arun had said earlier in the tournament. "And that's what he's worked on. He's worked on his slow balls, his slower bouncers also, and also he's worked on perfecting his bouncers. So all these put together have given him the confidence to go through those 10 overs."
Both were on display against Bangladesh. No three Pandya deliveries were similar - there would be a variation in pace, line, length or angle at all times. He would mix up his slow cutters, wide short balls, bouncers and slow bouncers, always keeping the batsmen guessing. Soumya Sarkar fell to a wide ball angled across. Liton Das was surprised by a sharp, well directed short ball.
But the biggest wicket of them all - the one that sunk Bangladesh's semifinal hopes - was that of Shakib Al Hasan. The dismissal showed how apt Kohli and Arun were in their assessment.
Majority of Shakib's 66 runs had come in the region between third man and backward point. Shakib was steering and cutting with ease, scoring plenty behind the wicket. Pandya plugged the area, first by having a wide gully and then by moving around the stumps. The angle came with plenty of risk, as Pandya was bowling from the pavilion end, left side of which was the shorter boundary. All it needed was a firm whip for the ball to easily cross the boundary.
Yet, Pandya went with the angle, keeping the batsman guessing by taking pace off the ball. The fourth ball of the over was a slower bouncer, which Shakib missed trying to pull towards the shorter boundary. The next ball, Shakib backed away to try and play through the off-side again, but was undone by another slower ball. This time, he tamely chipped to the fielder at cover.
It was a well deserved wicket, and the highest point of the spell from Pandya. That Pandya the bowler is doing it more often will give India more flexibility going into the knockouts of the World Cup.