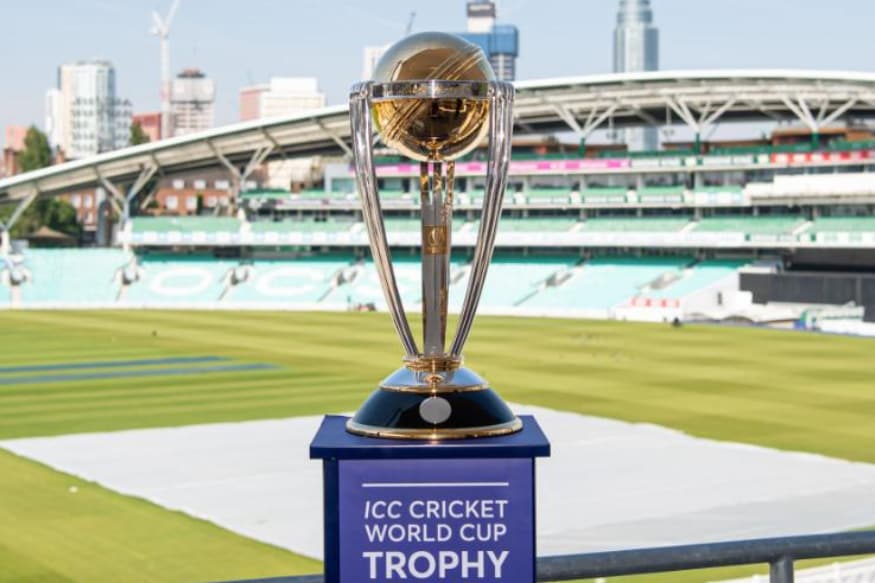 Heading into this World Cup there was a general expectation that this would be a high-scoring tournament. Run rates have risen across the last six World Cups and since 2015 no host country has seen a higher average run rate than England where flat pitches have been encouraged to benefit England's powerful batting order. This trend is expected to continue in the World Cup despite the ICC, rather than the venue's head groundsmen, being in charge of pitch preparation.
Although it is still very early days in the tournament the pattern across the first five matches has been less clear than that. Overall the average run rate has been 5.98 runs per over - which if maintained would be the highest ever in a World Cup. However, closer analysis shows this is largely the product of rapid chases by West Indies against Pakistan and New Zealand against Sri Lanka.
First innings totals of 311 for 8, 105 all out, 136 all out, 207 all out and 330 for 6 have produced a first innings run rate of 5.75 runs per over; while the run rate in the second innings has been way up at 6.27 runs per over.
What is particularly noticeable about the five first innings so far is that they have been either very big scores or very small scores, suggesting teams are adopting high-risk approaches - aiming for big scores - which when it comes off works well but when it goes wrong, it goes very wrong.
Early starts challenging batsmen
The three low first innings totals have all been predicated on poor starts to the innings. In this tournament matches are starting at 10.30 am, rather than 11.00 am as has been customary in England since 2017. These earlier starts appear to be giving a little bit more life to the pitches in the first Powerplay phase which is proving more difficult to negotiate for the batsmen.
This comparison of the first ten overs in either innings of the match shows how more difficult condition in the first innings according to PitchViz has produced a significantly lower Expected Bowling Average in the first innings compared to the second.
PitchViz evaluates conditions independent of the bowler and the declining xAve can be attributed to conditions because ball-tracking data does not suggest bowlers have been more notable accurate in the first innings compared to the second innings, landing 33% on a good line and length compared to 32% in the first innings.
The Expected Average model assesses what we would expect an average batsman to average given the ball-tracking characteristics of the deliveries he has faced. The Expected Average in the first ten overs of the first Powerplay has been 27.00 compared to 35.70 for the second innings.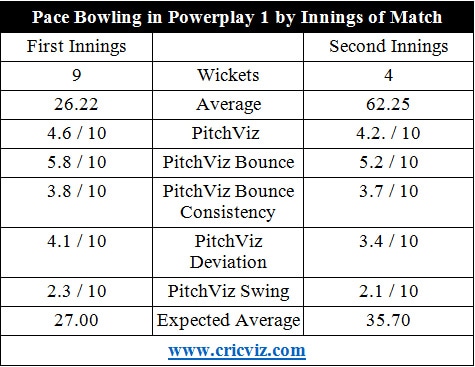 Chasing preference
The apparent advantage of bowling first on an early morning pitch appears to have created a clear chasing preference. Since the Champions Trophy 50% of toss winners have elected to chase but so far in this tournament all five toss winners have elected to do so.
The two teams to win despite losing the toss have both done so at The Oval, have both done so after scoring 300 and have both done so against South Africa: England and Bangladesh. The other three matches were all comfortable wins for the chasers who bowled out their opponents very cheaply having taken full advantage of useful early movement.
Short ball threat
One of the clearest trends to emerge from the first five matches of the tournament has been the effectiveness of the short ball. Of the 52 wickets taken by pace bowlers 29 have fallen to balls shorter than eight metres from the batsman's stumps. These short balls have been high-risk deliveries with an economy rate of 6.72 runs per over - notably more expensive than fuller lengths, with an economy rate of 5.10 - however they have been high-reward too, bringing a wicket every 22 balls, compared to every 35 balls for fuller lengths.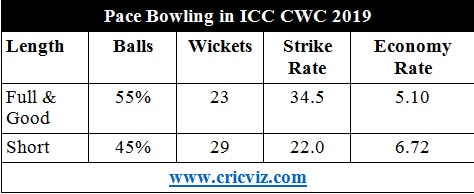 The effectiveness of the short ball has seen them used significantly more often than normal. So far 45% of balls from quicks have been short, the highest in any World Cup where ball tracking data exists.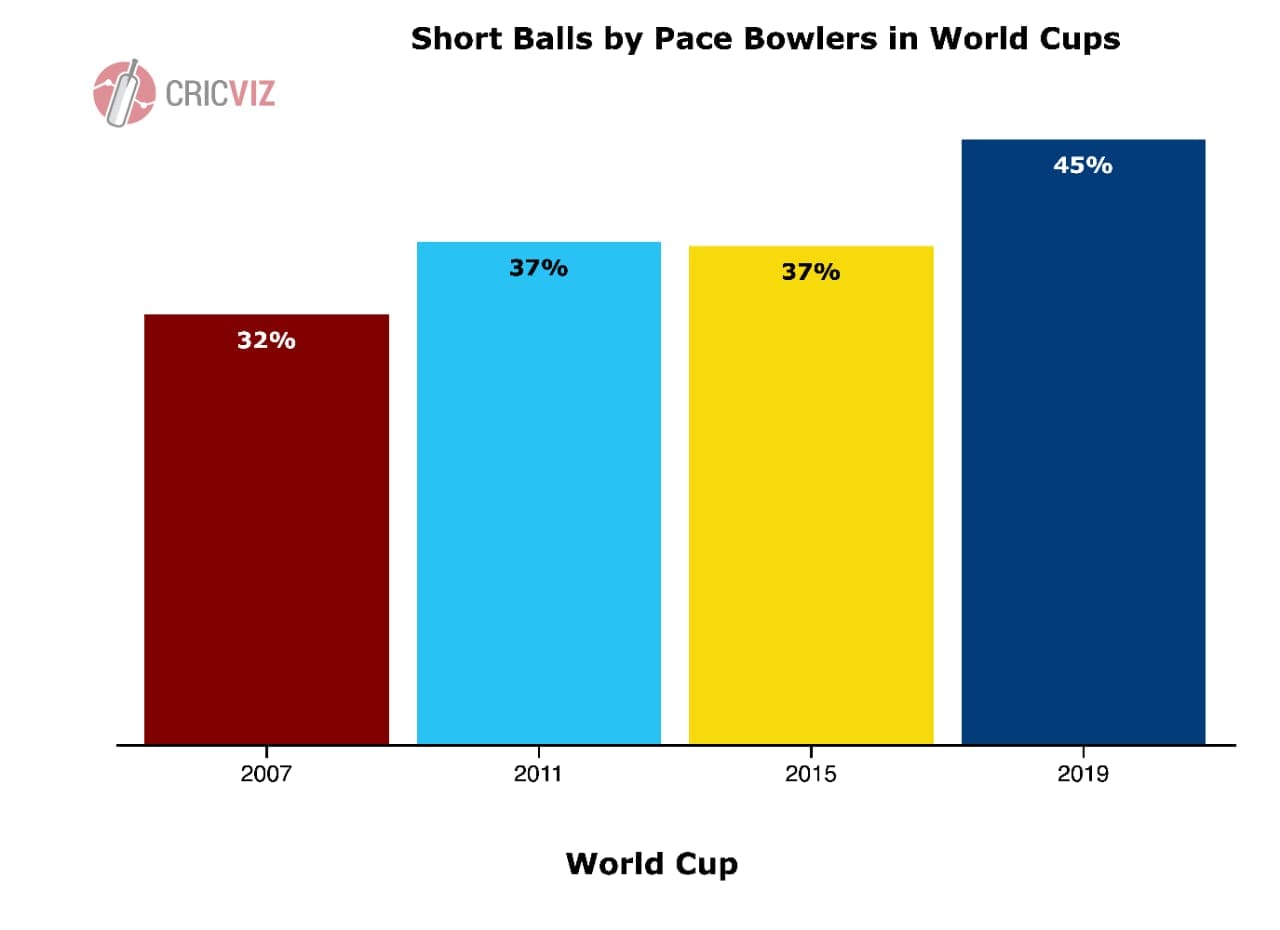 There are a number of factors driving this particular trend. One major reason is the emphasis on bowlers to take wickets in order to slow the scoring. Containing batsmen has never been more difficult so taking risks and bowling short lengths that might prove expensive but that should make breakthroughs is a legitimate tactic. This has been accentuated by the combinations of two new balls and flat pitches which have rendered fuller lengths less effective by nullifying the threat of lateral movement through the air or off the pitch.
This trend has also been exaggerated by the venues in played at so far - The Oval, Cardiff, Bristol and Trent Bridge - which all have very short straight boundaries and longer square boundaries. These dimensions encourage bowlers to bowl shorter and force batsmen to hit square, rather than straight.