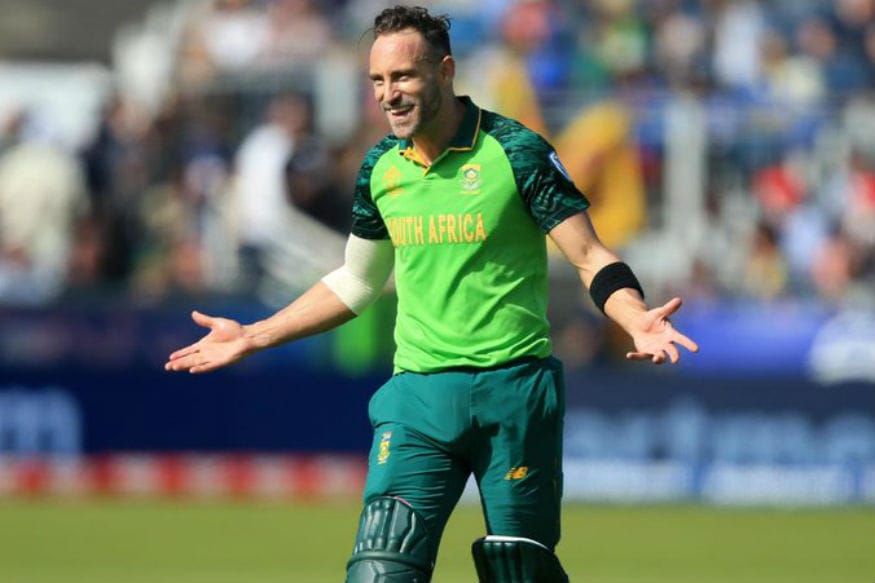 After South Africa cruised to a resounding nine wicket win over Sri Lanka in their ICC World Cup 2019 group stage encounter at Durham, South Africa captain Faf du Plessis praised his team's performance in all three departments, saying that the win was a "long time coming".
"It was a long time coming (the win) yeah. For the talent we have in the dressing room, we did ourselves justice in all three departments," du Plessis said.
"It was a good game. It feels bitter-sweet, though. It doesn't feel like it means that much. It's a little bit too late. We've batted well through the tournament, but we just didn't have guys batting through. That happened today."
Dwaine Pretorius was brought into the attack for the match in place of Lungi Ngidi and Du Plessis said that it was the team combinations which were making it difficult for Pretorius to seal a spot before this match.
"We've been trying to get Pretorius in but the combinations were really tough, so today he came in place of Lungi and did a very, very good job. Hashim's partnership and innings was also very important. But again, one big partnership makes it look so much easier."
Reflecting on what went wrong for South Africa in the tournament, apart from the match, du Plessis said, "We hadn't done that consistently in the tournament. I think Bangladesh was the one that really took the wind out of our sails.
"England are a very good team and they were too good for us on that day. Bangladesh played an unbelievably good game and that sucker punched us and we almost took the hangover of that game into the next game.
"The first week really put us back. But we knew that was the case and we can't hide from that."
On the other hand, Sri Lankan captain Dimuth Karunaratne said that none of their plans in any department came to fruition.
"I think all departments went wrong. In the batting, Kusal and Avishka batted really well, but we just weren't able to rotate the strike and get singles," he said.
"That is the key here and when you don't get singles you only go for big shots. Unfortunately, we had only 200 on the board and the wicket was getting better and better after which South Africa batted really well.
"I felt the wicket was a bit slow, they bowled really well and their fielders in the ring kept the pressure on. They planned really well. We couldn't get the singles and kept looking for big shots. We needed to get early wickets. Malinga started really well, but we couldn't build any pressure from the other end and nobody could get wickets. We have to learn how to build pressure on the batsmen in these kind of tournaments."
Speaking about their remaining matches, Karunaratne said, "We need to learn how to get batsmen to make mistakes. We have two matches and we have to beat West Indies and India in both matches. They are tough sides and we have to compete well with them. We have to work hard in all three departments and we would be trying to do well in both matches."
Dwaine Pretorius was adjudged man of the match for his spell of 10-2-25-3 and he spoke about how he coped being out of the team for the majority of the World Cup.
"I am happy that we got over the line today and glad that I could play a part in that. When I'm on the bench, I try and work as hard as possible. At the end of the day, I am happy that I was ready for the opportunity and glad that I was able to contribute.
"I think me and Faf spoke after my third over, we just realised that hitting the top of the off is a good idea on this pitch. Glad that I was able to execute it. Today, we showed today what we're all about. Just sad that it only came now."​