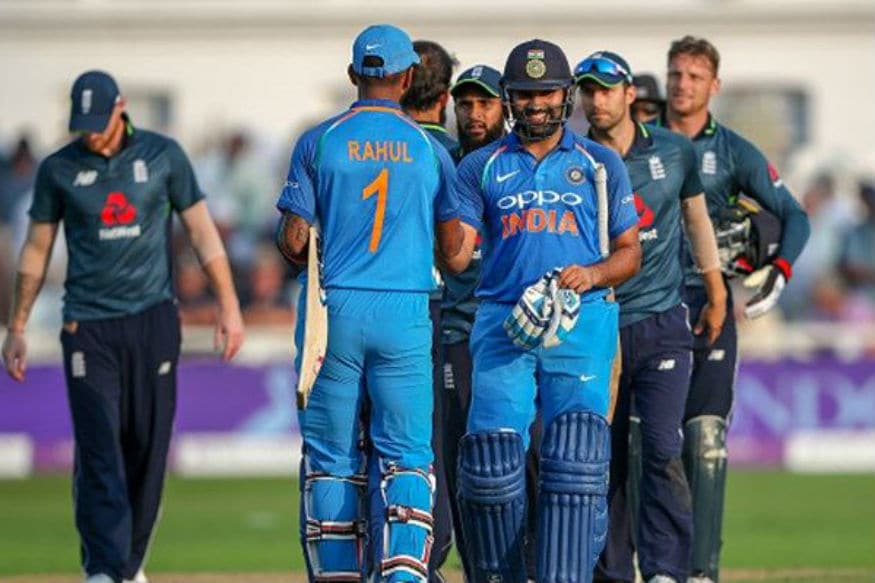 England have scored over 300 a whopping 37 times since the 2015 World Cup. Those are compelling numbers when you consider the transformation they have undergone in the format after the debacle in 2015. India, on the other hand, have 21 such scores while Australia and South Africa come a close third with 18 apiece.
The numbers tell a revealing story about the best teams heading into the 2019 World Cup. England and India are assigned the favourites tag and rightly so given that they are the only two teams to have won more than double the number of matches they have lost.
While England have a win/loss ratio of 2.48 in 87 matches, winning 57 of them, India have a win/loss ratio of 2.07. The worst teams in the table heading into the World Cup are West Indies and Sri Lanka. While the West Indies have lost 42 of their 67 matches, Lanka have lost 55 of their 84 and have been pretty patchy in recent times. The West Indies, however, sport a reworked, strong squad unlike the Lankans.
South Africa, Australia, New Zealand, Afghanistan and Bangladesh are in a mid-table fight with more wins than losses in this time frame. The same cannot be said of Pakistan, Champions Trophy 2017 winners, who have lost 41 and won 35 in this period.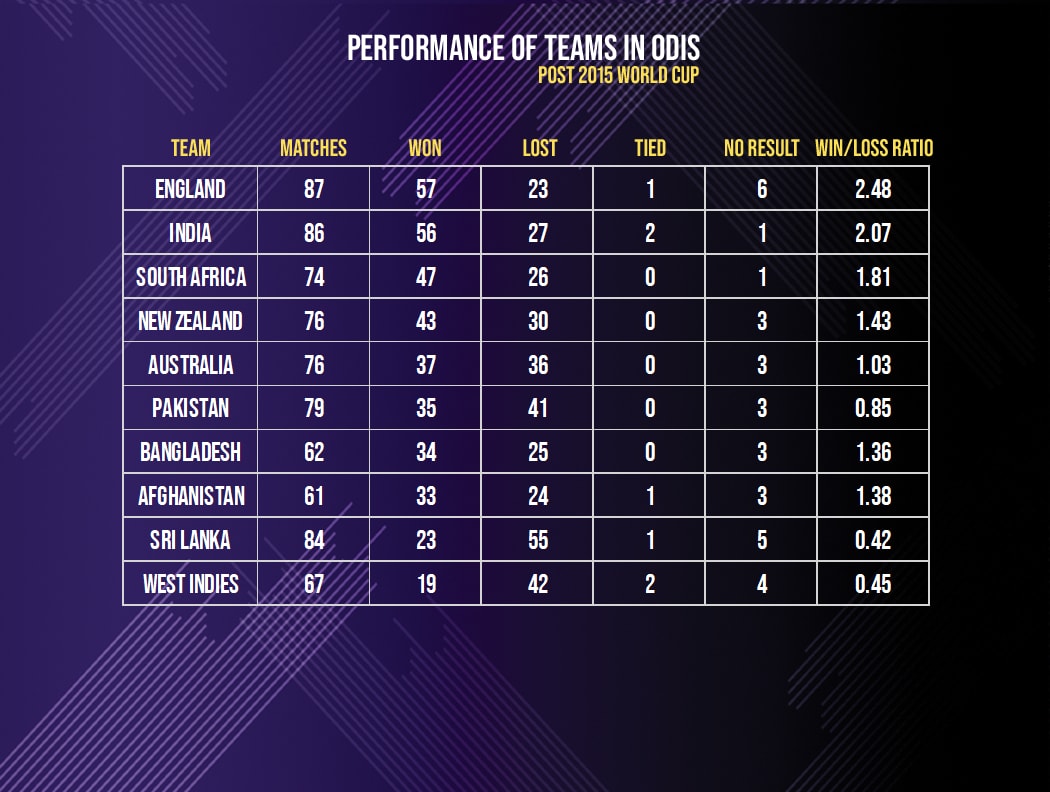 In terms of batting numbers, England once again top the chart in terms of striking prowess with a team strike rate of 100.32. It is perhaps indicative of why England score over 300 on so many occasions. They have a solid batting average of 40.05 to back up this power hitting strategy. India top the averages and list of centuries largely due to the trio of Rohit Sharma, Virat Kohli and Shikhar Dhawan.
They too have a strike rate in the 90s but South Africa have a marginally better strike rate as a team in this period. Australia, India, England, South Africa and New Zealand have scored at a rate over 90 since the 2015 World Cup.
Meanwhile, Sri Lanka, West Indies and Afghanistan lurk at the bottom of the table with averages less than 30.
Bangladesh and Pakistan are above the 30-run mark but do not have numbers compelling enough unlike Australia and New Zealand who make up for very ordinary averages with good strike rates.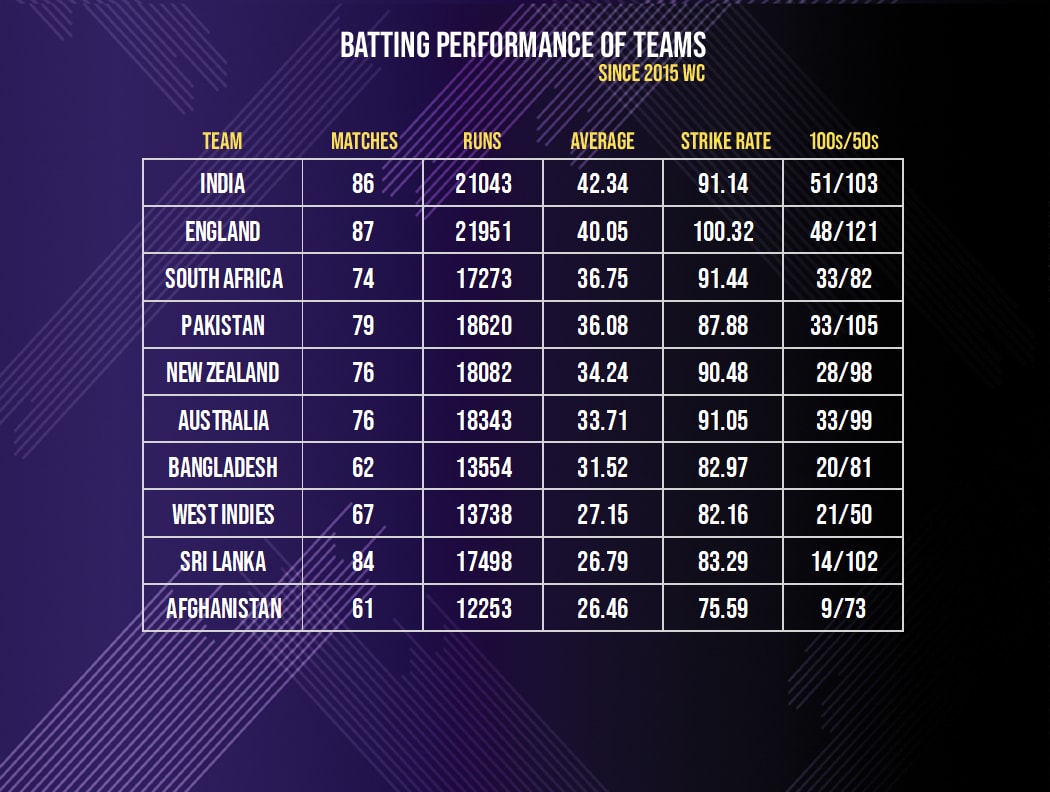 In the bowling department, the numbers are more competitive.
Afghanistan have a stunning average of 24.63, the best amongst all teams but they have mostly played Associates which skew their numbers. South Africa and India have the next best averages and the two are also close to each other in terms of economy and strike rate.
Clearly, they are the two bowling teams to watch out for at this World Cup.
England, on the other hand, have poor bowling numbers. They have the second worst economy (5.71) after Sri Lanka (5.74). They pick up wickets more frequently as indicated by a decent strike rate but the economy is a concern. They have conceded the most 300-plus totals (25) in this time frame.
India have conceded 20 scores of 300 or more and Australia 19. South Africa with just nine once again impresses as a bowling unit. West Indies, Pakistan and Sri Lanka have the worst team strike rates in this time frame with numbers ranging above 40. Sri Lanka and West Indies also have poor averages in the 40s while Pakistan are in the high 30s.
Bangladesh boast of the second best economy but that's primarily because they have played a lot of their games on 250-275 run wickets at home. They have also conceded over 300 just eight times since the last World Cup.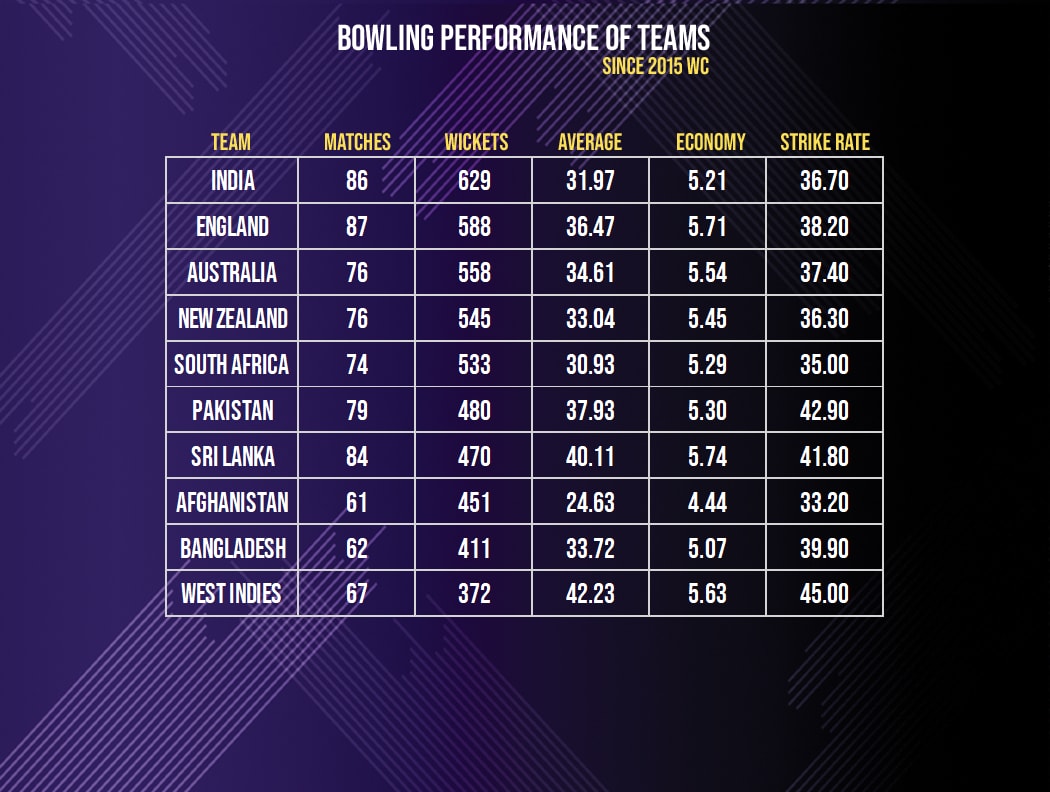 England have won 33 of their 46 ODIs at home since the last World Cup and have lost just one bilateral - to Australia in 2015. With strong numbers backing their case at home, bowling is the only factor preventing them from a maiden trophy.
India, on the other hand, are a well rounded unit with good numbers across various metrics in the batting and bowling departments.
If form has a say then these two teams should be competing in the final on July 14.