London: "I think the World Cup alone raises, I suppose, the profile of the game, and a platform for every young kid in this country to have a hero or inspiration to pick up a ball or a bat" - Eoin Morgan.
"We want to inspire cricket fans and enhance their love for the game as well as bring new people and children into the fold and encourage them to pick up a bat" - Jos Buttler.
Winning their maiden World Cup is the ultimate goal, but one of the other big aims for England this summer is to bring in kids, or new audiences, to the game. The new - or old depending on how you see it - jerseys, the repeated talks about the style of play to 'impress' kids, the informal 'street cricket' contest at the World Cup opening ceremony, the new format The Hundred all point to England cricket trying to work their way in to a space dominated by football. A day before a home World Cup after 20 years, there was little enthusiasm or anticipation in London despite the hosts being firm favourites. Things were very different last year during the football World Cup, although it was held in Russia.
If the evidence at The Oval on Thursday (May 30) during the England - South Africa World Cup opener is anything to go by, England may have succeeded in taking a first step towards both their goals - winning the tournament, and attracting kids. While the players did their thing inside the stadium, the organisers worked on their goal outside.
Apart from the unlimited supply of beer - an integral part of cricket here - nearly every stall or event at the venue was targeted at attracting kids.
Standing on shoulder and juggling balls... or is there a name to this?
The excitement is building up outside the Kennington Oval ahead of the World Cup opener.

📽️: @lk_karthik #ENGvSA #CWC19 pic.twitter.com/aSyNk7o99c

— CricketNext (@cricketnext) May 30, 2019
Parents encouraging children to play mini cricket matches in the corridors between stands.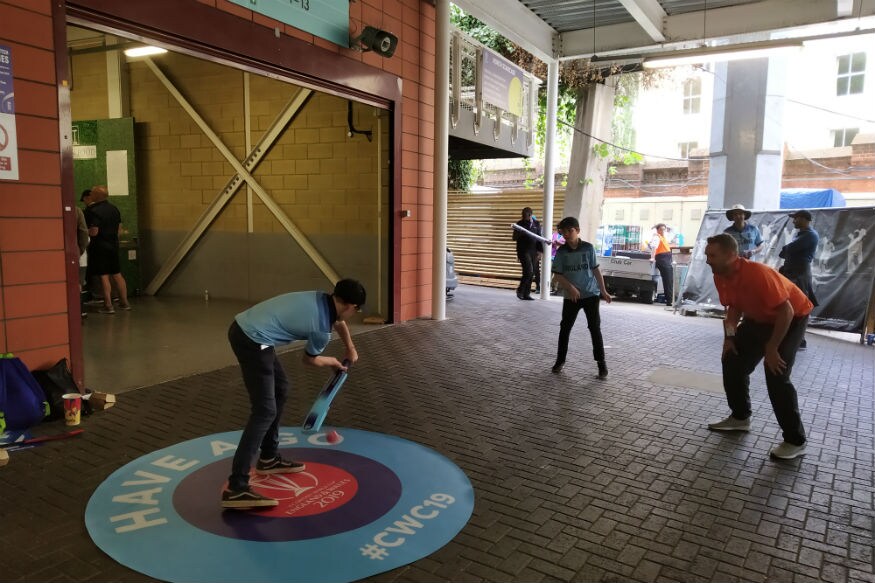 (Image: Karthik Lakshmanan)
Walls explaining the basic terminologies in cricket.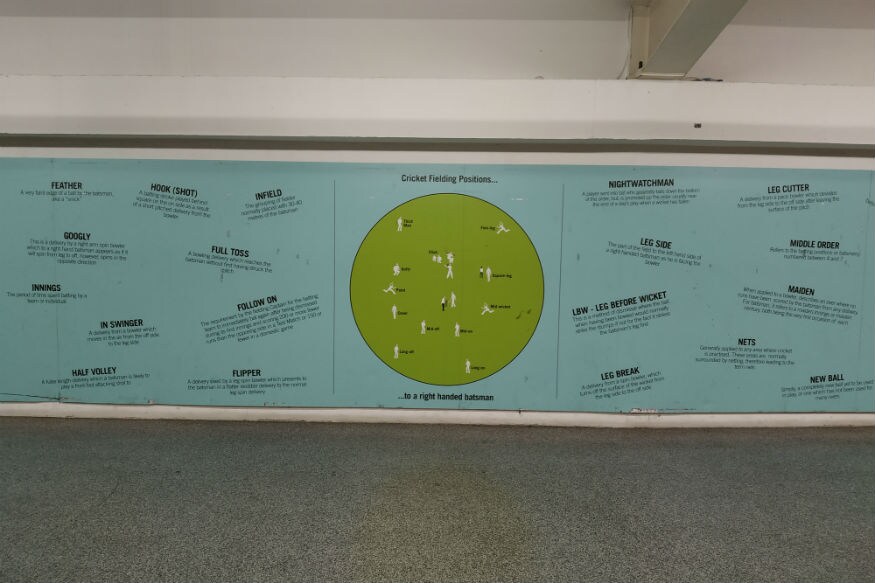 (Image: Karthik Lakshmanan)
Kids checking out fancy gadgets involving cricket bats...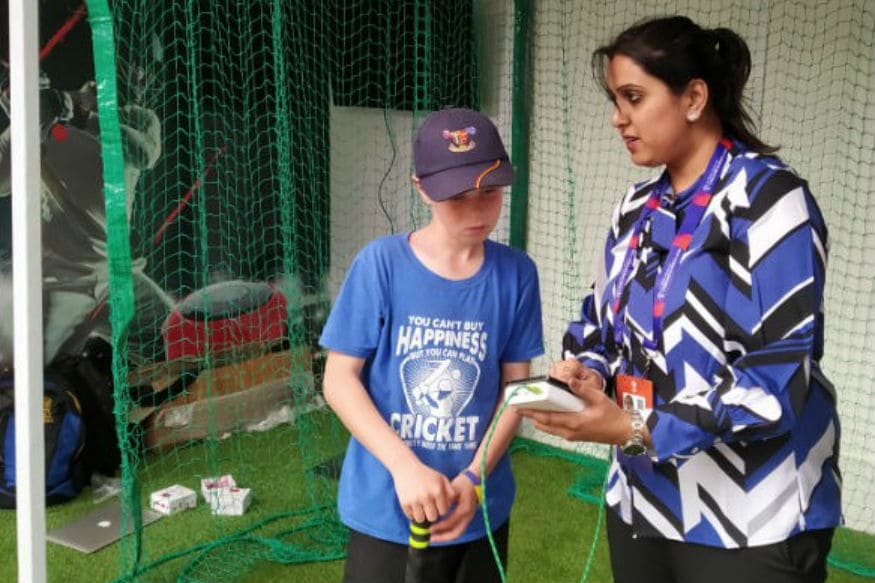 (Image: Karthik Lakshmanan)
... and posing proudly with England jerseys.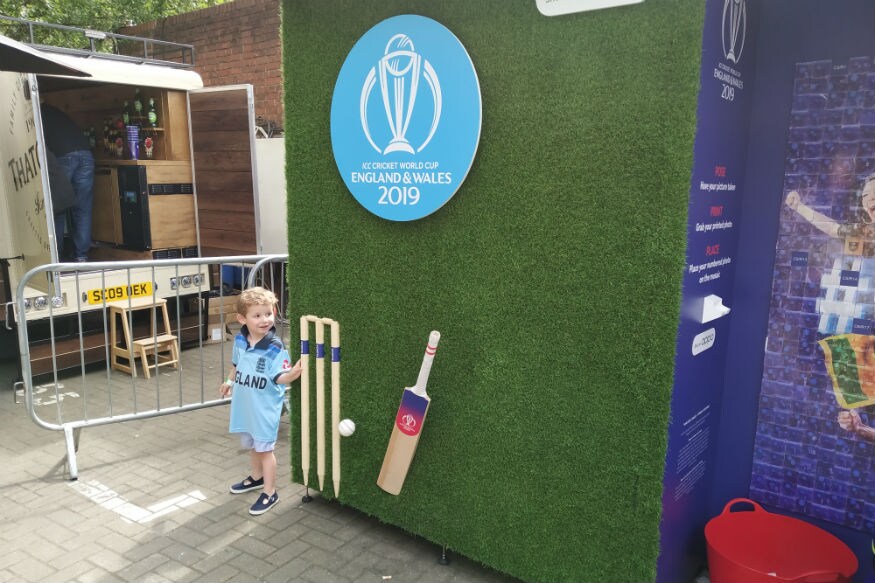 (Image: Karthik Lakshmanan)
But hold on, was it just England jerseys that were on display? The ICC is calling the tournament the 'world's greatest cricket celebration', and not surprisingly, the IPL decided to make its presence felt!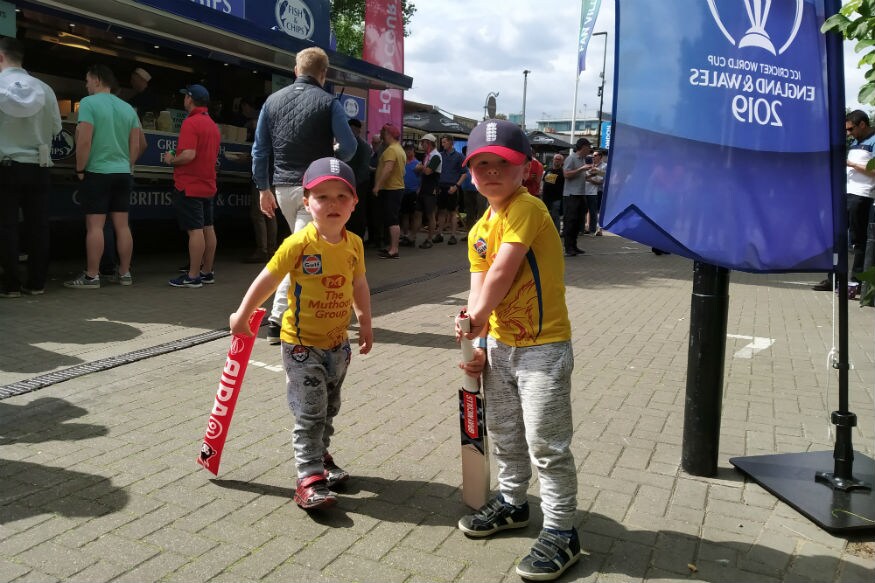 (Image: Karthik Lakshmanan)
Irrespective of the colour of the jersey though, England couldn't have asked for a better start to the tournament, both on and off the field.