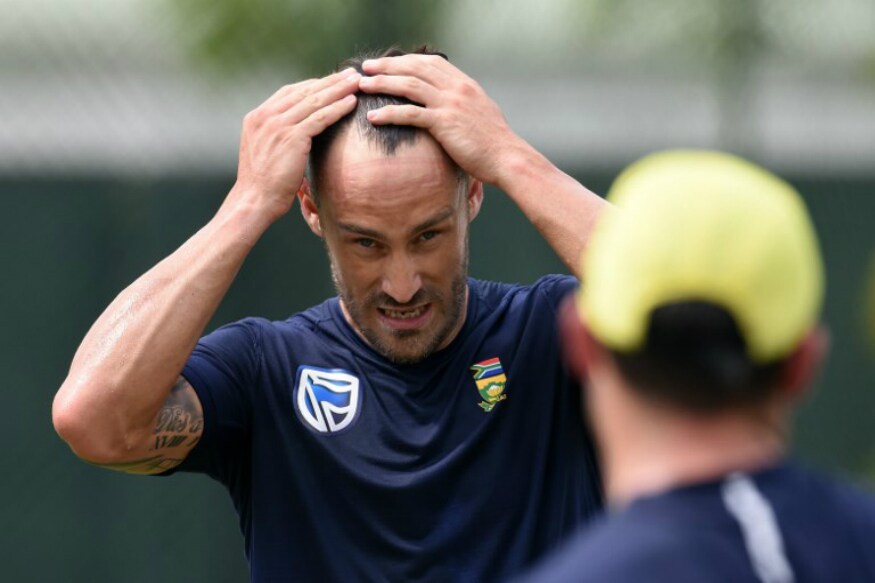 South Africa captain Faf du Plessis said his team wouldn't be looking to do 'Superman' things in the World Cup 2019, and instead insisted on the need to do the 'normal' consistently.
South Africa have a poor record in World Cup knockout matches over the years, often crumbling under pressure. Du Plessis put that down to trying too hard and adding pressure on themselves.
"In previous World Cups, we wanted to do Superman things," du Plessis said on Saturday (May 18) ahead of the team's departure to England.
"We thought we had to be more special, we had to do something more than we usually do, and we did not do what was good enough. We haven't always got that right in the past, to play our best cricket at the World Cup, because we put so much pressure on ourselves. We want to just focus on enjoying our cricket.
"We believed you had to be really special to win the World Cup, that you had to do something more than you usually do, which is not true. Whatever we've been doing consistently, the way we've played while beating teams that will work. We have to do the basics as well as possible, teams don't win the World Cup by someone scoring a century off 50 balls or taking 7 for 20."
Du Plessis called on each player to find his own strength and play without fear of failure.
"I've been there and I know the pressures, I understand how to deal with them. There's a reason why we want the guys to play freely - because we don't want them to have a fear of failure, which is what the World Cup is for some of them. Our success in England over the next couple of months depends on how well we release that aspect of our play - we need that for the team to be at our best. Each player needs to find out his own strengths.
"The players relate better to fellow players and I'm on the same level as the coach when it comes to the importance of the mental side. I'm a big believer in positive visualisation, how to remain calm, and I feel it has had value for my own game. So I can relate that to the players, how important it is to be present in the moment; for instance when there's been a dropped catch, there's nothing you can do about it and it's about how you change your mindset to make sure you are still strong mentally."
One of the talking points in the South African squad for this World Cup is the presence of Hashim Amla. The opener has made only one century since the start of 2018, averaging 35.26 from 16 ODIs. It's a considerable fall from his overall career average of 49.74.
Du Plessis threw his weight behind the senior batsman, saying Amla's experience will be key in the World Cup.
"As an experienced player, he is important in our squad and that was one of the key reasons he was picked," du Plessis said.
"You cannot substitute experience. When I speak about the experience, I speak about experience having played in tournaments like the World Cup before. He understands what it means to play in a big tournament.
"Whether that means runs or not, no one can give us that guarantee. But it's just the calm composure Hashim has. Even if he doesn't play a game, just the knowledge and experience that he can share with someone like an Aiden Markram is something you can only get from a guy like Hashim. He can talk him through those first 10 overs, he has a lot of experience playing county cricket, so his experience is vital to the group.
"In terms of team selection, that's a call we will make when we get to that first game. We have two warm-up games. Generally, we want to pick on form. If we believe Hash is the guy with the best form for the first game then he will be picked. But if we feel there are other guys that are more in form... form does play a huge role in a long competition like this - so hopefully Hash can go into those warm-ups, and bang, bang two centuries in a row and then we can smile from there."
South Africa feature in the tournament opener against England at The Oval on May 30.