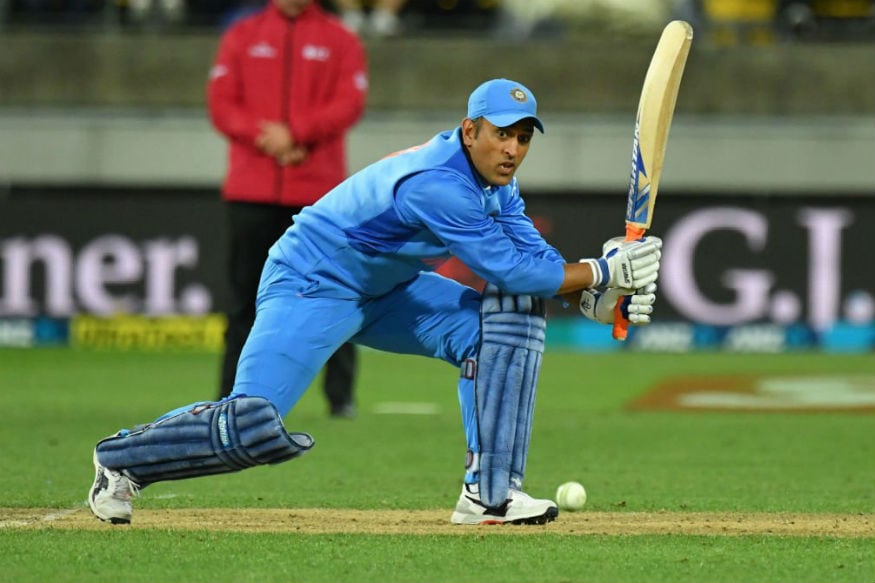 The 2019 World Cup scoring sheet that was revealed a few days back had room for marking 500 runs in an innings with Tom Harrision, the ECB Chief Executive, quoted as saying – "We had to reprint the whole things because we think this is the tournament where the 500 run barrier will be breached for the first time in 50 over cricket."
It is an insane thought. More than a decade ago, when Australia racked up 434 at Johannesburg in an ODI and South Africa chased that down, few would have thought that such scores would become common place three World Cups after.
To think that a team could gun down the 500-run barrier was still unthinkable in the World Cup four years back despite the year marking the highest run rates in the history of ODI cricket. Yet, that is a distinct possibility in this year's event, not merely due to the soaring run rates, which have remained above five every year since 2011 in ODIs, but also because 2019 is surely chasing down the record for the highest run rate in a year in the format.
England, the inventors of 'The Hundred', a suspect new format with rules different enough to warrant a new name for the sport altogether, seem to be fuelling this insane quest for runs.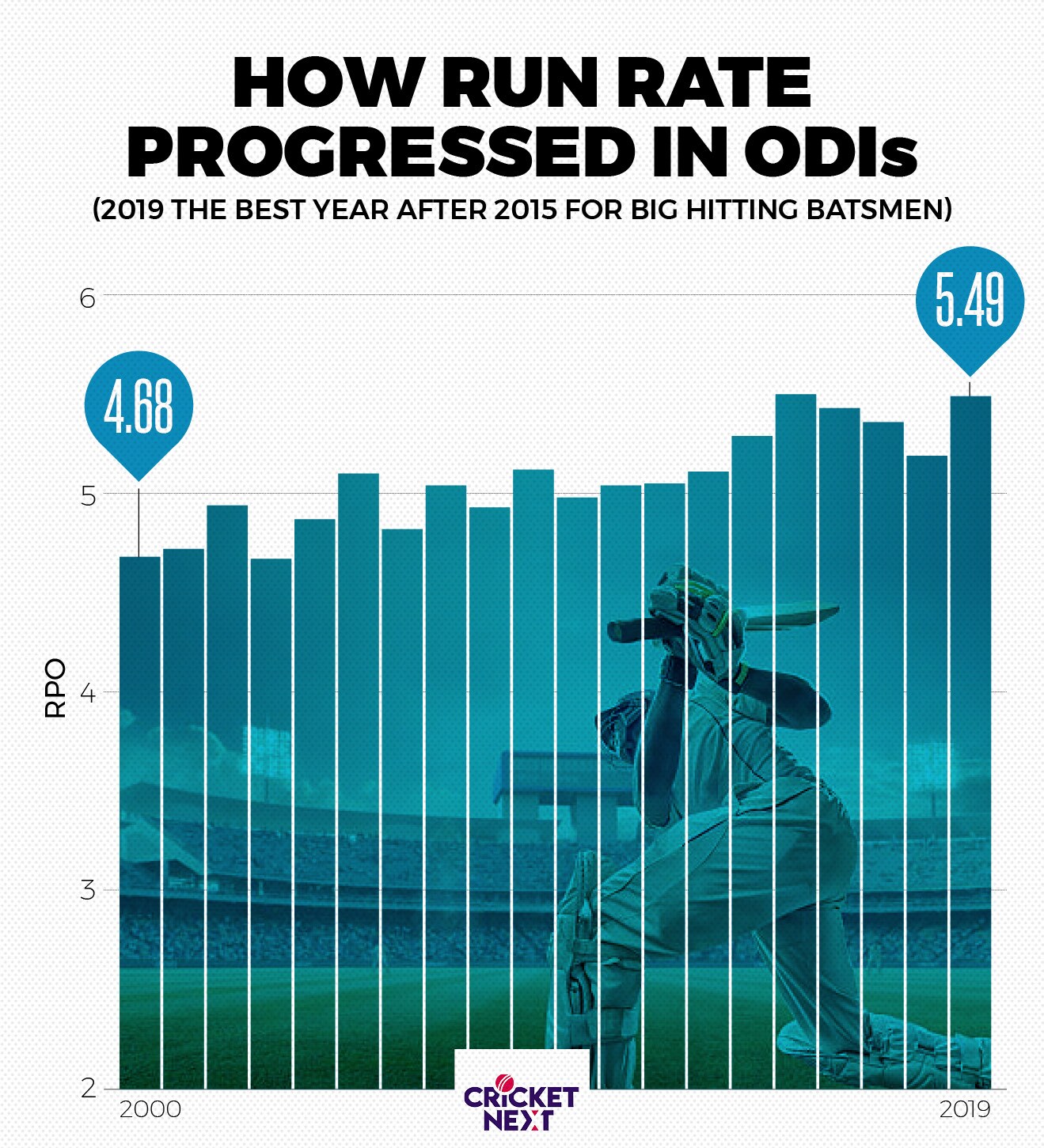 The ongoing England – Pakistan ODI series has seen the side batting first score over 340 consistently. Twice it was chased down and once it was almost chased down. That is a run rate of 6.8 or more scored with ease in both innings of three different matches. Teams have batsmen capable of clearing the boundary as often as once in an over and with pitches rolled flat, they have nothing stopping them.
This brings us to a pertinent question. Why do teams even sport batsmen who act as anchors when seven batsmen capable of scoring at over a rate of 100 capable of giving you scores of 360-380 and more consistently. Let's call these guys the nurdlers or nudgers, the ones who are still in the 90s world of ODIs, milking singles and twos (yes, they still exist!) in the middle overs and setting up the platform for finishers in the death overs.
Do teams actually need nurdlers?
Take England for instance. They have 37 scores of 300 or more in ODIs since the 2015 World Cup. 24 of them have come at home. They have only played 47 matches at home in this time frame. So, they have been making over 300 roughly every alternate game at home. That's a run rate over six per over in nearly half the number of matches.
It's worth noting that they have won 21 of those 24 matches.
People can criticize their spineless bowling attack all they want, but England know they can out-bat most teams at home how much ever their bowlers concede. If they score over 300 five times in the ten matches in the World Cup and win them all, they are almost certain to qualify for the semi-finals (assuming they manage to win one or two other matches).
Why then would they want to accommodate a batsman like Joe Root who only strikes at 91.04? By England's lofty standards, Root is a nudger. But he easily has the most runs by England batsmen since the 2015 World Cup and is the most consistent of them all, scoring runs at an average of 58.3. So, is he droppable?
Other teams have bigger quandaries. India, who have 21 scores of 300 or more, has a middle-order batsman – an important one at that – scoring at a rate of 81.3. MS Dhoni.
Dhoni's striking prowess is remarkably on the wane. A scoring rate of 81.3 puts him firmly in the category of nurdlers. But again, Dhoni averages 50.34 in this time frame and is a collapse arrester like no other as recent series' have shown. He is a necessity to salvage India in situations of crisis. Six of his nine half-centuries since the Champions Trophy have resulted in wins for India.
When India have lost three or more wickets for 50 runs or less in ODIs since 2012, Dhoni has made three half-centuries and two hundreds and averages 57.
Dhoni and Root (definitely not in the league of low strike rates by the standards of other teams) are just examples from a large group of nurdlers who are effective in scoring runs consistently but take time building them. A list of batsmen with 500 or more runs at strike rates of 85 or less since the last major event – the Champions Trophy in 2017 – reveal telling numbers.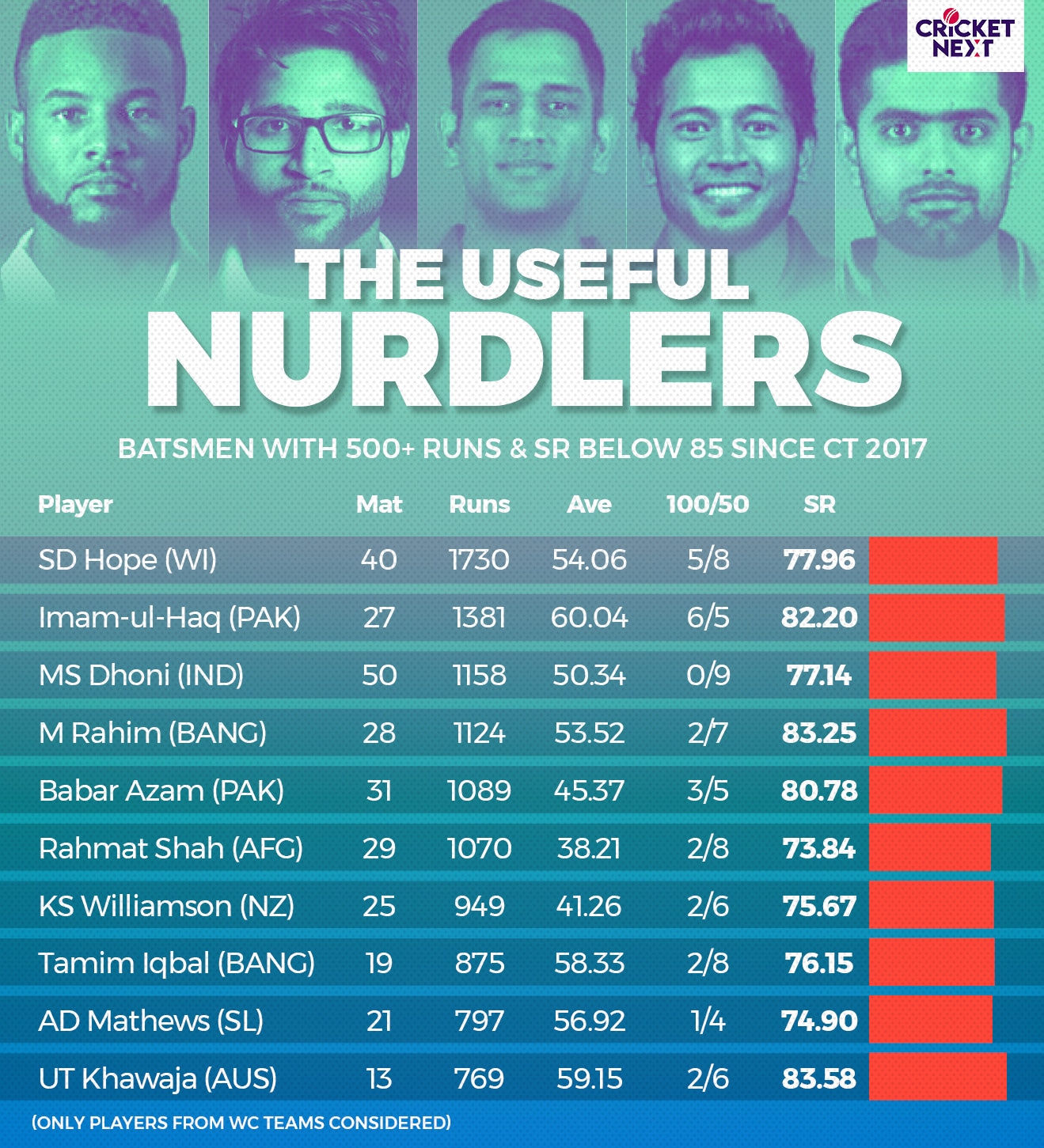 Except England and South African batsmen, there are nudgers across every teams. This is nearly consistent with the team strike rate numbers. England – the only team with a strike rate of 100 or more since Champions Trophy 2017 – New Zealand and South Africa are the best teams in terms of strike rates.
They have the least representatives in the list of nurdlers too. While England and South Africa have none, New Zealand have their skipper, Kane Williamson, indispensable even if he were not captain given that he averages a healthy 41.26.
Likewise, Babar Azam and Imam-ul-Haq have contributed to 31.05% of all runs Pakistan have made since the Champions Trophy but have individual strike rates less than 85. Eight of Imam's 11 scores of fifty or more in ODIs have resulted in wins for Pakistan. Whatever the concerns around his strike rate, Imam has played a key role in wins for Pakistan.
While teams aim to consistently breach the 300-run mark, rarely cross that 400 mark and even aim for 500 on smooth roads at Trent Bridge and Headingley, are these nurdlers hindrances? You do not want batsmen like Usman Khawaja (SR of 83.58) or Shai Hope (77.96) stuck at the striker's end on a flat pitch when a Glenn Maxwell or Andre Russell are awaiting their turn at the other end or in the dugout.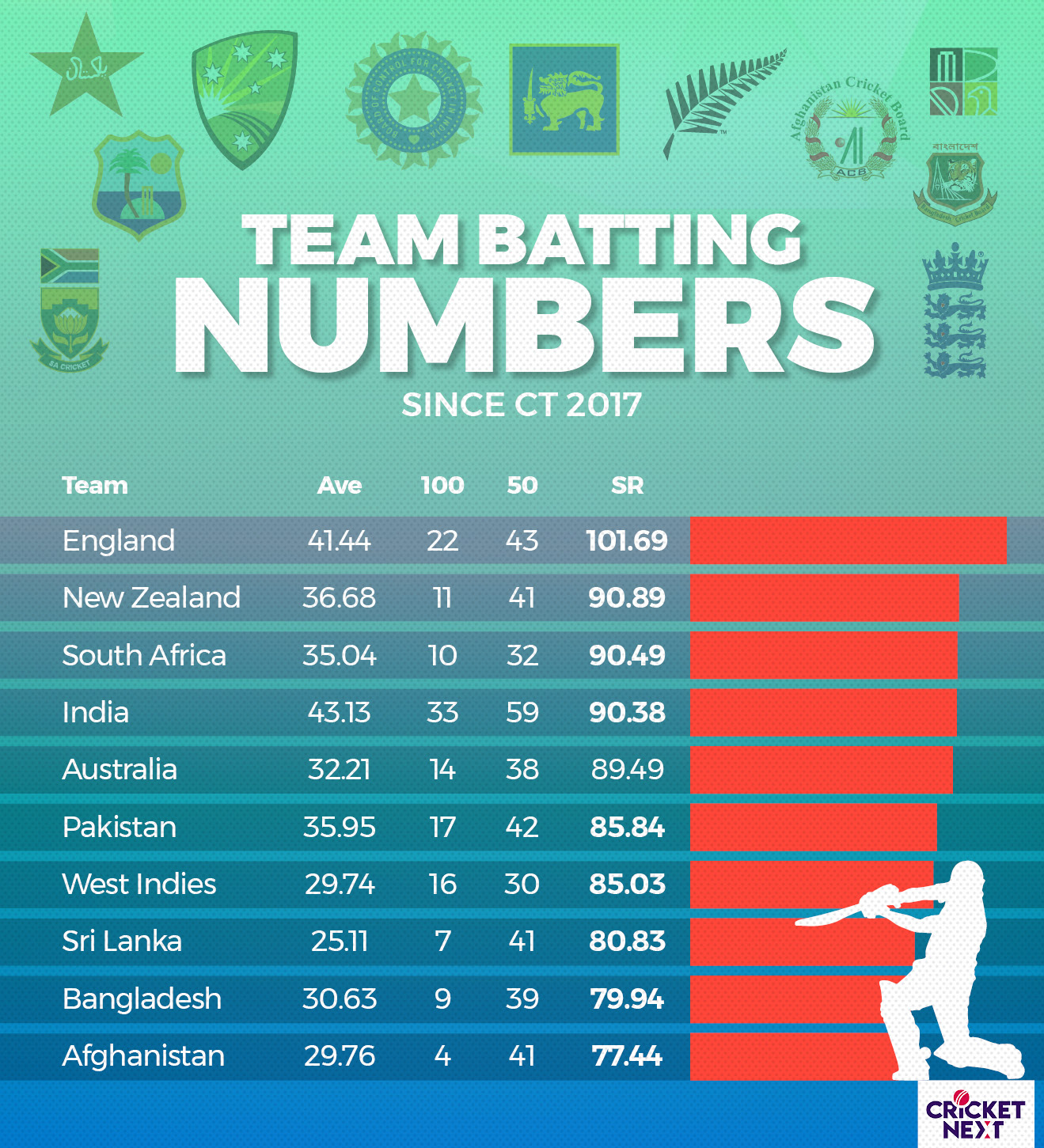 So, do they dispense them?
Can India win this World Cup without Dhoni? Can Pakistan without Babar Azam? Or New Zealand without Kane Williamson? Can West Indies let go of their highest run-scorer since the 2017 Champions Trophy, Shai Hope?
Unlikely. Yet, like the IPL 2019 showed, teams which end up on 170/3 after 20 overs are more than likely to lose than teams who make 200/9.
Conservatism is a negative tactic in this age of wham bam and slam. Mighty batting line-ups prepared to go full throttle mean that teams cannot afford to rest easy even if they make 400 batting first. Sacrificing a wicket in a quest for quicker runs is a necessary tactic which teams might actually have to follow.
This would leave no room for nurdlers, but what do you do when the team is 30/3 and plan A goes awry? Contrary to popular notion, ODIs may not yet be in the league of T20s. In 2015, the ODI run rate was 5.5, the most it ever was.
But then, even after four years, it is no where close to six in any year. In fact, 2019 still stands below 2015 in terms of run rate. In the last decade, the lowest run rate in a year is 4.98 in 2010. The highest is 5.5 in 2015.
That's still only a 9% increase in the strike rate.
Meanwhile, averages are more reliable. Imam-ul-Haq, Shai Hope, Usman Khawaja, Angelo Mathews and Tamim Iqbal - all in the nurdler list - have the top averages for their respective teams in ODIs in this time frame.
It might still be too early to stack your team up with big hitters. That age and day isn't far away, but 2019 might still be premature to shed all of your nurdlers and nudgers who set the game up for the big hitters. That said, teams still need to sort out their strategies to best use these guys without them affecting the optimal total possible on the day.