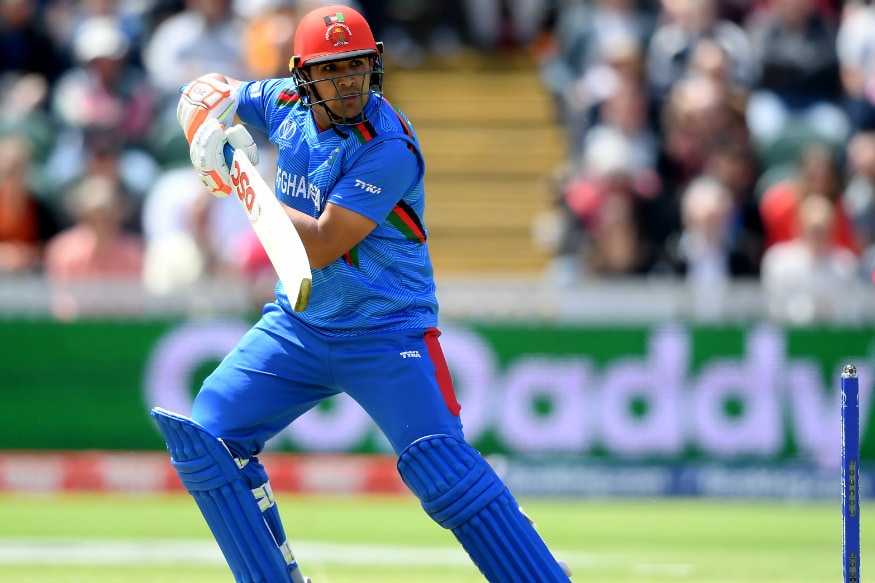 Manchester: Hazratullah Zazai grew up idolising Chris Gayle. By his own admission, there is not a single innings of Gayle that he has not seen on YouTube.
"I've never missed (watching) his batting. I have seen all his innings on YouTube - centuries, fifties, everything that's there," he says.
On October 14 last year in Sharjah, Zazai got a chance to watch Gayle from a much closer range. A left-handed opener himself, Zazai was playing for Kabul Zwanan in the Afghanistan Premier League, with Gayle as his opponent with Balkh Legends. For the first 12.5 overs of the game, Zazai saw Gayle smash 80 off 48, with as many as 10 sixes.
That game changed Zazai's life forever, not just because he got to see his idol from close range. By the end of the game, the talk of the town was not Gayle's blitz, but Zazai himself. For he went on to hit six sixes in an over off left-arm spinner Abdullah Mazari, en route to a 17-ball 62. His side lost the game, but if at all that was a disappointment, it vanished soon as the knock gave Zazai an opportunity to meet the man who he grew up watching.
"I wasn't trying to impress him. I wasn't even seeing him when I hit the sixes. My focus was on the ball," he explains to CricketNext. "The target was 245. I wasn't actually trying deliberately to hit sixes. My only focus was on getting quick runs so that it gets easier for batsmen to follow. But they brought the spinner on in the fourth over and I suddenly thought - okay, this is the over to try for more runs. One, two, three, four, five...I wasn't thinking anything. And then I thought - okay, I've hit five, might as well go for the sixth. I was ready for it and hit it!
"I hadn't spoken to Gayle before the match. I had never met my idol. The first time I saw him was as an opposition player. But after the match I met him, he gave me lots of tips and asked me to just play my natural game. I've always followed him. Now I felt proud that I was at this stage when he was an opponent."
After the high of the game, Zazai found time to meet another player too. The bowler.
"I apologised to Mazari," he says. "He was disappointed. It was his first match in the league and he didn't play after that. I went up to him and said sorry it happens in cricket, he was disappointed but nice. We are still very much friends."
***
(Twitter)
The lengths to which teenaged Zazai had to go to just watch Chris Gayle bat is a story in itself.
Like many others in Afghanistan, Zazai didn't have the easiest of lives as a child growing up. He was born in Paktia in 1998, before his family moved to Kabul in search of a better livelihood. Soon, being the third of six children to his parents meant he had a responsibility to fend for the family.
At 15, Zazai was already working as a watchman for Afghan Wireless, a mobile network operator. His role required him to monitor CCTV cameras through the night. But his passion was elsewhere. Watching Afghanistan play the 2010 World T20 as a 12-year-old ignited a dream to become a cricketer. But Zazai didn't have access to coaching academies, or the money required to fuel his passion. Only when he was 15 did he start playing with a cricket ball.
"We had monetary problems, I knew what situation my family was going through," he says. "They allowed me to play cricket but they also wanted me to focus on studies. I studied a bit and then worked, and wanted to balance both work and cricket because cricket was always my passion."
But his job had one important thing - a computer with a fast internet connection. It allowed him to watch Gayle through the night shifts. By morning, he would be playing matches for his friend's club, or play in the famous tape-ball circuit in Kabul.
"To get something you have to lose something. I had to work in the night from 5pm to 8am," he says. "But I had a fast internet connection and a computer. I would watch live matches on TV and on the computers. It was difficult, sometimes I had to go to the ground straight from office, change and play matches.
"On Fridays, I would play tape-ball cricket. I didn't like tape ball cricket but it was important to play it because that's an important part of our cricket. That's where you learn to bat aggressively. It was difficult to balance work and cricket, but only because I crossed all those difficulties with hard work am I in this World Cup."
***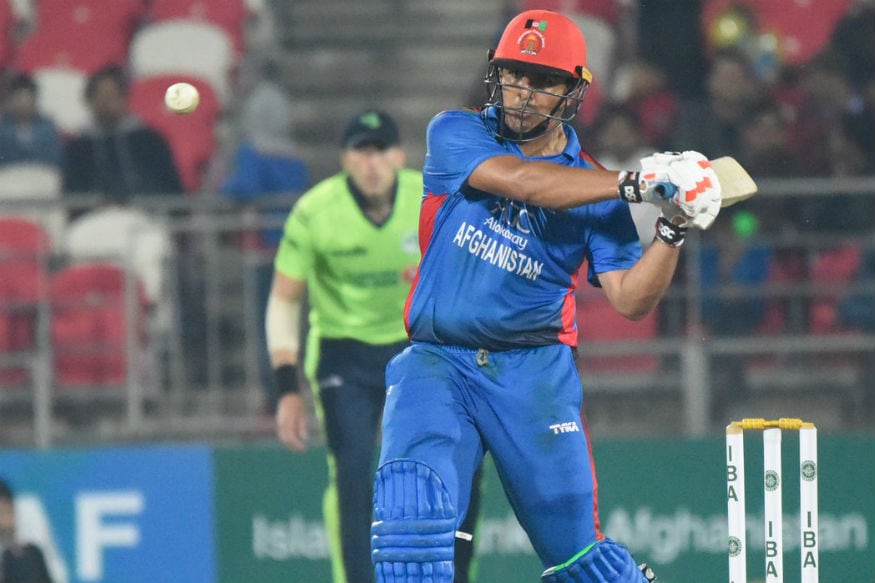 ACB/Twitter
Three years ago, Zazai nearly gave up on this dream. Failing to make the Afghanistan squad for the 2016 Under-19 World Cup hurt him so much that he decided to move away, but that wouldn't last long. By the end of 2016, he made it to the senior team in a T20I against UAE.
Zazai didn't play for Afghanistan again for nearly two more years, but the events over the last ten months have made him one of the first names on the team sheet. Firstly, there was the six sixes. And then, an unbeaten 162 off 62 balls in a T20I against Ireland in Dehradun this February. Only Aaron Finch, with 172 off 76 against Zimbabwe last July, has scored more runs in a T20I innings.
"That was the best innings in my career. I was aware of the record before the match but once you enter the game you're not thinking about that," says Zazai before narrating an interesting incident.
"I had a low score (11) in the previous match against Ireland. Rashid (Khan) and I were in a bit of a banter and he mocked me for scoring low. I challenged him - keep a tweet 'Zazai 100+' ready for tomorrow. He said 'are you joking?'. I said 'no, keep it ready'.
"After I hit 162, he said 'wow you achieved what you said', and tweeted it. That was my best innings."
A phenomenal performance by talented World Record #T20 Breaker @zazai_3 (future @henrygayle ) & his partnership with #UsmanGhani. First rate batting & brilliant team work #BlueTigers. Congratulation Afghanistan for the victory over @irelandcricket. #AFGvIRE pic.twitter.com/6ou2ejOZZ8

— Rashid Khan (@rashidkhan_19) February 23, 2019
The knock sealed Zazai's place in the World Cup.
"I had kept a target for myself that I would cross all situations and play for Afghanistan - Under-19 or senior," he says. "I saw the 2015 World Cup on TV. Now I'm playing in a World Cup and people are seeing me on TV. I feel proud, it's like a dream."
The dream began with a two-ball duck against Australia, but has picked up slightly since with scores of 30, 34 and 22 against Sri Lanka, New Zealand and South Africa respectively. Afghanistan's batsmen have struggled to cope up, but Zazai has done a decent job with quick starts so far. The challenge is to make it big, beyond the cameos.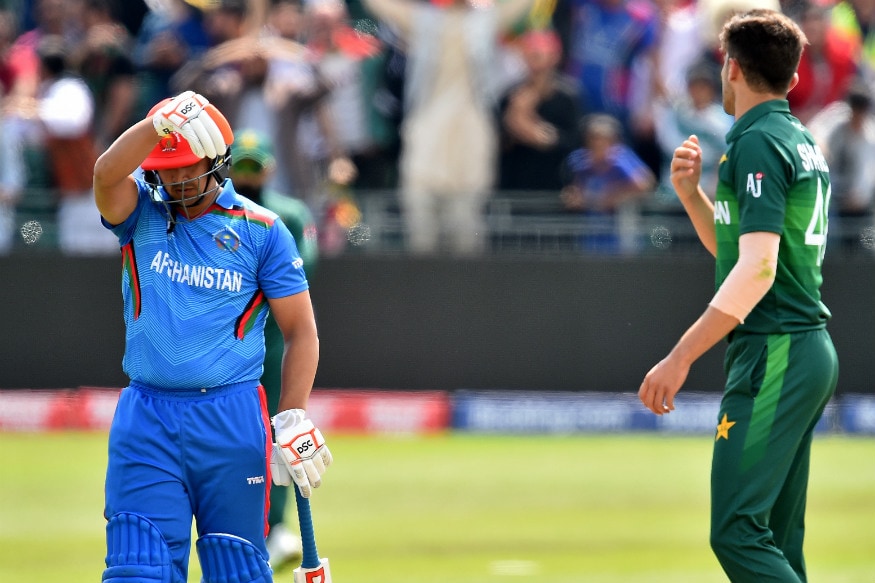 "It's not like I'm obsessed with sixes. It's just that it's my natural game. I don't just look for sixes, it's not that easy to hit sixes," he clarifies on being branded as a six-hitter. "We have to adjust, because it's the World Cup. It's my first time against such international teams. There is a little bit of pressure but I'm trying to play my natural game in all the games."
Zazai has a dream within a dream too: to become the first Afghan batsman to score a World Cup century.
"Inshallah I will ask Rashid to tweet about World Cup century soon," he laughs.
Earlier it comes, the better it will be for Afghanistan. But a century in their last game against West Indies with Gayle in the opposition wouldn't be bad timing either.