Imran Tahir's first visit to South Africa was back in 1998 as a 19-year-old with the Pakistan Under-19 team. On that trip, Tahir ran into a Durban-based girl called Sumayya Dildar and little did he know that the Lahore-born cricketer will be South Africa's premier spin bowler even at 40 years of age.
World Cups have thrown up their share of surprises when it comes to spinner — remember Martin Crowe opened the bowling with off-spinner Dipak Patel back in 1992. But no one would have bet on South African skipper Faf du Plessis giving the first over of the 2019 World Cup to Tahir at the Oval.
The leg-spinner didn't disappoint his skipper, inducing an outside edge off Englishman Jonny Bairstow's blade in that eventful first over. The inevitable lap around the Oval came out and although South Africa lost by 104 runs, Tahir's enthusiasm didn't wane.
"It was a tactical decision that surprised everyone. When Du Plessis decided to have a bowl with a little bit of moisture around, you would expect the seamers to come up and bowl but having said that moisture also make the pitch a bit soft and slow maybe. So it was a good move," former South Africa chinaman bowler Paul Adams told CricketNext from Cape Town.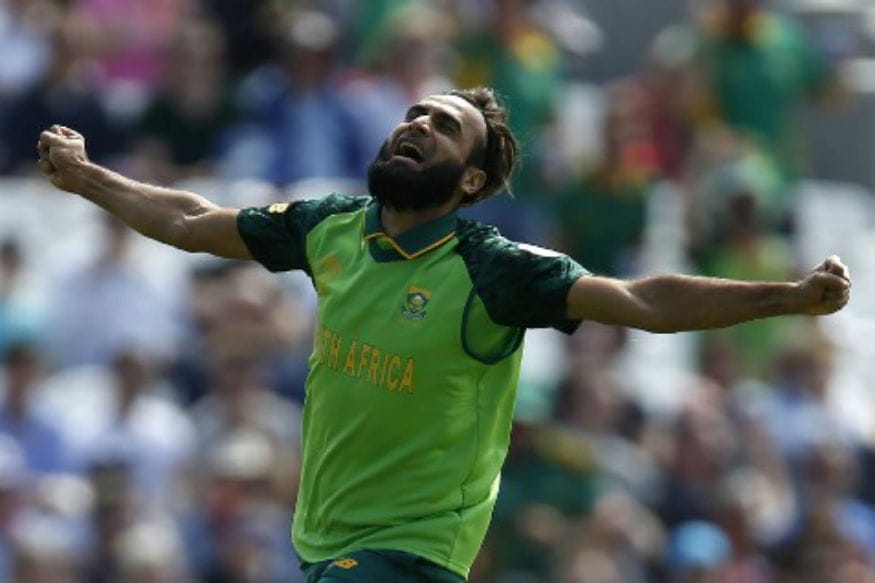 "In their previous ODI series against Pakistan, they did explore Imran opening the bowling and seeing how it works out," he said.
Adams was the surprise package back in the 1996 World Cup in the sub-continent when his unique action coupled with chinaman deliveries made him the talk of the town. South Africa, however, in their history have been rather rigid in their approach which many believe makes them very predictable as an outfit.
"They are trying to be little bit unpredictable because in the past they have been really predictable how they went about their business. It was a good tactical move and Immi (Tahir) bowled really well and put the pressure as both (Jason) Roy and Bairstow like the pace on the ball," Adams felt.
Tahir settled in South Africa back in 2006 permanently and finally made his international debut in the 2011 World Cup, making his debut against the West Indies at the Ferozeshah Kotla in New Delhi.
"Imran has been around for a while, started off in Pakistan for their 'A' team, played a few domestic teams around SA. He's a good asset to have, generally loved by South Africans in Durban. He's always been passionate player and passionate about leg-spin as well. Wherever he goes, he makes time for the young players and makes sure he talks to them about art of leg-spin. He has been real good ambassador for SA," the 42-year-old chinaman bowler said about Tahir.
Adams believes it's Tahir's tremendous passion that keeps him ticking even at 40 years of age. The leg-spinner was on song from ball one in the IPL-12 for Chennai Super Kings and ended up as the highest wicket-taker this season with 26 scalps in 17 games.
"He's got the skill and talent but it's the passion and the drive. You see him walking on the field and it seems he is loving just being out there. Touring around the world can be hard but secret of Immi's longevity has been his passion and love for the game. He loves bamboozling the batsmen and is very special for the world of cricket," Adams said.
However, while the tactic might have worked against England, South Africa might go back to using Tahir in the middle overs. They face Bangladesh on Sunday and then India on June 5.
"Strategy will change against the Asian team, they'll probably use Immi in the middle period. They have to figure out who can pick up wickets in the Powerplay and put pressure on the opposition. Basically you will see them change their strategy depending on opponents," the former Cape Cobras coach said.
Asked what changes South Africa need to make after the heavy loss in their opening match, Adams said, "Tournament is long and for SA to advance they need to win 5-6 matches. They are going to come up against opposition like England but they need to learn from these defeats.
"England have shown over the past year or so that they are playing at the different level than other teams and have been consistent. It's high risk when it comes to batting but they showed the level of intensity that is required. For SA not much tinkering going on, could be strategically done depending on opposition but no need to panic as yet, need clear thinking when they are on the park especially when it comes to batting. The top 3 or 4 have to set up the innings when you are chasing big totals and that's what didn't happen," he added.