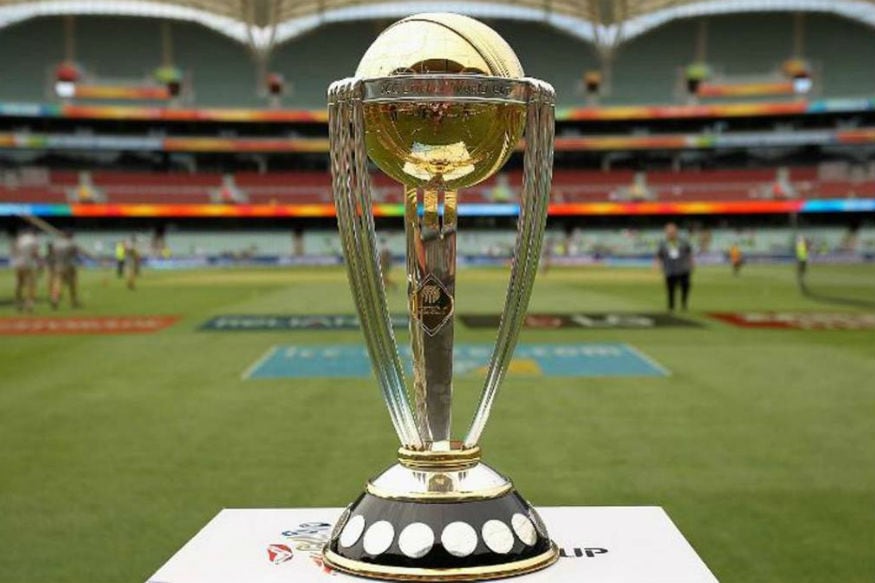 The 12th edition of cricket's most prestigious tournament – the World Cup gets underway in England from the 30th of May. While England start as firm favourites at home there are four to five other teams that will challenge them for the trophy – coupled with that the format of the World Cup and this has the potential to be one of the most competitive and closely fought tournaments in history.
How have the 10 competing teams fared since the last World Cup? Why is England the hot favourite at home? How has India's recent form been going into the World Cup? Who are the standout batsmen in this period? Who are the best bowlers?
Let us see the numbers that stand out from end of World Cup 2015 to now (14th May, 2019).
Overall Performance
England has the highest win-loss ratio from the end of WC 2015 to now (14th May, 2019). They also have the highest series/tournament winning percentage of 73.68% - they have won 14 of the 19 series/tournaments they have played in this time-frame and are well on their way to win another (ongoing home series against Pakistan).
Both, England and India have the joint-highest winning percentage (matches won/matches played) in this period.
India has the maximum differential (of 10.37) between batting average (42.34) and bowling average (31.97) post WC 2015.
They also have the longest bilateral series winning streak in this period having won 9 consecutive series from June, 2016 (India in Zimbabwe) to February, 2018 (India in South Africa).
England's Explosive Batting
The depth in England's phenomenal batting order, the best in the world, by a distance is the main reason for their dominance in this period.
England have registered 4 of the 5 400-plus totals in this period which includes the highest and second-highest team scores in ODI history – 481 for 6 against Australia in 2018 and 444 for 3 against Pakistan in 2016, both in Nottingham.
They have notched as many as 36 300-plus totals in just 86 matches – that is a 300-plus score every 2.38 innings – that is a staggering frequency!
While their top-order (1-3) has been outstanding in this period with an average of 45.92 and strike rate of 98.98, it is actually their middle and lower-middle order that has made them so devastating with the bat.
They average 41.61 at a strike rate of 102.65 and have hammered 16 hundreds and 58 fifties in this period – the best by far on each mentioned parameter.
Three English batsmen feature in the top 5 average list for batsmen in batting positions 4-7. Jos Buttler (average 51.55) and (strike rate 125.46) is the most destructive contemporary ODI batsman in the world – not only does he score big from the lower middle order, but also at a rapid rate. What is remarkable is the fact that he has scored as many as 7 hundreds in this period. In fact he has the third-highest strike rate in ODI cricket history (119.88; min. 40 innings) after Andre Russell and Glenn Maxwell. Eoin Morgan averages 46.29 at a strike rate of 98.04 while Ben Stokes 46.07 at a rate of 97.46 in this period.
It is this depth in batting order that makes England the favourites at home, where they have a phenomenal record since the 2015 WC – having won 32 of the 45 matches – despite a bowling attack which has the second-worst economy in the world.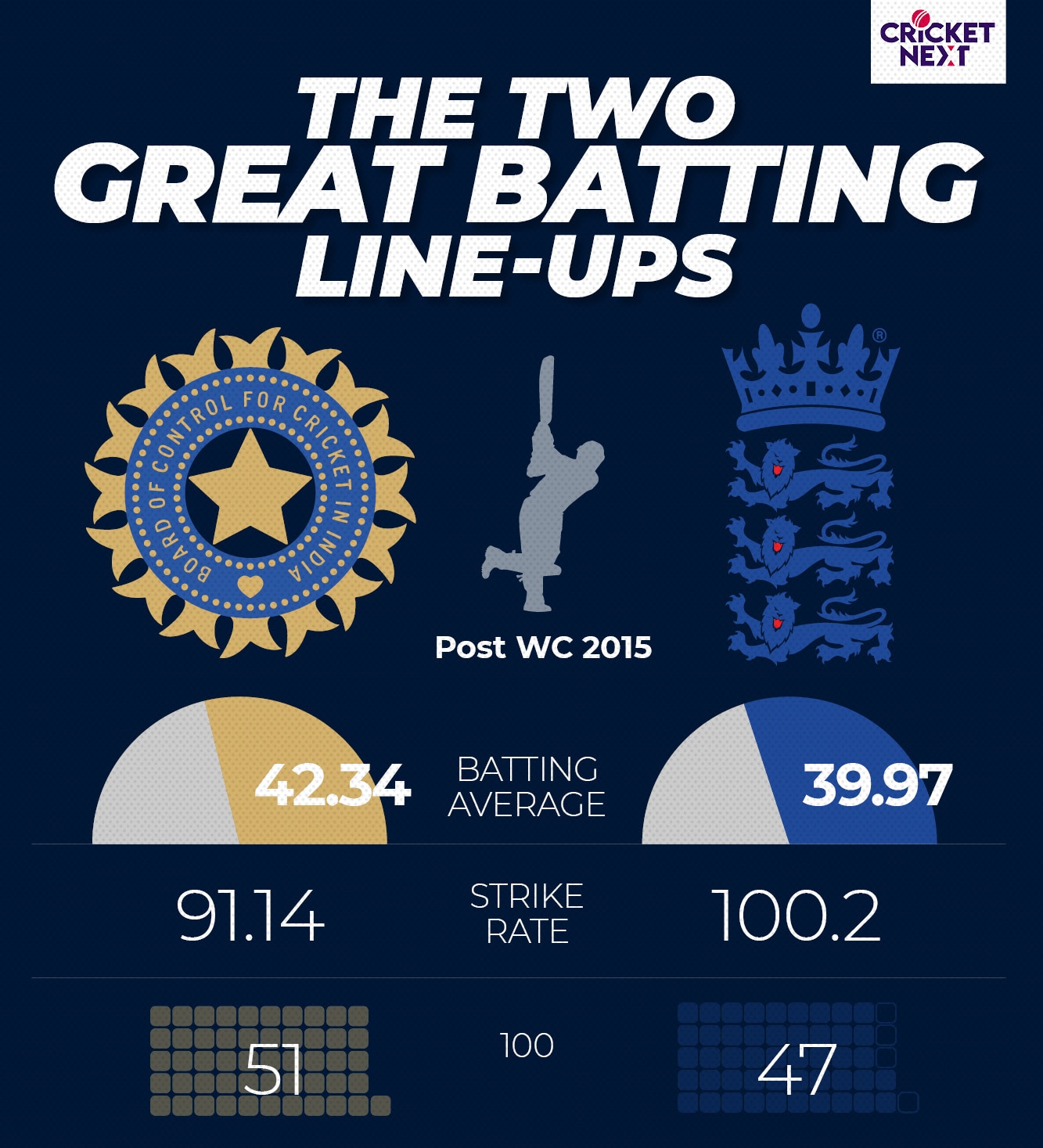 India's Sensational Top-3
Overall, India has a higher (and the best in the world) batting average than England in this period. Reason - India's top 3 – Rohit Sharma, Shikhar Dhawan and Virat Kohli – have been in scintillating form in this period.
Kohli has, by some distance, been the best batsman in this period. He has scored the maximum number of runs (4306) with the highest average (78.29) and registered the maximum hundreds (19) in this period. Coupled to these is his strike rate of 98.33.
Rohit Sharma is second only to Kohli and has aggregated 3790 runs in this period at an average of 61.12 and strike rate of 95.29, including 15 hundreds. He has also hit the maximum number of sixes in the world in this time-frame (130).
Shikhar Dhawan has scored 2848 runs at an average of 45.2 and strike rate of 97.5 in this period.
Overall, India's top 3 have averaged 58.8 in this period – the second-highest on this count is England (45.44) showcasing the dominance of India's top-order.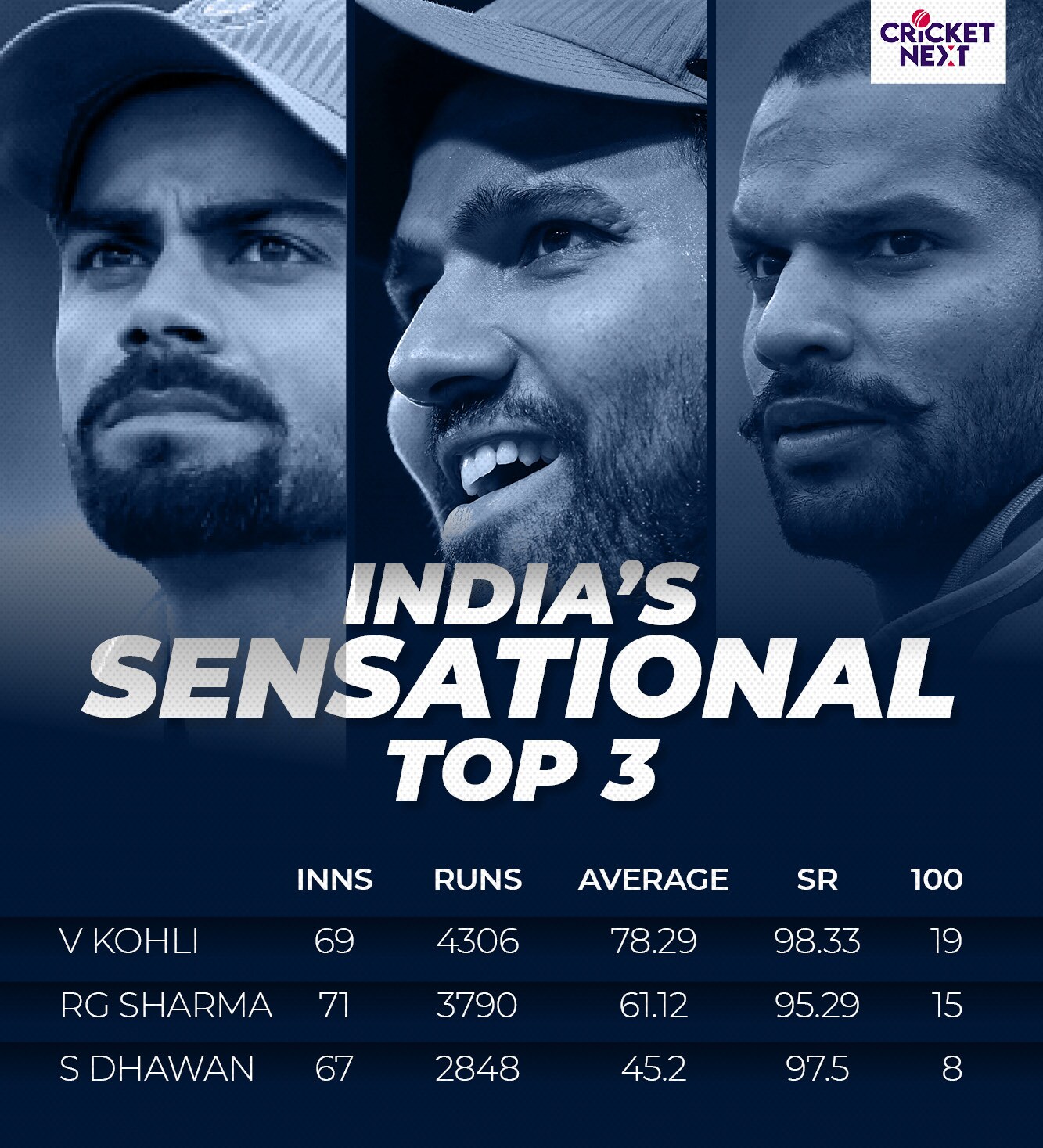 The Kohli-Rohit and the Dhawan-Kohli partnerships, with an average per dismissal of 84.46 and 77.56 have been the two most successful pairs in ODI cricket in this time-frame.
India has a largely untested and relatively weak middle-order. Though Kedar Jadhav has some great numbers in this period (1154 runs in 39 innings at an average of 44.38 and strike rate of 102.94), it is the strike rate of MS Dhoni (81.30) which further dips to 74.96 post 2018, which will be of deep concern to India.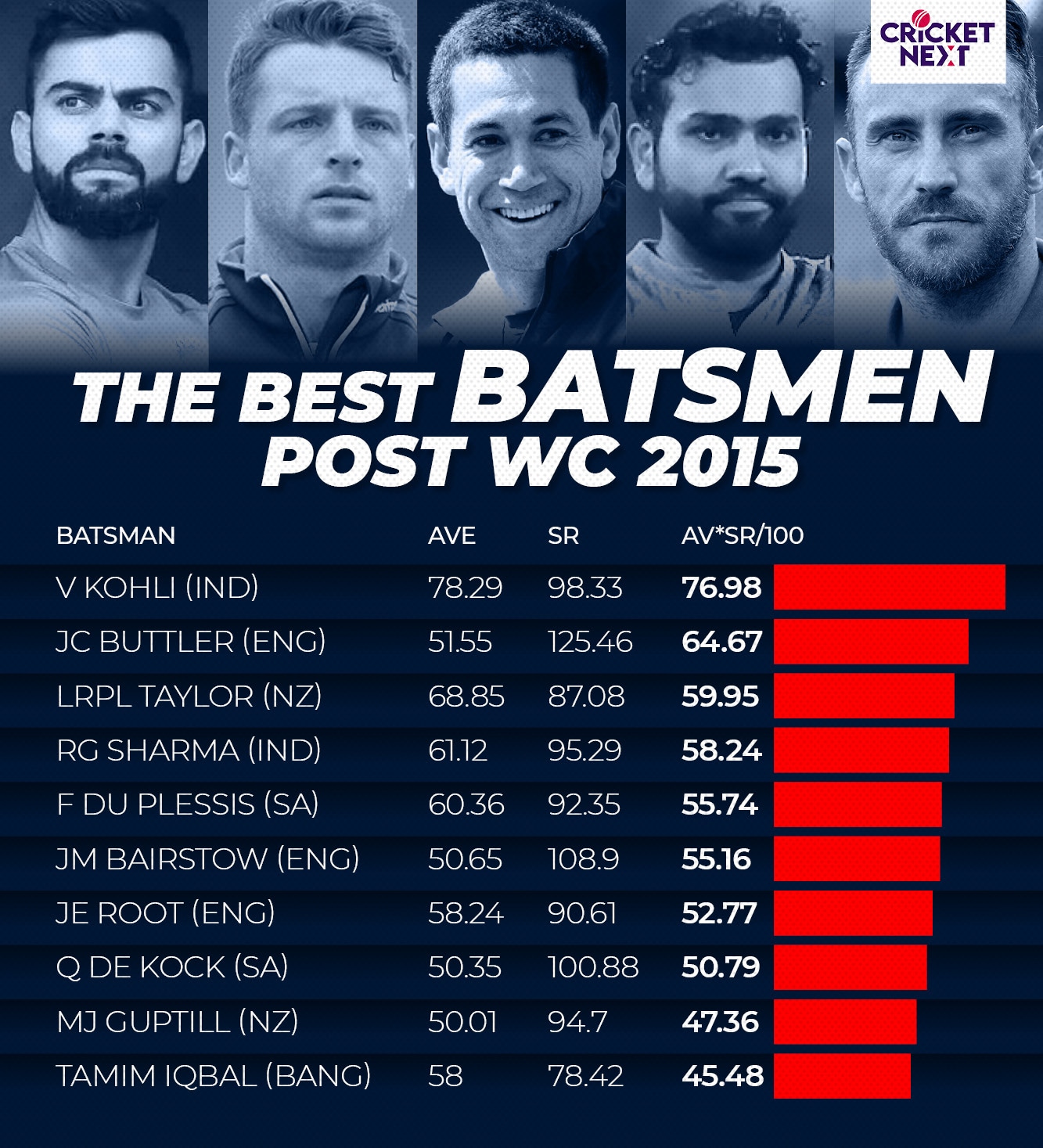 Other Standout Batsmen in This Period:
Joe Root is the third-highest run-scorer in this period with 3378 runs at an average of 58.24 with 10 hundreds.
He is followed by Quinton De Kock who has scored 2971 runs at 50.35 and strike rate of 100.88.
11 batsmen average above 50 in this period. Ross Taylor at 68.85 is second only to Kohli. Faf du Plessis with an average of 60.36 is at number 4.
Some other interesting names on this list include Tamim Iqbal (58), Jonny Bairstow (50.65), Shai Hope (50.53) and Martin Guptill (50.01).
Fakhar Zaman holds the record for the highest score in this period – 210 not out against Zimbabwe in Bulawayo in 2018.
Rohit Sharma is the only other batsman to have registered a double hundred in this period – unbeaten 208 against Sri Lanka in Mohali in 2017.
South Africa most potent attack, India most restrictive
South Africa have the most potent bowling unit since WC 2015. Both, their bowling average of 30.93 and strike rate of 35, is the best amongst all the major teams in this period.
Kagiso Rabada has been the leading pace bowler in the world in this period (if we take a combination of average, strike rate and economy). He has picked 106 wickets in just 65 innings at 26.43 apiece at a strike rate of 31.8 and economy of 4.98. He just picked as many as seven 4-plus wicket hauls in this period.
Imran Tahir's 92 wickets have come at 27.03 apiece and an economy rate of 4.80.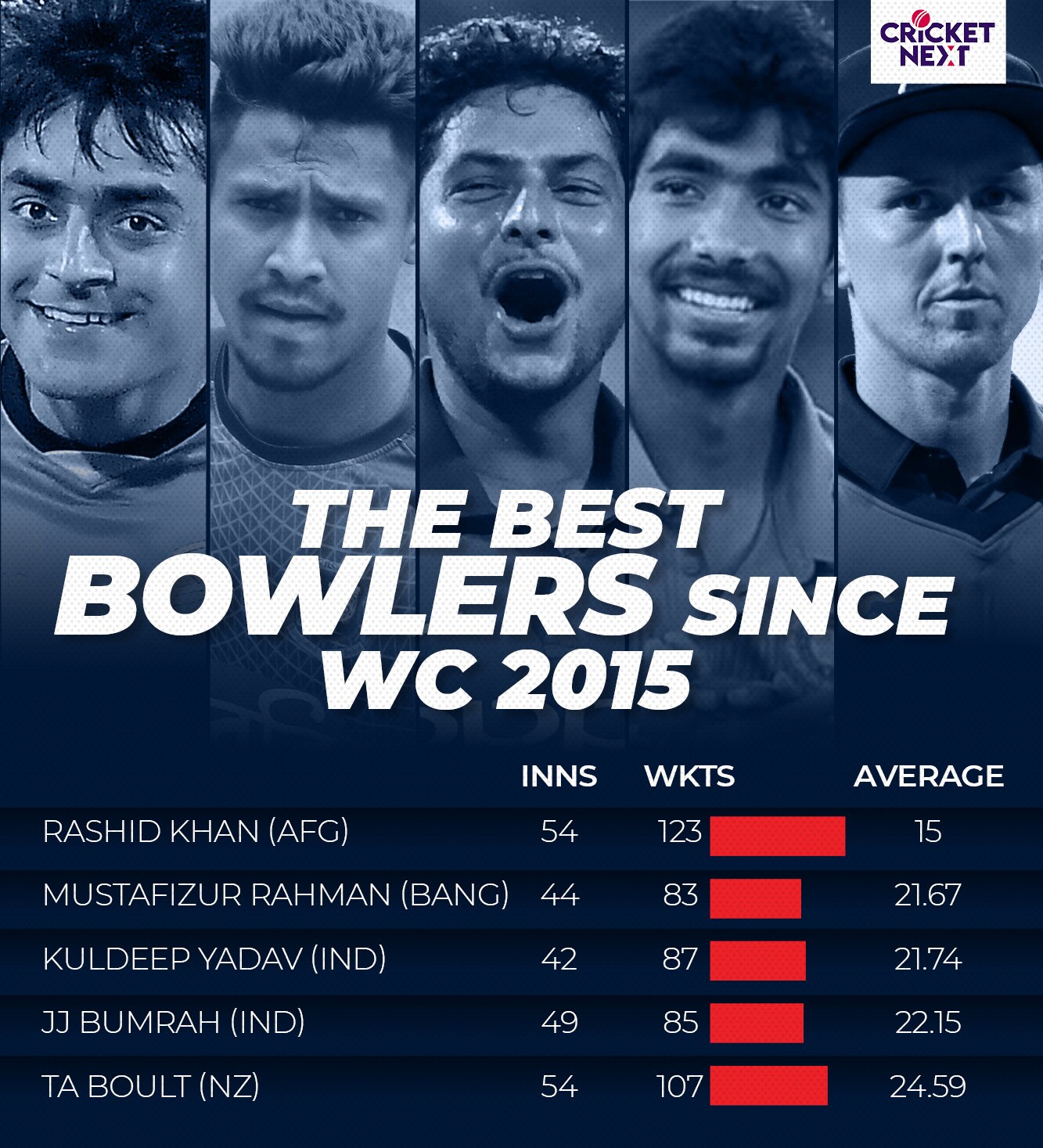 Interestingly, it is India which has the second-best bowling average (31.97), the third-best bowling strike rate (36.7) and the best economy rate in this period (5.21).
Jasprit Bumrah's bowling average of 22.15 post WC 2015 is second only to Mustafizur Rahman of Bangladesh (21.67) who incidentally also has the best strike rate (27) in this period amongst all pace bowlers. The Indian seamer's economy of 4.51 makes him the most restrictive pace bowler in the world in this period.
Kuldeep Yadav, who has picked 87 wickets in 42 innings, is second only to Rashid Khan (in terms of average) amongst spinners at 21.74 apiece. He also has the second-best strike rate (26.4) and an economy of just 4.93 in this period.
Yuzvendra Chahal also stands out during this period with 72 wickets in 40 innings at 24.61 apiece at an economy of 4.89
While Adil Rashid is the leading wicket-taker (127 wickets in 75 innings), it is Rashid Khan who is the best ODI bowler in the world in this period with 123 wickets in 54 innings at an average of 15, strike rate of 23 and economy of 3.9.
He picked 7-18 against the West Indies in Gros Islet in 2017 which remain the best bowling figures in this time-frame.
Trent Boult is the leading wicket-taker amongst pacemen with 107 wickets at 24.59.
Team-wise, it is interesting to note that it is New Zealand who has the second-best bowling strike rate in this period (36.3) and surprisingly, it is Pakistan, traditionally known for producing world-class fast bowlers, who has the lowest (42.9) after bottom-placed West Indies.
Australia's struggle, Sri Lanka and West Indies bottom of the pack
2018 was Australia's worst year in their ODI cricket history in terms of win-loss ratio. They lost 11 of the 13 matches they played in this time-frame.
They had a poor run in 2017 too having lost 8 of the 15 matches they played in the calendar year.
Sri Lanka has the lowest batting average (of 26.79) and also the second-lowest bowling average (of 40.11) amongst all major teams post WC 2015. They also have the most expensive bowling unit with a combined economy rate of 5.74 in this time-frame.
West Indies haven't fared any better and have the second-lowest batting average (of 26.91) and the lowest bowling average (of 42.23 in this period).
To conclude India and England will be the teams to beat in the World Cup. While England have the most threatening batting order, India have the best top 3 and a world-class bowling unit capable of winning matches on its own.
India vs England on 14th July at Lord's is the most likely statistical probability.