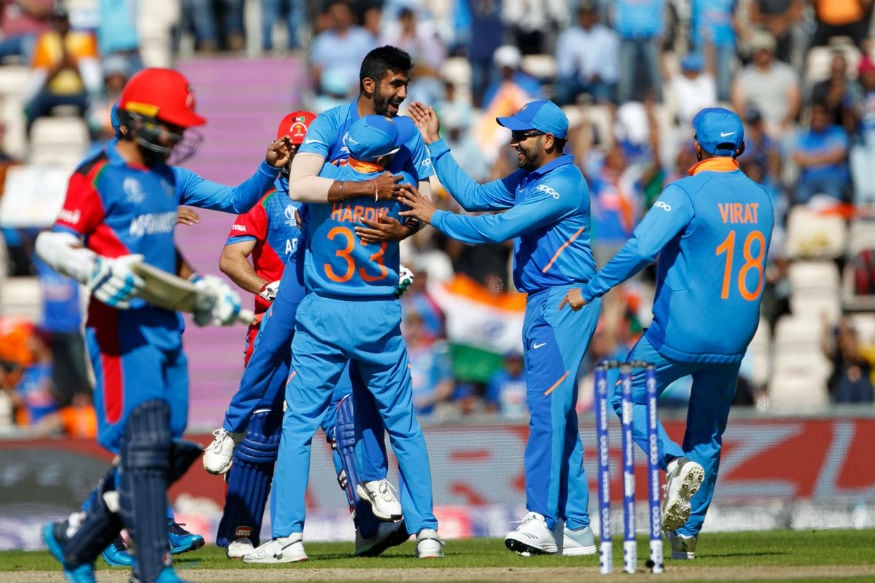 Against all odds, it was Afghanistan who gave India a real run for their money. Chasing 225 for a shock win, it was only thanks to a special performance from the Indian bowlers that they got out of jail with an 11-run win at Southampton.
Afghanistan pushed India to the max, India held their nerve with the ball, Afghanistan won more global fans and Shami took India's 2nd ever WC hattrick. It had a little bit of everything #INDvAFG #CWC19

— Mel 'MJ' Jones (@meljones_33) June 22, 2019
You can't help feel slightly sorry for the @ACBofficials taking the @BCCI to wire, experienced teams generally hold their nerves better on the big stage. On the other hand Kane Williamson's last 2 knocks have been incredible. #WC2019 #INDvAFG — Brendan Taylor (@BrendanTaylor86) June 22, 2019
India win the match but Afghanistan have won the hearts. Great fight against a team who had lost just one out of last 15 World Cup games. #INDvAFG

— Mazher Arshad (@MazherArshad) June 22, 2019
Top quality bowling by all the 5 bowlers under pressure to win the game for Special hattrick by #shami but team India is lucky to have #bumrah specially at the death overs — Irfan Pathan (@IrfanPathan) June 22, 2019
Lost the game, won everyone's heart #Afghanistan #CWC2019

— Cricketwallah (@cricketwallah) June 22, 2019
Phew! Made to work hard for that one. Full marks to Afghanistan, pushed India till the finish line. Champion spell by hattrick hero @MdShami11 #INDVAFG #CWC19 pic.twitter.com/DuxZOsFFgR — Suresh Raina (@ImRaina) June 22, 2019
Jasprit Bumrah is gold. Super calm under pressure. Feel for Afghanistan though. A brilliant game. #CWC19

— Isa Guha (@isaguha) June 22, 2019
Mujeeb Ur Rahman began the proceedings for Afghanistan as Rohit Sharma and KL Rahul walked out to bat. The Men in Blue were struck by the early dismissal of man in form Rohit as Mujeeb didn't disappoint. KL Rahul began slow but couldn't capitalize on it.
Awesome ball from Mujeeb to get Rohit. World class spin with the new nut #INDvAFG #AFGvIND — Jack Mendel (@Mendelpol) June 22, 2019
KL Rahul scored a hundred on his ODI debut in 2016. We are almost halfway through 2019 and he still has just one ODI hundred. These type of dismissals is the reason why. #CWC19

— Shubh AggarWall (@shubh_chintak) June 22, 2019
Wat a Jaffer of a delivery by Mujeeb 2 get rid of Rohit sharma. Wen we speak of a Carrom ball. There was a perfect example of it. Today he looks more relaxed while bowling compared to other days. Cautious start by team india @StarSportsIndia @ICC — MANOJ TIWARY (@tiwarymanoj) June 22, 2019
Mujeeb in last two matches in world cup 2019 :

10-0-44-0 vs England.

10-0-26-1 vs India.

These two are the best batting unit in this world and 18 year Mujeeb did a fantastic job. #INDvAFG #CWC19

— Johns (@CricCrazyJohns) June 22, 2019
Vijay Shankar who came into bat at No.4 tried to prolong his stay at the crease. While he failed to create much of an impression, there were quite a few moments which Twitter didn't fail to capture.
vijay shankar, india's designated number four, is batting at number four for the first time in his ODI career #INDvAFG #CWC19 — Gaurav Kalra (@gauravkalra75) June 22, 2019
What a World Cup for Vijay Shankar - wickets, runs, reviews.#IndvAfg

— Gaurav Sethi (@BoredCricket) June 22, 2019
Both India and Afghanistan took a review for Vijay Shankar. Now you know who is the most important batsman in the team. #IndvAfg — Sagar (@sagarcasm) June 22, 2019
Virat Kohli again stepped up with the bat as he scored his third consecutive half century in the tournament. In what were not easy conditions to bat, the Indian skipper displayed some splendid batting as he scored 67 runs from just 63 balls.
Virat Kohli has 38 fifty plus scores in 73 innings since the last World Cup. He scores 50 or more every 1.92 innings. That is crazy consistency.

— Rehan Ulhaq (@Rehan_ulhaq) June 22, 2019
Kohli looks totally out of place on that scorecard. Just like his batting. Out of place. Alien. Machine. Not human. #CWC19 — Manya (@CSKian716) June 22, 2019
On a slightly tricky surface, Kohli has put on a masterclass so far #INDvAFG

— Bharath Ramaraj (@Fancricket12) June 22, 2019
Every time the team is in need, this man puts his bat up and takes the charge. His passion to do well for the country reflects in his eyes. @imVkohli #INDvAFG #CWC19 — Pragyan Prayas Ojha (@pragyanojha) June 22, 2019
MS Dhoni and Kedar Jadhav put up a slow 57 run partnership from 84 balls. Dhoni failed to accelerate at any point with the Afghanistan spinners taking complete control. Kedar scored a half-century while he batted with the tail.
This Indian team is really so good every match a different person raises his hand up and takes up the responsibility to make the team win. This time it was Kedar Jadhav. But Kohli remains constant, the captain of the ship. #INDvAFG #CWC19

— Toxic Masculinity Astronaut Reddy (@TheRobustRascal) June 22, 2019
A spot of bother for India. Will test 5,6,7 now. Remember, it is a long tail today without Bhuvi. Need 250. — Harsha Bhogle (@bhogleharsha) June 22, 2019
India do not need to panic yet.

Dhoni and Jadhav have been involved in 16 partnerships with an average runs/dismissal rate of 70.5 including two century stands and three half-century stands.

Need not always be the top 3 doing the job. Good test this.#INDvAFG #CWC19

— Rohit Sankar (@imRohit_SN) June 22, 2019
Undistinguished inning by Dhoni. Struggled against spin, but more importanty, even in rotating rotate strike — Cricketwallah (@cricketwallah) June 22, 2019
That was an awful innings from Dhoni, along with Jadhav's struggles, highlighted need for Pant in that middle order.

— Gappistan Radio (@GappistanRadio) June 22, 2019
The Afghanistan bowlers had a field day as the spin trio of Mujeeb, Mohammed Nabi and Rashid Khan conceded just 97 runs and picked 4 wickets. India could only manage a total of 224/8 in their quota of 50 overs.
India showing why they are as vulnerable as England when the gun batsmen don't fire. Well bowled Afghanistan...can they chase strongly with a team of number eights? — jim maxwell (@jimmaxcricket) June 22, 2019
This is a weird weird performance from India so far. Still think they'll win coz they'll get past 200 and Afghanistan can't really bat. But it's just very odd batting. #INDvAFG #CWC19 #bbccricket

— Sho (@Sho_Rahman) June 22, 2019
As far as bouncebacks go, this has been pretty impressive by Afghanistan. Good to see Rashid back among the wickets, too. — Melinda Farrell (@melindafarrell) June 22, 2019
Afghanistan have bowled 34 overs of spin and taken 5/119

— cricketingview (@cricketingview) June 22, 2019
Saare prediction kar deta hay fail esa hay cricket ka ye Khel #indiavsafghanistan — Irfan Pathan (@IrfanPathan) June 22, 2019
A win for Afghanistan will do a world of good to their confidence & stature. 225 going to be a tricky chase on this surface. Fingers crossed #INDvAFG #CWC19

— Navneet Mundhra (@navneet_mundhra) June 22, 2019
Perfect pitch for Kedar Jadhav to bowl 10 overs . #Cwc19 — Vikram Sathaye (@vikramsathaye) June 22, 2019
In the chase, Gulbadin Naib departed after a decent start but it was Rahmat Shah who anchored the innings for Afghanistan. Mohammad Nabi then took up the mantle as Jasprit Bumrah struck at vital intervals. Nabi threatened but Shami ended the game with a hat-trick.
What an outstanding game by Afghanistan! That was tough one. @MohammadNabi007 your spirit & consistency was commendable. India pulled it back really well, well done boys! #IndiavsAfghanistan

— Suresh Raina (@ImRaina) June 22, 2019
And last tweet of the night, of a Player of the Match award done righ: Bumrah, for setting up the har-trick with a gun 49th over. Automaton of excellence, that man. Sheesh. — Snehal Pradhan (@SnehalPradhan) June 22, 2019
What a game. Hats off to @ACBofficials for their tremendous courage and skills in giving India a run for their money. Fantastic effort from @MohammadNabi007 but India holding their nerves in the end. #INDvAFG

— VVS Laxman (@VVSLaxman281) June 22, 2019
This match highlights the importance of having a good bowling attack & more importantly, one that doesn't crumble under pressure. Nabi was composed and threatened to take the game away every single minute he was out there but none of the bowlers were unnerved. #INDvAFG #CWC19 — Prasenjit Dey (@CricPrasen) June 22, 2019
Hattrick in his comeback game for Team INDIA @MdShami11 u beauty. So very happy for u Well done @bcci for an incredible Win tonight. To defend such a low score goes to show that we hav d best bowling attack in this World Cup. Congratulations everyone #WorldCup2019

— MANOJ TIWARY (@tiwarymanoj) June 22, 2019
We won but an outstanding effort from Afghanistan. They can be very proud. Bumrah and Shami saved it for India in the end. Congratulations to @MdShami11 on the Hat-trick. #INDvAFG — Virender Sehwag (@virendersehwag) June 22, 2019
Shami took a hat-trick but the penultimate over by Bumrah set it up. Indian bowlers saved the day. Excellent. India remains unbeaten.... ☺️ #CWC19 #IndvAfg

— Aakash Chopra (@cricketaakash) June 22, 2019
So the Yorker is still a good ball I see.... Well done to India. Great effort by Afghanistan. They'll be disappointed they did not chase that down though.#INDvAFG #cwc19 — Jason Gillespie (@dizzy259) June 22, 2019