An inspiring bowling performance by Jasprit Bumrah and Mohammed Shami wreaked havoc on the West Indian batting line up who crumbled to a massive 125-run loss at Old Trafford on Thursday.
The Indian bowlers were ruthless and destructive and the West Indies' batsmen had no answers on how to counter their offensive. Not only did they ensure that India remain unbeaten in the 2019 World Cup but their phenomenal performance also camouflaged an under-par performance – the second-one on the trot – by their batsmen.
The Absence of Dhawan and Over-Dependence on Rohit
India's three crushing victories over South Africa, Australia and Pakistan were directly related to the success of one/both their openers. Rohit Sharma hit a hundred against South Africa while Shikhar Dhawan smashed 117 against Australia. Rohit again came good against Pakistan with a scintillating 140.
Dhawan was out of the tournament with an injury, Rohit Sharma failed against both Afghanistan and West Indies and despite Virat Kohli registering fluent fifties in both the matches, India struggled with the run-rate in both the matches and could only put up below-par totals which if not for a splendid bowling attack would have been surpassed.
Yes, Dhawan's injury was a huge blow for India. The left-hander has an incredible record in world tournaments (World Cup and Champions Trophy) with 1238 runs in 20 innings at an average of 65.15 and strike rate of 98.25! His exploits include 6 hundreds and 5 fifties.
Dhawan's ouster from the tournament has put tremendous pressure on Rohit and Kohli but they have accepted the challenge and delivered. While Rohit leads the run charts for India with 338 runs at an average of 84.5, Kohli has aggregated 316 at 63.20 and has been remarkably consistent with four fifties. Both of them have scored at a very high rate of 93.88 and 98.44.
But while Rohit and Kohli have done their bit and more, it is the other Indian batsmen who are letting the team down and whose performance has been, at best, collectively average.
While KL Rahul is not converting his starts into substantial scores, the Indian middle-order is struggling with consistency and scoring-rate in this tournament.
Rahul's Inability to Convert Starts
Image: Twitter
KL Rahul has had 4 opportunities in the tournament to get a significant score. While he has got starts in all 4 matches, he has failed to convert any into a big score for his team. He came out to bat at 54 for 2 in the 16th over against South Africa, got to 26 off 42 deliveries before being dismissed. He played some attractive shots in his 57 off 78 against Pakistan but again failed to convert it into a substantial score. The story remained the same against Afghanistan – 30 off 53 deliveries and again failing to get a big one. And nothing changed against the West Indies – a classy 48 but that's it! The final three innings came from the opening position which gave Rahul the luxury to build his innings at his pace – yet, he has not been able to convert his starts into big runs.
Rahul has managed to score 172 runs from 5 innings at a strike rate of just 71.66 – which is not good enough for an opener in contemporary ODI cricket. The problem for Rahul is that by the time he is settled at the crease and should be shifting to a higher gear accelerating his innings, he is getting out. This means not only is he not scoring the big runs but also is consuming a number of deliveries up front which is putting pressure on the likes of Rohit and Kohli.
While Rahul is a brilliant T20 batsman, his numbers in ODI cricket remain underwhelming – 515 runs in 18 innings at an average of 36.78 and strike rate of 77.56.
Jadhav's Dwindling Returns and Shankar's Opportunity Cost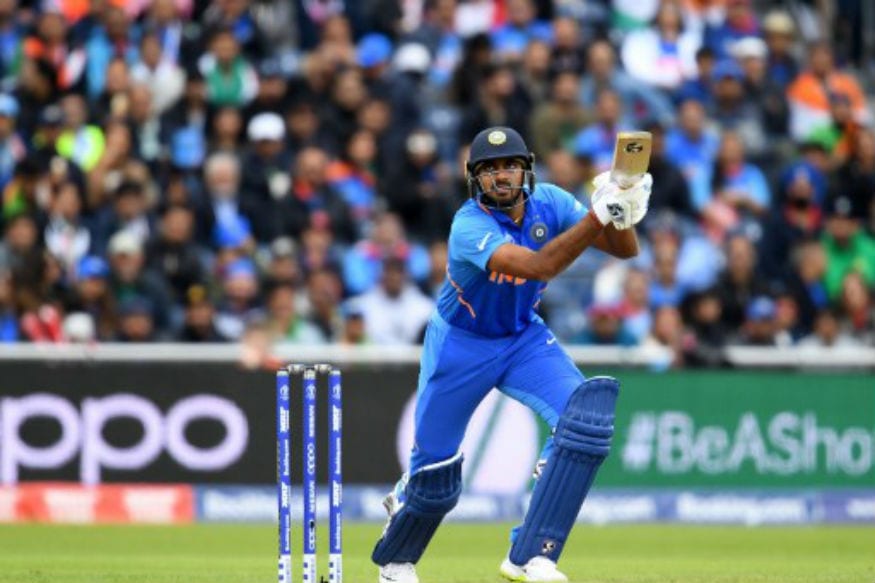 Kedar Jadhav has impressive numbers in his short ODI career – 1242 runs at an average of 42.82 and strike rate of 100.89, including two hundreds and 27 wickets at an economy of 5.16 from 39 bowling innings.
But his form of late has been on the decline.
In the last 9 matches, Jadhav has scored just 159 runs at an average of 26.5 and strike rate of 77.18, including a solitary fifty. His bowling has also suffered and he has managed to pick just 1 wicket while conceding at 6.86 per over in these matches.
His form in this tournament has been quite middling. He bowled one over against Australia and went for 14 runs, could only score 9 runs off 8 balls at the death against Pakistan while not being given a chance to bowl, was unable to up the ante against Afghanistan and got stuck in the partnership with MS Dhoni while again not delivering a ball in the match and was dismissed for 7 off 10 balls against the West Indies while being required to bowl just one over.
With an overall strike rate of 79.06, Jadhav has not done enough with the bat to cement a place purely as a batsman. And he has bowled a total of just 6 overs in 5 matches – way too less for a genuine all-rounder.
It is time that the team think-tank give Ravindra Jadeja a look in.
Jadeja has an excellent economy rate of 4.90 in the middle overs (11-40) – since 2017.
He was also in good form with the ball in 2018, picking 14 wickets in 8 ODIs at an average of 24.57 and economy of 4.59. In fact, he was India's most restrictive bowler (after Bumrah; min.8 innings) and had a better economy rate than Kuldeep Yadav and Yuzvendra Chahal amongst others in the calendar year.
Although he has not a patch of the batsman he was in ODI cricket, his recent form in Test cricket has been quite inspiring – he made an unbeaten 86 at The Oval before registering his maiden Test hundred against the West Indies at Rajkot and then made an 81 against Australia at the SCG.
He is also an excellent fielder who saves the team a lot of runs in the outfield.
Vijay Shankar has been a big disappointment, so far, in the tournament. He could not provide the impetus at the death against Pakistan and ended with 15 off 15 deliveries but was effective with the ball picking two wickets. Batting at number 4 against Afghanistan he could only muster a 41-ball 29 and was not given a chance with the ball. Again batting at the same position against the West Indies, he was dismissed for just 14 off 19 deliveries and once again was not required for bowling duties. Neither has Shankar scored enough runs with the bat, nor scored them at a high rate and has delivered a total of 5.2 overs in the three matches he has played.
Playing purely as a batsman (and an occasional bowler) Shankar has not done enough to merit a place in the XI on the basis of his performance in just one discipline.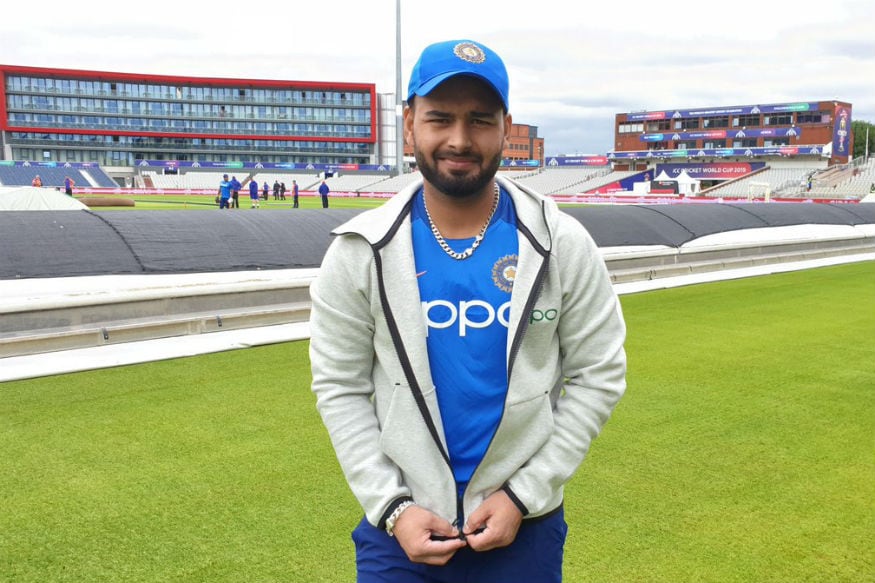 Rishabh Pant arrives for a practice session. (Twitter/ BCCI)
Especially when the opportunity cost is as high as Rishabh Pant! Pant has just played 5 ODIs for India but it is his record in Tests and T20 cricket which is outstanding – he has already smashed two hundreds in red-ball cricket – one at The Oval and the other at the SCG and has a T20 strike rate of 161.58! He was in great form in the IPL 2019 smashing 488 runs at an average of 37.53 and strike rate of 162.66.
Couple with these is the problem of MS Dhoni and his strike rate which is a case study in itself!
Dhoni's Strike Rate Woes
Dhoni was really poor against Afghanistan (28 off 52 balls) and though he made up for his 28 dot balls against the West Indies with some fine hitting at the end, such a ploy of waiting, wasting deliveries and scoring slowly up front and trying to accelerate only at the end not only slows down the team run-rate but also puts immense pressure on the batsman at the opposite end. It is also a high risk strategy as if the acceleration does not come at the death, which is more often the case with Dhoni these days, it severely affects the team's chances.
Dhoni's problem is two-fold – he is not the same batsman who could pierce the gaps and find the singles and twos at will as he did for most of his career. Neither is he the same hitter as he once was. So as a result his dot ball percentage is very high and boundary percentage is very low.
Dhoni's dot-ball percentage in this World Cup is 50.29% - this means that he is not scoring off more than half the number of deliveries he is facing. This is very poor for a batsman who is batting in the middle/lower-middle order.
His strike rate of just 76.48 since the beginning of 2018 (in 26 innings) is a telling statistic of his waning hitting prowess.
Rohit and Kohli cannot score in every match. The bowling will not bail India out all the time. Time for the middle-order to put their hands up and be counted or make way for others.