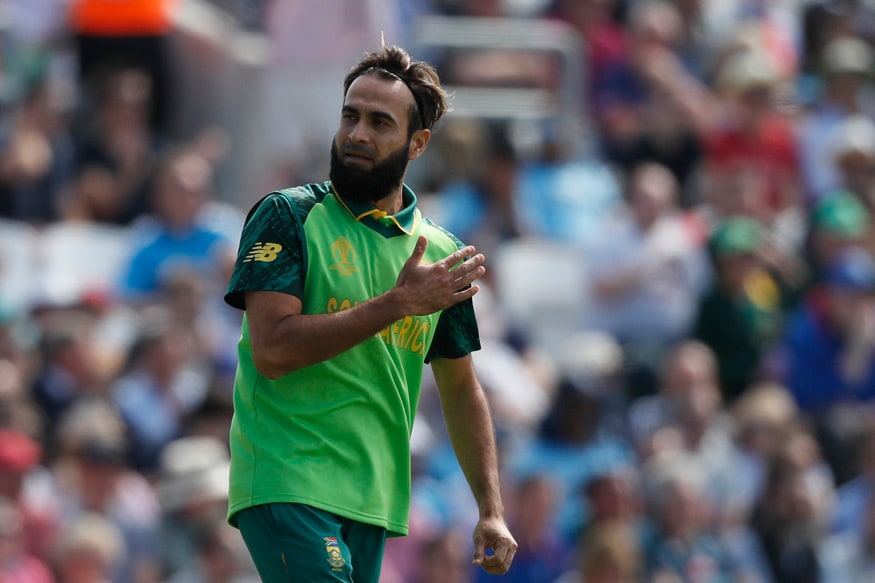 London: In a match that is essential to getting South Africa's 2019 World Cup campaign on track, it's only fitting that the man who has been essential to shaping their ODI strategy will celebrate a major milestone.
Imran Tahir will make his 100th appearance for his adopted and much-loved homeland, the most important of the 37 different teams he has represented in a career that has spanned two decades, three continents and tens of thousands of deliveries. In that time, he has helped redefine South Africa's approach to spin bowling, from seeing it as nothing more than a stop-gap to meander through the middle-overs to another, equally effective means of attack as pace and bounce.
He is seldom referred to as one of the leaders of the bowling group but he is because of the manner in which he controls the game in crucial moments. Tahir does the dual job of keeping the opposition run-rate under control and taking wickets something which he recognised as "quite a tough job," especially in a country that has always valued speed, seam and swing, over spin.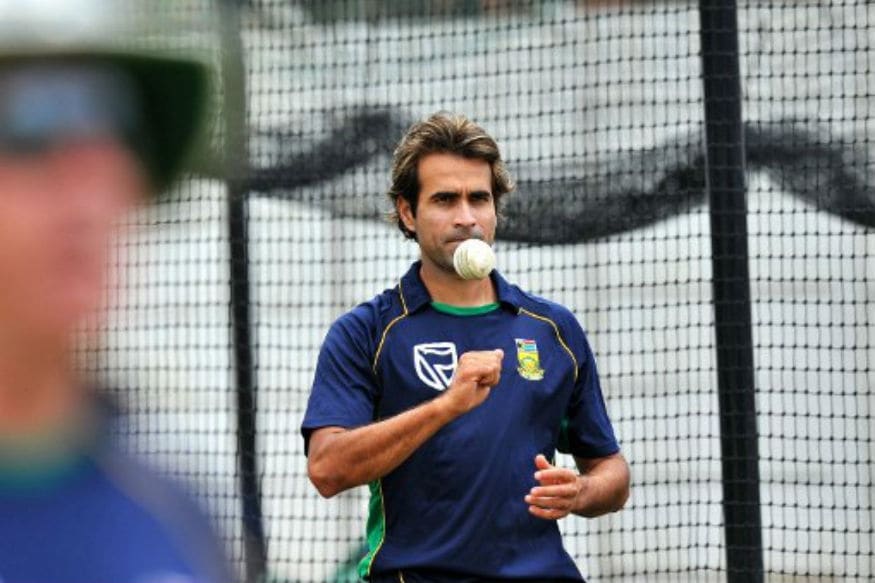 (Image:AFP)
Tahir moved to South Africa for love, after meeting the woman who would become his wife, Sumayya, while playing for the Pakistan under-19 team at the World Cup in 1998. He stayed for love too, after finding a cricketing home with the Dolphins, then the Titans, and eventually with the national team. And he shows that love every time he puts on his Protea jersey and with every wicket he takes.
When Tahir made his debut in South Africa's World Cup opener against West Indies in 2011, he was hyped up as a mystery man. South Africa did not use him in their pre-tournament series against India, preferring to keep him hidden and unleash him when the tournament began. At that stage, Tahir was well-known on the county circuit, as a bowler who could outfox batsmen with variation.
He lived up to the billing in some ways in his first match, and finished as the top performer with 4 for 41. Tahir was responsible for getting rid of Ramnaresh Sarwan and Shivnarine Chanderpaul, big names who were not dismissed through big surprise. Instead, it was the West Indian batsmen's eagerness to take Tahir on that led to their downfall, and that became a theme of the next few years.
In that World Cup in 2011, South Africa's attack was the only one to finish the group stage having dismissed every opposition they faced and their spinners were their top performers. Robin Peterson was the most successful and joint-fourth on the wicket-takers' list with 15 scalps at 15.86. Tahir was next, joint-fifth, with one fewer wicket at an average of 10.71, the best in the tournament.
There were high hopes that Tahir would do something similar in Tests and he was included in the squad for the home summer against Australia and taken on tour to England the following year, where South Africa became No.1. But, Tahir's time in Tests coincided with a period in which South Africa played on a lot of green tops and their pace battery dominated. His variations became a weakness as he unleashed them all at once and by late 2015, it had become clear that Tahir would be used as a white-ball weapon.
By then, he had already played in a second World Cup and was again South Africa's second-most successful bowler. He featured in series wins over India and in Sri Lanka and in a tri-series including Australia and he was making it difficult to imagine a South African limited-overs side without him, not only because of his bowling skills. There is something magnetic about Tahir, which even the opposition is drawn to.
In constructing the perfect leg-spinner, Ish Sodhi told the ICC's Youtube channel that he would take Yuzvendra Chahal's flight, Adam Zampa's hair cut and Rashid Khan's googly and Imran Tahir's enthusiasm.
Imran Tahir reacts after claiming a wicket. (Twitter/ ICC)
Over the years, we have been witness to many occasions when Tahir's joy has simply spilt over as the wickets fell, reward for years of hard work. "I have been doing the same thing for the last six or seven years. Maybe I have been more consistent. That's why I am getting wickets and going for less runs," Tahir said. "I always look at hard work and I never give up. I know I am the oldest guy in the team which I am very proud of. Playing in this team you have to be very fit and I have to do a lot of running."
Of course, a lot of that running takes place after a wicket has fallen and in the least eight years there have been 164 occasions when Tahir's celebrations have left his team-mates in the dust. That's the number of ODI wickets Tahir has taken, which puts him eighth on South Africa's all-time wicket-takers' table. If he has a good World Cup and takes 17 more scalps, he will finish in seventh place, ahead of Morne Morkel on 180.
More importantly, for analytical purposes, of South Africa's the top 10 - a list Kagiso Rabada has just broken into that list - Tahir has the best strike rate of 31.3, marginally better than Allan Donald's 31.4. That means Tahir takes a wicket every five overs and four balls or at least one per ODI if he bowls his full quota of overs.
The certainty that Tahir will deliver has resulted in his captains, Graeme Smith, AB de Villiers, and now Faf du Plessis, depending on him extensively. In this World Cup, it even saw Tahir promoted to opening the bowling against England, a tactic which produced a wicket on the second ball. Tahir could not reveal whether he would do the job in any other matches but he made it clear that he is willing. "I won't be the guy who is saying, no to my captain, because I like challenges," Tahir said.
The most immediate challenge is Bangladesh on Sunday, not quite a must-win but important for South Africa to put points on the board and not fall too behind. Tahir knows the opposition line-up will be prepared to face him because "they obviously grew up in a condition where they play spins really well, and they can be very dangerous on the day," and hopes his own batsmen can "bat 50 overs."
He also knows this is just another step on a long road to the cup but a step that he should savour because of its position on his nomadic journey in cricket, which has taken him all around the world but seen him give his heart to South Africa. Representing the country has been, to quote outgoing British Prime Minister Teresa May, the honour of his life, and one that he has put above all else.
"This means a lot to me, which I can never express in words. I am a guy who has come through a lot of hard patches. I lost my parents without them seeing me play international cricket. I have not seen my brothers or sisters in the last two years, so this country that I'm representing and every game I'm playing for is really important to me, and I'm really proud," Tahir said. I'm just really grateful to my family. They understand that. I'm away from them, but there is an important reason for that."
If Tahir has a trophy in his hands on July 14, that will have been a very important reason indeed.