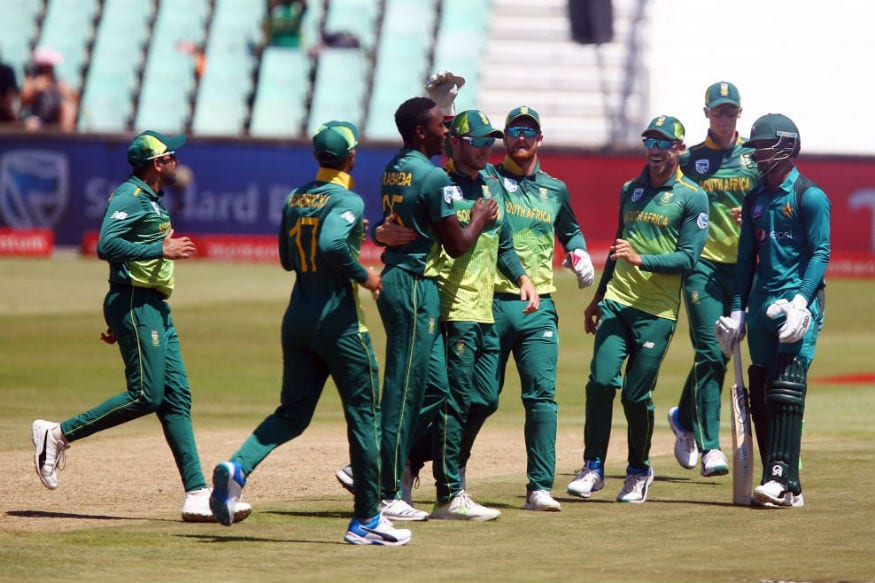 This time, it's probably not "the one."
It's not 2015, when the game's most dynamic batsman, AB de Villiers, was also the captain of the team. It's not 2011, when the attack unusually included a legspinner. It's not 2007, with the world's greatest all-rounder, Jacques Kallis, at the height of his powers. It's not 2003, with the comforts of home, and it's definitely not 1999. It's two decades, three captains, four CEOs and five World Cups on, and South Africa have arrived seeking silverware. There's little expectation they shall find.
Though they are ranked third in the world, and have won eight out of ten ODIs this year, including a 5-nil sweep of Sri Lanka, South Africa have flown in under the radar. Mostly, that's because of the absence of de Villiers, who will play for Middlesex in the T20 Blast, in-between promoting everything from leather shoes to luggage (the bills must be paid somehow) but there are also other factors. The favourites tag has shifted to England and India, the redemption song is being sung for Australia, the surprise stories should sprout from Pakistan, West Indies, Bangladesh and even Afghanistan.
South Africa, like New Zealand, are just another team but their low-profile does not indicate they are lacking. It may even suggest the opposite and a closer look at the class of 2019 suggests South Africa should be taken seriously as the tournament approaches.
Perhaps most telling is that three of the 15 have already won a World Cup. Yes, that's right. South Africa have lifted a major trophy, albeit at age group level.
Their under-19 team were crowned champions in 2014. Among them was Kagiso Rabada, who has matured so quickly as an international cricketer that it's difficult to believe he was ever 19. Rabada has been declared fit to lead the attack, after a back injury at the IPL. His combination of speed and skill is expected to be the antidote to flat tracks but he is not the only trick up South Africa's sleeve.
Andile Phehlukwayo's ability to absorb pressure at the death should not be underestimated and he could well be the x-factor South Africa have long wanted. And then there is Aiden Markram, who said he would not have picked himself for the tournament but has become coach Ottis Gibson's consultant-in-chief about conditions in England, after a stint with Hampshire. Markram finished fourth on the Royal London One-Day Cup run-chart with 466 runs from eight matches at 58.25 but even with those numbers, he is happy on the bench. It's unlikely he will actually be there.
Lungi Ngidi would have been part of the 2014 tournament but was injured (incidentally, he was also injured before this one) but what these names show is continuity of development in South African cricket. Only West Indies have the same number of players from the 2014 tournament in attendance - they finished second in the group to South Africa and lost to Australia in the quarterfinals, ultimately placing fifth - while Bangladesh have two players from the event, Pakistan, Sri Lanka and India one each and England, Australia, Afghanistan and New Zealand, none. If nothing else, South Africa's administrators can take heart from knowing the system is working, for now, and their youth are coming through.
At the other end is Imran Tahir, the oldest player at the tournament and the only member of South Africa's attack who has not had a niggle in the lead-up. Tahir is the heart, soul and lungs of the middle-overs where he has made the dual role of container-attacker his own. His inclusion in South Africa's limited-overs' squads transformed their entire mindset, from a team that used spin as a throwaway discipline of defence, to one that relies on it to win matches. Tahir has already written himself into South African cricket history and the World Cup will be his final chapter.
It is also JP Duminy's final chance to fulfill potential that has never properly flowered and it could be Dale Steyn and Hashim Amla's farewell too. Amla's was the most contentious selection after a period of poor form and personal hardship following his father's illness. The early indication is that unless Amla finds form in the warm-ups, he might be the one doing drinks' duty. It won't come as a surprise if he uses the time to consider ending his career on a Kolpak-deal, especially as he'd be in a perfect place to negotiate and sign one.
Before worrying about whether they will lose any more players to financial opportunities abroad, South Africa have to concern themselves with finding out where the runs will come from. Quinton de Kock brings IPL form and Faf du Plessis and David Miller bring reputation but Rassie van der Dussen could be the man to watch. He only has nine ODIs to his name and no IPL experience but was the joint-top run-scorer in the South African domestic T20 franchise competition and has shown himself to be a big-hitter with a cool head. He's no de Villiers (yet), but his presence could answer some questions about the ability to respond to pressure. And make no mistake, they will be asked.
Whether South Africa like it or not, de Villiers and the c-word are the two things they cannot escape even though they have resolved not to confront them. At the first press engagement in their camp in Cape Town, Gibson said he has decided not to talk about choking anymore and may answer "no comment," to any prodding he receives. That's likely to be as effective at ending the talk as the UK Parliament deciding not to mention the b-word. Just like someone will want to know if a no-deal Brexit is still a possibility, someone else will want to know about choking. Gibson's idea of playing deaf is about as smart as Teresa May dancing on stage to detract attention from the real issues, but perhaps not quite as amusing. As Eric Simons and Corrie van Zyl and Gary Kirsten and Russell Domingo will tell Gibson, choking questions are as much a part of South Africa's World Cup campaigns as talk of a second referendum is about Brexit, so best he gets used to it and prepares some responses.
Luckily for him, there's an easy exit. Gibson has no guarantee of continuing as coach if South Africa don't win and he may not want to. Initially, Cricket South Africa suggested Gibson would only be retained if South Africa win the World Cup but that seems to have changed to an insistence that they need to reach the final. Either way, it's about as unreasonable as employment conditions come given the variables involved, and Gibson won't be blamed if he simply waves the team off at Heathrow in July, promising to visit for Chocolate Block (his favourite red wine) some day. On the horizon there are few options to succeed him, especially given the South African economy, but that's the horizon and CSA have forgotten such a thing even exists.
The future is simply not in their plans. It's the end of May and fixtures for next summer, which should start by September and includes an incoming England tour, have yet to be announced. Worse, while England will confront "The Hundred," South Africa will stare at hundreds of millions of Rands lost. CSA is in financial and credibility crisis, having lost millions on a T20 tournament whose television rights they gave away for free and instituted a domestic restructure without consulting the players' association. There are threats of legal action which include a player strike. There is a sense that South African cricket will not be the same, unless the 2019 World Cup proves to be the one.