There is a thought exercise that Gary Stead, New Zealand's coach, enjoys pacing through. It runs that one golfer can crunch their drive on a par four down the fairway before getting to within few of feet of the pin with their second shot. After missing the birdie by a the barest of margins, they tap in for par.
Golfer two sprays their shot off the tee, hacks their second from the rough into the bunker, chips their third to the edge of the green 20 feet from the hole. Then drains the putt. The Blackcaps, he explains, do plenty of the latter. They still get their par.
"You don't have to play perfect cricket all the time," Stead said when detailing the moral of this story. It wasn't New Zealand who were talking up their chances of clobbering an innings of 500 before the tournament. It wasn't New Zealand who were expected to reach their second consecutive World Cup final.
A side that hadn't played together since February needed a lot to go right during their soft start and it did. Then, to get into this Lord's decider, they needed to skittle India for 238 or fewer. They found a way through. They earned it.
It was only a fortnight ago that Kane Williamson's side put in their worst performance of the tournament, letting Australia get out of jail early before their Trans-Tasman rival had their way with them with the ball. But it isn't Aaron Finch's team who will be there on the day that matters most on the ground where Stead was a member of the staff back in 1990.
New Zealand's Trent Boult in action against Australia at Lord's. (Pic: AP)
"Any time coming back here is special," Stead reflected. "Playing Australia here was pretty cool, but the extra emphasis on what this makes it even more special. As a team, we've worked on three key goals throughout the tournament and we've achieved two of them, so now we've just got one to go. When you strip it all back, it's just another game of cricket."
Keeping the game as simple as possible has informed, Stead believes, a method for working out how they need to bat on each surface they have been confronted with. The art of adapataion, he contends, is as important as any attribute his charges boast.
When the rest of the cricket world were slating the Kiwis for the way they batted against India on the opening day, the experience for those out in the middle gave them belief. Williamson brought them in close as they ran out with a simple message: 'we wouldn't want this any other way.'
It makes boring pressure-chat futile. Yes, England are the top-ranked team in the world for good reason. And sure, they were outstanding against Australia in their own semi-final. But New Zealand aren't going to get into the 'who will feel the pressure more' mind games that Nathan Lyon had a pop at before their Edgbaston match.
This is a side that, having risen to the number two in Test cricket, feels entirely comfortable in its own skin. "The exciting thing is neither team have won a World Cup," Stead instead said when this was put to him. "Both have had some finals experience but you're going to have a different winner than last time."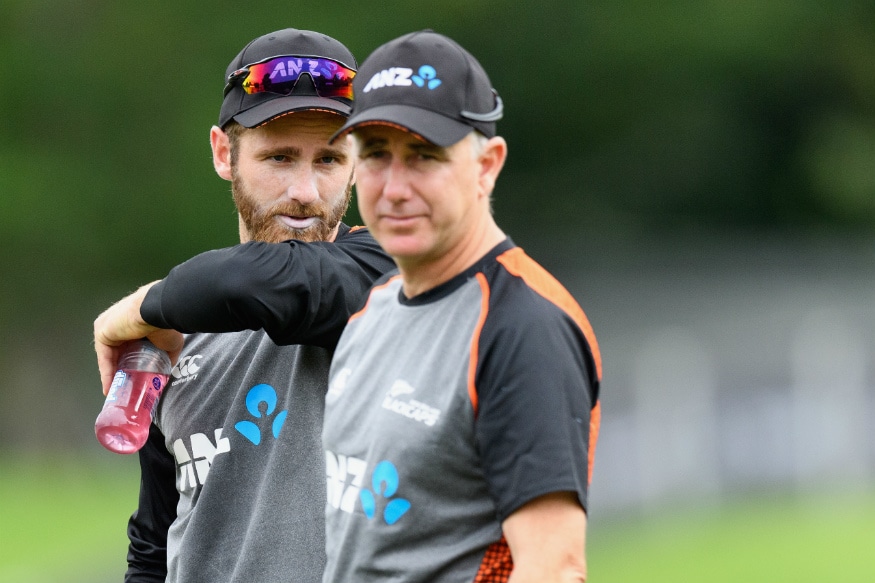 The man who took over Mike Hesson just last year also doesn't deny that they were bullied at the Melbourne Cricket Ground in this corresponding fixture four years ago, but only sees that as a positive. "We've got six or seven guys who were part of that World Cup final last time," he said, noting that they would discuss that day before Sunday comes. "Until you face it, it is hard to know how it will go. You can't replicate what goes on in big moments like this but I'm pleased how we coped in the semi-final and the characteristics we talk about came through."
It's a neat coincidence that it was the New Zealanders of 2015 that Eoin Morgan and co sought to learn from after their own World Cup campaign that year went to pot. Specifically, having so unsuccessfully attempted to mimic the Australian bully-boy ways of the 2013-14 Ashes, they knew that playing with a smile – the edict of Brendon McCullum's team – was going to suit them so much better.
Both groups "do play the game the right way" according to Stead, but that doesn't mean it is going to be sunshine and lollypops when they take the field at headquarters either, chiefly due to the artillery both sides possess at the front of the innings with the ball. "I don't expect it to be friendly," he said. "Any time you go out and face bowlers bowling 140kph plus it is not friendly. I expect both teams to play really hard and maybe have a beer afterwards."
In terms of stitching together an XI, the New Zealand camp are backing beleaguered opener Martin Guptill. After scoring more runs than any other in that 2015 World Cup, this time around he has only one half-century to his name. The veteran did, however, run out MS Dhoni at a crucial moment of the semi, reinforcing his broader worth.
As for his opening partner Henry Nicholls, he batted for two hours in the Lord's nets on Friday and will be given a stringent fitness Test on Saturday morning to prove he has recovered from a hamstring complain picked up in the win over India.
New Zealand's Henry Nicholls bats during the Cricket World Cup semi-final match between India and New Zealand at Old Trafford in Manchester, England. (Image: AP)
With so much made of this final being simulcast on terrestrial television in the United Kingdom in an effort to give the whole nation a chance to share in the experience, Stead noted that similar arrangements have been put into place in New Zealand.
"That is awesome," he said. "Many people can stay up late and I know there's a lot of people spending some late hours, and I think Monday might be a public holiday because most of New Zealand will be up watching."
What's certain is that if they can find a way to topple the hosts, utilising all of their cricketing smarts and drawing on all of their well-established inner strength, it will be the proudest day in Blackcaps cricketing history. Incentives don't come much stronger than that.