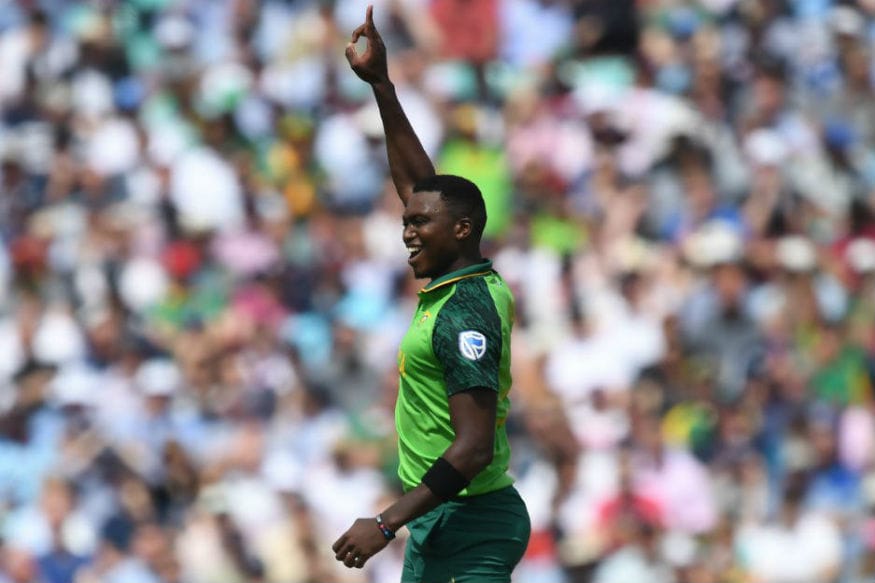 London: "You wanna pull your hair out!" joked Lungi Ngidi when asked how it felt to see a legspinner taking the new ball in the World Cup opener after days and days of hype about South Africa's pace attack. "But team first, that was the game plan we were going with and everyone was buying into it a 100%. But at least I got the second over, so I'm not too sad about that."
If the pre-World Cup talk was to be believed, South Africa's attack was all about running in and bowling at speeds of minimum 145 kmph. Kagiso Rabada, Ngidi and Dale Steyn, if fit, were expected to blast line-ups with raw pace. On Thursday (May 30), though, South Africa showed they're no one-trick pony as they took the 'slower' route. It didn't result in a win, but they still did well to 'restrict' England to 311 for 8. Yes, we live in such times.
In a cruel twist to all the pre-match noise, it was South Africa's fastest bowlers who were the most expensive. Ngidi and Rabada conceded 66 from ten overs each, going for plenty each time they cranked up the pace. They were particularly poor with the new ball in their first spells, conceding 27 and 25 respectively off four overs each. Unlike Jofra Archer later in the day, the South African pacers were slightly wayward, enough for Joe Root and Jason Roy to take advantage.
It undid a dream start when the South African think-tank outwitted and surprised England successfully by opening with Tahir, resulting in Jonny Bairstow's second ball dismissal.
"The nerves were there. Today wasn't probably my greatest the day with the new ball up front, and I'll take that on the chin," assessed Ngidi. "It's only the first game, I can only learn from what happened today. If it was any other day and I started a bit better, probably could have been a different situation up front. They got off to a bit of a start, we probably gave them a few boundary balls which they latched on to. For me, a bit of nerves up front. But after the first ball, the nerves went away and knew you still had to get the job done, and it settled down."
Once Ngidi, and Rabada, realised that all-out pace wasn't the way to go, the fortunes changed. Ngidi returned for his third spell having conceded 45 from six overs without picking up a wicket. In the next four, all in the death, he gave just 21 runs for the wickets of Jos Buttler, Moeen Ali and Ben Stokes. Each of those with slow cutters, frustrating the batsmen with lack of pace.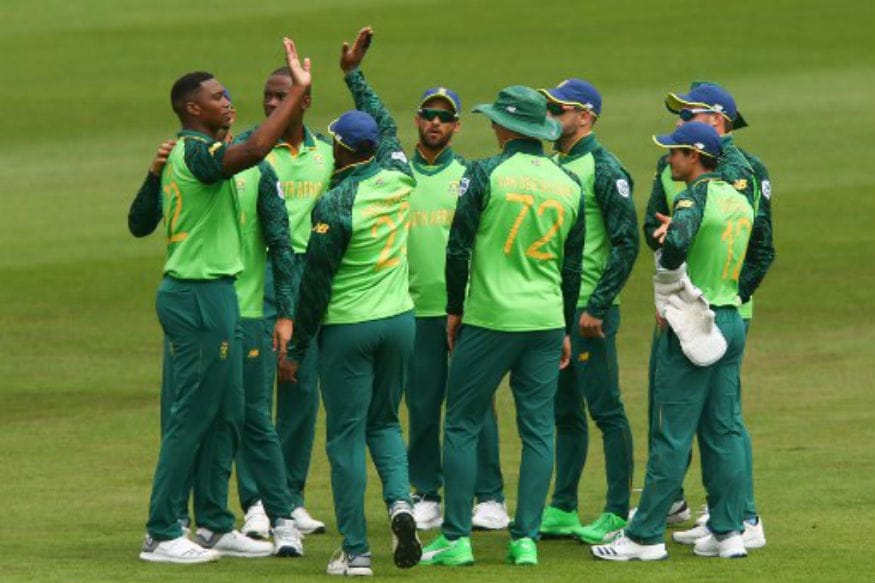 South African team celebrate the fall of a wicket. (Image: AFP)
"You've got to adjust to the conditions, today they determined how we bowled. Tahir upfront was something different, they probably haven't experienced something like that and the plan worked. We realised that the wicket was pretty slow. Once it stopped nipping around with the new ball, cross seam was holding up a bit in the wicket. Judging from that, the lateral movement was working better than seam up. The guys were looking to attack so we can't give them any pace on the ball. Just vary the lengths on the slower balls and lines, put them under as much pressure as we could. Slower balls seemed to be working," explained Ngidi.
According to the pacer, watching England post totals of 350 for fun in recent times was not a cause of concern. The batsmen friendly nature of modern one-day cricket, Ngidi said, was an opportunity to pick up wickets.
"You've got to look at the positives. I see it as an opportunity to be able to take wickets," said Ngidi. "I didn't start well with the new ball upfront but I did come away with three wickets at the back end. You know the guys are going to play attacking shots, so if you land the ball in the right areas, there's a chance of you taking wickets.
"We've seen the scores they're posting... 350+ against other teams. For us to bring them down to a total of 311... to be honest, we weren't good enough with the ball in the first half, I can honestly say that. But we did pull it back nicely, kept getting wickets. To see them scoring totals of 350+ didn't really bother us because we know on the day anything can happen. They scored 300, we couldn't. If the bowlers arrive on the day, picking crucial wickets at crucial stages, all of a sudden 300 becomes 200."
South Africa's bowlers arrived partly on the day, without one of their leading bowlers in Steyn, and still managed to do a decent job. Ngidi was glad to get off to a decent start, but there was no hiding what his heart desired - quick tracks, and an opportunity to crank up the pace along with his competitor and colleague Rabada.
"It's good to bowl with him. We bounce ideas off each other, both young and energetic guys. He's very competitive," said Ngidi of bowling with Rabada. "He didn't start of pretty well in the Power Play but as soon as they brought him back he got a wicket (of Root). That's how he plays the game. It's very good bowling with him. It's competitive, you want to see who is better on the day. But we're also working together for the team, there's always that competition though.
"Everyone has been talking about pace, we know Rabada can hit 150 kmph. Today was all about slower stuff, but I'm sure there's plenty of pace to come. There's still plenty of games to go. Most definitely waiting for that (pacy tracks)," he signed off with a gentle warning.