Tendulkar Specials to Dhoni's Night at Wankhede - India's WC Moments
Until 1996, the cricket World Cup was a mystical, mesmeric attraction for me. To watch the best in the world rub shoulders on a single platform made for compelling viewing, if only on television. Since 1996, when I first reported a World Cup match from the privileged confines of a press box, the tournament has provided a more relatable kaleidoscope of memories and magic, most of them involving the Indian team.
Updated: May 19, 2019, 3:23 PM IST
Until 1996, the cricket World Cup was a mystical, mesmeric attraction for me. To watch the best in the world rub shoulders on a single platform made for compelling viewing, if only on television. Since 1996, when I first reported a World Cup match from the privileged confines of a press box, the tournament has provided a more relatable kaleidoscope of memories and magic, most of them involving the Indian team.
Over the course of the last six editions, various matches and events have struck an emotional chord and tugged at the heartstrings. As a professional, you are expected to be neutral and unbiased, they told us early in our careers. It's impossible to be so, and I speak only for myself. Like any other fan, I have ridden an emotional roller-coaster with the Indian team at World Cups. Here's a compilation of the matches that have affected me the most:
JADEJA-YOUNIS AND PRASAD-SOHAIL (1996):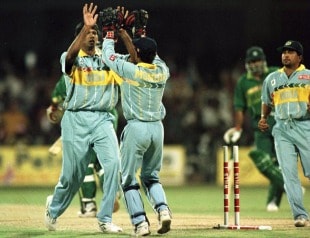 (Getty Images)
The energy of the heaving, buzzing sea of humanity the M Chinnaswamy Stadium in Bangalore on March 9, 1996, was electric, all-consuming, infectious. It was World Cup quarter-final time, India against traditional foes Pakistan, with everything to play for.
It was the final before the final, the match of the tournament, a chance to become a life-long hero. Ajay Jadeja grabbed that opportunity with a savage late assault on Waqar Younis, whose last two overs went for 40. A competitive total burgeoned into a massive one – in 1996, 287 for eight was enough for victory 95 times out of 100.
Despite captain Wasim Akram pulling out at the last minute due to injury, Pakistan were not going down with a fight. The teeming thousands inside the venue and a like number outside were benumbed by the counter-punching from Saeed Anwar and stand-in skipper Aamir Sohail. Not even the dismissal of Anwar for a 32-ball 48 shattered the sound of silence, not until Sohail was packed off by Venkatesh Prasad.
The left-hander had slapped the previous ball to the cover fence, and pointed the bat ominously to that same spot, indicating that that's where Prasad was going to disappear. The local lad had the last laugh by immediately flattening the off-pole. The Chinnaswamy rediscovered its voice, never to lose it again on a night of drama and emotion.
TENDULKAR HUNDRED AGAINST KENYA (1999):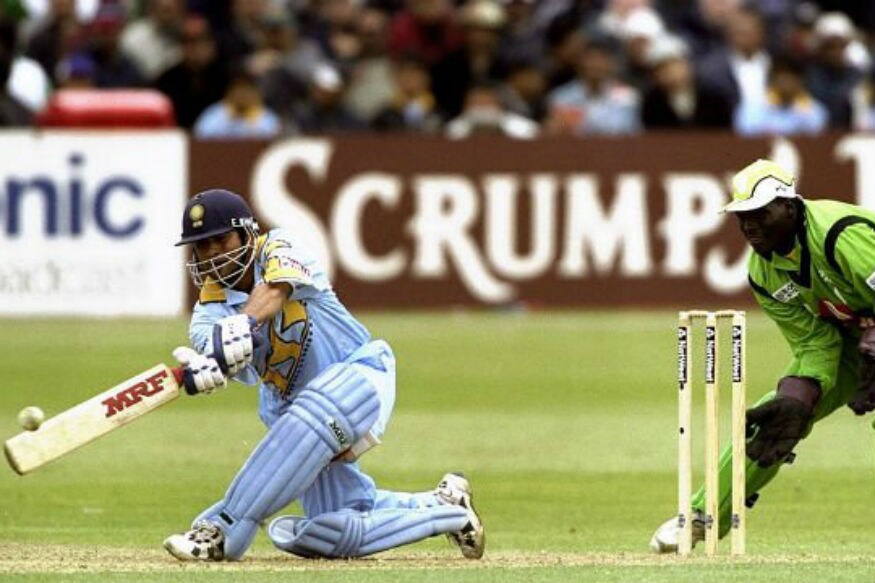 (Gloucestershire Cricket)
The sight of Sachin Tendulkar, desperately but unsuccessfully trying to hide his overflowing emotions behind ineffective sunglasses, will remain the abiding soul-stirring memory of a tepid Indian campaign at the 1999 World Cup.
On the eve of India's clash against Zimbabwe in Leicester, Tendulkar came to know through wife Anjali, who had flown all the way from Mumbai to deliver the message personally, that his father – the rock on whom he had liberally leaned all through his life – had passed away. At 26, Tendulkar's word crumbled around him.
He left for home for the funeral, but returned three days later, in time for the league game against Kenya in Bristol. By then, India had slumped to a three-run loss to Zimbabwe, their second straight defeat. They needed a spark of inspiration, and that was provided by a grim-faced young man who rose to the challenge at the exhortations of his selfless mother.
Admittedly, the Kenyan attack was not the most threatening, but the quality of Tendulkar's knock was magnified by the circumstances under which it was made. Fours and sixes flowed copiously, team-mates and the spectators cheered and the opposition looked on in awe, but as the milestones were passed, Tendulkar barely broke into a smile. His look heavenwards on reaching 100 was to become his trademark for the rest of his career.
Oh, and his 140* didn't go in vain, either.
GANGULY-DRAVID SHOW AGAINST SRI LANKA (1999):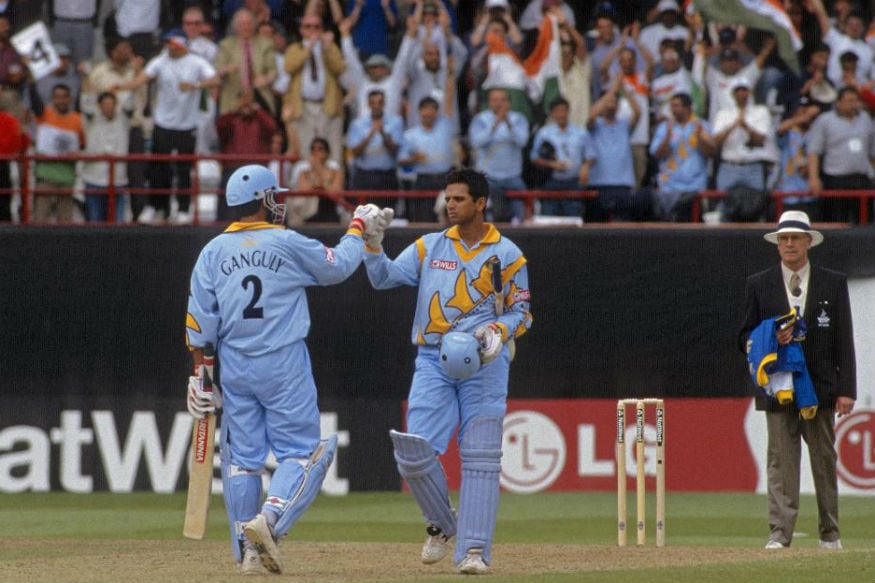 (ICC)
Three years previously, Sri Lanka had humbled India twice in their own den on their way to their maiden World Cup triumph. It was payback time, with two of the country's future captains in the forefront. Sourav Ganguly and Rahul Dravid tore Sri Lanka to shreds on the smallish County Ground in Taunton, reducing the defending champions to a blubbering bunch with an assault of sustained ferocity.
The fans had arrived in their thousands, hoping to cheer their heroes on, and they went away satisfied as the ball disappeared into the far reaches of the quaint town with unerring regularity. Dravid, surprisingly, was the initial aggressor after the early dismissal of Sadagopan Ramesh, haring to his 50 off 43 deliveries and a second successive century, off 102.
Ganguly started sedately but when he flexed his muscles, he struck the ball crisply. Famously, with a dismissive wave of his right hand, he showed exactly how far out of the ground he had struck Aravinda de Silva whilst smashing 83 off his last 39 deliveries faced. The second-wicket partnership of 318 was then the highest in all ODI cricket, Ganguly's 183* at the time the second highest individual score in World Cup history.
At least for that one afternoon, it was an Indian summer in England.
NEHRA SIX-FOR AGAINST ENGLAND (2003):
(Getty Images)
Cricketers talk about being blissfully unaware of comments emanating from the opposition camp, but no one who watched Sachin Tendulkar in action had any doubt that he had taken note of Andy Caddick's remarks that he was 'just another batsman' in the Indian team.
After a series of scorching fours, he latched on to a short ball and dismissed it from his presence and out of Kingsmead in a silent statement of epic import. That was, as it turned out, only the storm before the tsunami.
Braving a painful foot injury that necessitated the passing of a late fitness test, Ashish Nehra left England in tatters. Forming a potent three-pronged pace attack alongside Javagal Srinath and Zaheer Khan, Nehra owned Durban, and England's shell-shocked batsmen, that night with a remarkable exhibition of high-class swing bowling at express pace.
He swung the ball this way and that to have five batsmen caught behind the sticks on his way to six for 23, and folklore. His celebration, arms outstretched and swaying up and down while pantomiming an aircraft, was to eventually signal an early flight home for Nasser Hussain's beleaguered Englishmen. That night, Nehra shaded even Tendulkar's incandescence.
TENDULKAR 98 AGAINST PAKISTAN (2003):
(Twitter)
Centurion was crackling with excitement as the arch rivals squared off for the fourth time in World Cup action.
India had won all three preceding encounters, and were clearly winning the battle in the stands as specks of green were swept away in the predominant sea of blue. Old nemesis Saeed Anwar made his customary hundred against India, but Pakistan were restricted to 273 for seven.
Runs on the board counted for plenty in a match with so much at stake; when Sachin Tendulkar is in the mood, however, such trivial things don't seem to matter at all. In a break from norm and heeding Virender Sehwag's pleas, Tendulkar took first strike, and began with a rasping punch off the back foot against Wasim Akram.
Shoaib Akhtar steamed in for the second over, and was immediately spanked deep into the delirious stands over point. Eighteen came off that over – 'For the first time, I saw a reluctance to bowl in Shoaib's eyes,' Akram was to say later – as Tendulkar wowed a mesmerized audience with sparkling strokeplay.
Pakistan always brought the best out of him in World Cups; it was no different in Pretoria as he elevated batsmanship to a whole new level. Akhtar eventually produced a snorter to have the hobbling Tendulkar caught for 98, but this masterpiece was less about numerical proportion and more about its magical hue.
THE BANGLADESH BANANA-SKIN (2007):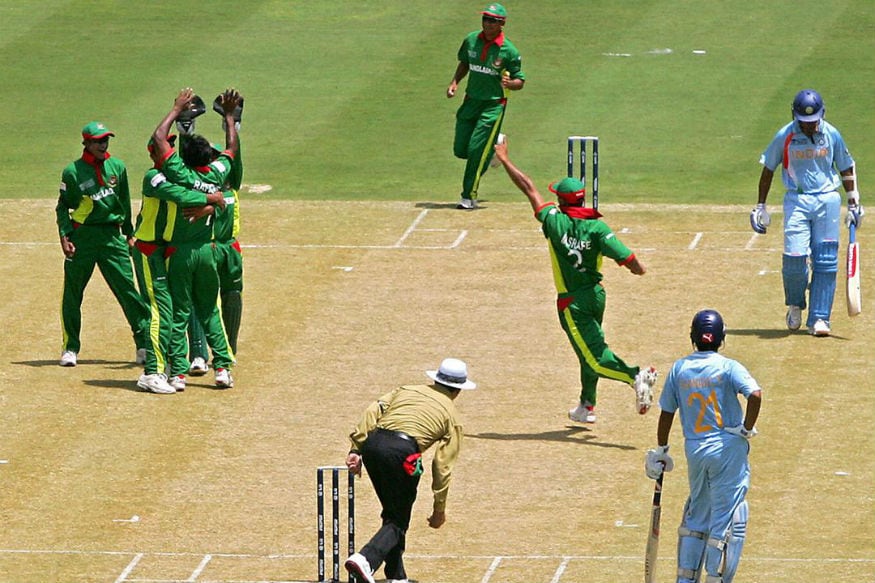 (AFP)
The stands at Queen's Park Oval were scarcely populated, a surprise for a World Cup game, and one involving India, at that, but there was no inkling of the massive shock to unfold over the next seven hours when Rahul Dravid chose to bat in India's opening game of the competition.
There were murmurs of discontent and discord within the Indian ranks, but irrespective of, they were carrying form and pedigree. Furthermore, they had lost to Bangladesh just once previously in 14 head-to-heads. It ought to have been normal service. Instead, Habibul Bashar's boys turned the world order upside down with an upset of epic proportions, a result that heralded one of the darkest chapters in Indian cricket as they crashed out at the first stage itself.
A hushed silence descended upon Port of Spain when Mashrafe Mortaza scythed through the Indian top-order, after which the slew of left-arm spinners relentlessly applied the choke. Sourav Ganguly, belaboured and tentative, and Yuvraj Singh, boldly, dispelled the gloom briefly, but 191 all out was a modest tally even on a sluggish surface.
Bangladesh's young charges led by Tamim Iqbal orchestrated a sensible run-chase with Indian frustration boiling over, and eased to victory with plenty in the tank. After just one game, India were staring elimination in the face; Sri Lanka formalised that eventuality less than a week later.
TIE AGAINST ENGLAND (2011):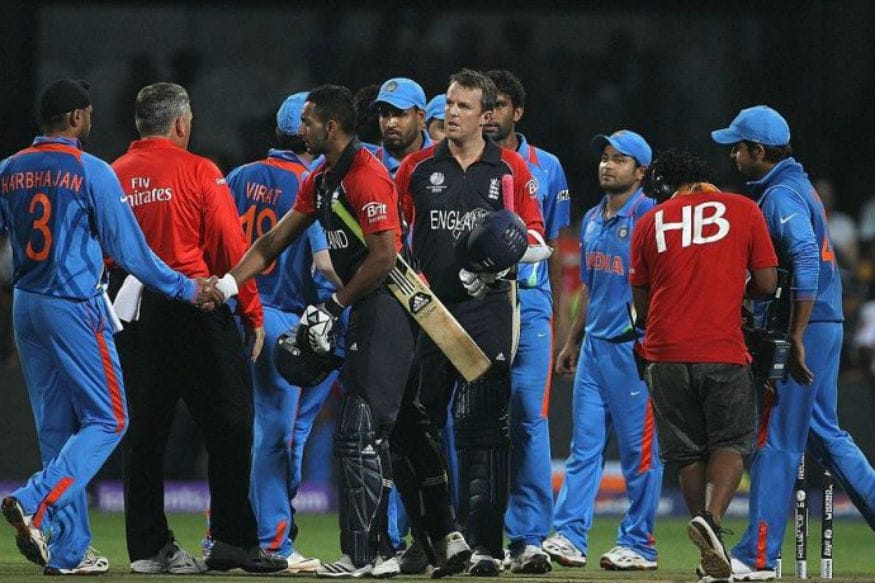 (Twitter)
Apprehensions over the hosting readiness of the Eden Gardens forced the marquee contest to be shifted to Bangalore, making the Chinnaswamy Stadium the only venue to host two India matches. And what a spectacle the Chinnaswamy threw up! A fabulous surface for batting, the iridescence of Sachin Tendulkar, the subliminal counter-punching of Andrew Strauss and a frenetic finish that encapsulated the best of the 50-over game combined to throw up an enervating contest of huge ebbs and eddying flows, by the end of which both sides deservedly picked up a point apiece.
Neither side deserved to lose; truth to tell, neither side can say with honesty that it merited the two points, either. Tendulkar's tryst with a magical maiden home ton against England, allied with breezy middle-order cameos, had thrust India to 338, though the loss of their last seven wickets for 33 runs in 24 deliveries took the wind out of their sails somewhat.
Strauss, captain fantastic, unleashed a mammoth 158, his highest ODI compilation; it was England's game to win when they needed 67 off the last 10 with eight wickets standing. Seeing the writing on the wall, a fair few disappointed fans trudged off the stadium. Those that stayed put were rewarded with a searing spell of reverse swing from Zaheer Khan, who single-handedly transformed certain defeat to at least a share of the spoils.
THE AUSTRALIAN CONQUEST (2011):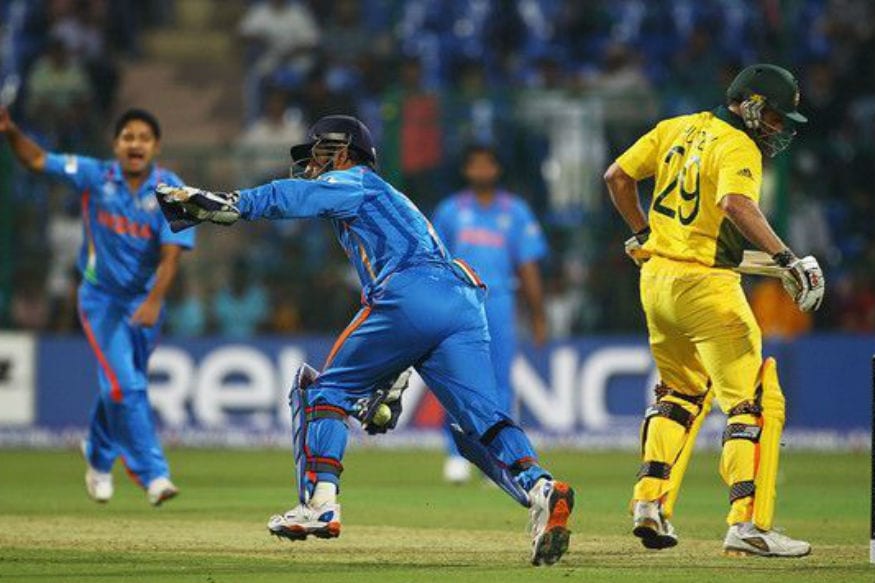 (Twitter)
Not since 1992, when they prematurely crashed out of their own party, had Australia failed to advance to at least the semi-final of the World Cup. That proud run came to a juddering halt in Ahmedabad, Yuvraj Singh-fuelled India packing off the winners of the last three editions in emphatic fashion.
All tournament long, coughing and retching and secretly vomiting blood, Yuvraj had catalyzed India's charge towards their second title. He was again the central figure in the quarter-final victory, excellent with the ball and exuberant with the bat while handling the pressures of a tense run-chase with characteristic aplomb.
Ricky Ponting's measured 104 was the cornerstone of Australia's 260 for six, Yuvraj having already announced himself with the scalps of Shane Watson and Michael Clarke. Sachin Tendulkar and Gautam Gambhir put India on course until a middle-order wobble left the hosts needing 74 in 75 deliveries. With only the bowlers to come and Suresh Raina playing his first match of the tournament, the onus was on Yuvraj to mastermind the finish.
Shoving physical discomfort aside, showing nerves of steel and shepherding Raina through a nervous initial period, Yuvraj got the job done with little fuss, slumping to the pitch in delighted relief after blasting Brett Lee through the covers for the winning boundary.
THE NIGHT OF DHONI (2011):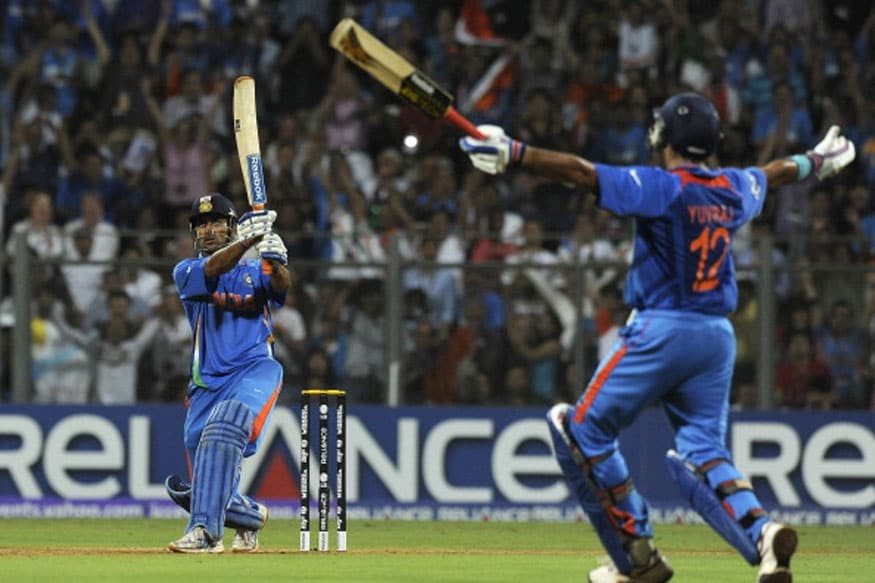 (Getty Images)
Serpentine queues outside the Wankhede Stadium from 10 in the morning, a good four and a half hours before the start of the final. A cacophony of drums and horns, of unbelievable noise and vibrant energy. Mumbai, and India, were ready for the title clash, for the end of a 28-year wait, for history to be rewritten.
There was a sense of the inevitable, of a tryst with destiny. This would surely be Sachin Tendulkar's last World Cup game. How could the stars not be so aligned to crown the most celebrated cricketer of his generation with the ultimate prize the sport has to offer?
Mahela Jayawardene hushed the rambunctious crowd with a silken hundred, and you could have heard a pin drop when Virender Sehwag and Tendulkar fell in quick succession to Lasith Malinga. Nervous faces heralded the dismissal of Virat Kohli after a consolidation act alongside Gautam Gambhir, only to be replaced by gasps of surprise and disbelief as Kohli and Mahendra Singh Dhoni crossed paths.
Dhoni? Really? Where was Yuvraj Singh, the form player, the worker of miracles?
Dhoni, it turned out, had pulled off a masterstroke. He took it upon himself to first neutralize, then dominate, Muttiah Muralitharan's potent off-spin. He did so with aplomb, with a feisty Gambhir for company. The latter threw away a century, but Dhoni stayed on till the end, his mighty thwack off Nuwan Kulasekara over long-on and the subsequent bat twirl imprinted in the soul of every Indian cricket fan.
SOUTH AFRICA SCHOOLED (2015):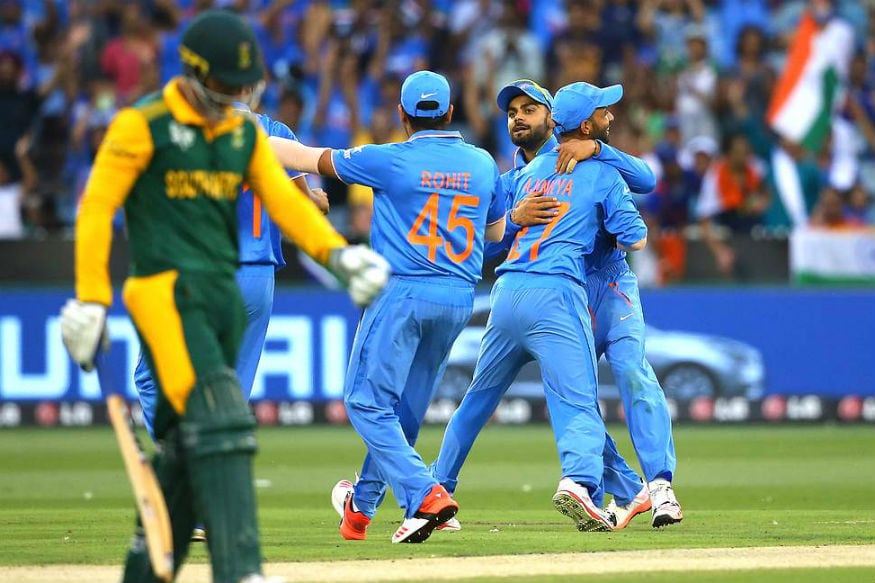 Team India celebrates. (Twitter)
A staggering 86,876 fans thronged the MCG, delirious at India's triumphant start to the defence of their title with a customary win against Pakistan and expecting a virtuoso performance against South Africa, as ever among the heavy favourites to go all the way.
Needless to say, an overwhelming majority was decidedly and unashamedly pro-India, elevating a simple game of cricket to a spectacle of colour, noise, music and drama. They went away with their heads held high and their chests puffed up in pride as their heroes didn't disappoint, crushing the mighty Proteas under an avalanche of runs, disciplined bowling and electric fielding with their faster bowlers, unthinkably, in the forefront.
Shikhar Dhawan had got the party going with a silken hundred, and Ajinkya Rahane extended his love affair with the MCG with a classy 79 so that even if there was no frantic final push, India still stacked up 307 for seven.
Mohammed Shami rocked South Africa by evicting Quinton de Kock and Hashim Amla, but it was the run outs of AB de Villiers and David Miller that truly killed the chase. Mohit Sharma's agility and accuracy accounted for de Villiers, Umesh Yadav's athleticism and killer arm sent Miller packing.
R Ashwin then weaved his wicked web of cunning and deceit, and the end couldn't come quickly enough for the African giants. This wasn't a defeat, it was a drubbing; India's 130-run margin of victory was nothing if not deserved.
---
---
Team Rankings
Rank
Team
Points
Rating
1
New Zealand
3198
118
2
India
3765
118
3
Australia
3498
113
4
England
4326
106
5
South Africa
2499
96
FULL Ranking
Rank
Team
Points
Rating
1
England
5405
123
2
India
6102
117
3
New Zealand
3716
116
4
Australia
4344
111
5
South Africa
3345
108
FULL Ranking
Rank
Team
Points
Rating
1
England
6877
275
2
Australia
6800
272
3
India
10186
268
4
Pakistan
7516
259
5
South Africa
5047
252
FULL Ranking