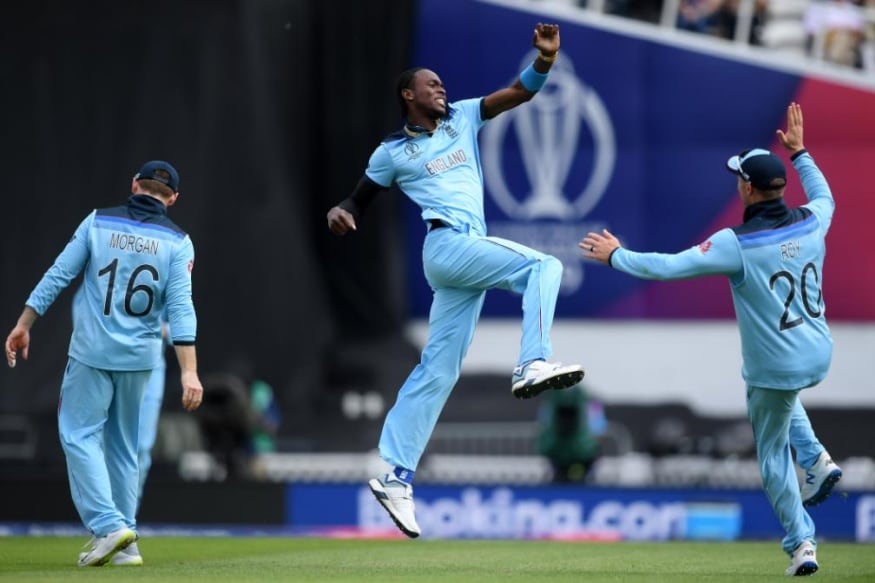 After as many as four fifties from England set up a good total on a tricky deck, Jofra Archer led the way with the ball to register a 104–run win in the 2019 ICC World Cup opener.
Just to confirm - @englandcricket are a serious one day outfit 👍🏼 They ' failed' with the bat and still got 300 plus. Excellent in the field, all bases covered in the bowling department and well lead in the field #CWC19

— Robin John Peterson (@robbie13flair) May 30, 2019
One side needed not to lose and the other didn't need to win...

England well worth that favorites tag.#ENGvsRSA #CWC19

— Mpumelelo Mbangwa (@mmbangwa) May 30, 2019
Wow!!!! That is incredible!!! As good as you see! #stokes #ENGvsRSA #cwc19 🔥 — James Taylor (@jamestaylor20) May 30, 2019
Clinical. This is not just a win...but a statement of sorts. England start their #CWC19 campaign in style. Such a huge (104-run) win might play an important role towards the end...NRR. #EngvSA

— Aakash Chopra (@cricketaakash) May 30, 2019
Earlier, England were asked to bat and South Africa surprised one and all by opening the bowling with Imran Tahir, which brought them the wicket of Jonny Bairstow. Joe Root and Jason Roy hit fifties but fell soon after.
This is first time Jonny Bairstow is dismissed by a leg-spinner in ODIs in England. #CWC19 — Mazher Arshad (@MazherArshad) May 30, 2019
Wow ! A 40 year old Tahir opens the bowling and gets Jonny Bairstow second ball of the match. Out of the box- is this going to be the theme of this World Cup #EngvSA — Mohammad Kaif (@MohammadKaif) May 30, 2019
- John Wright bowled by Craig McDermott - first ball of the #CWC1992 on 22 Feb 1992 (bowler began with a wide!)

- Jonny Bairstow ct behind off Imran Tahir - second ball of #CWC19 #CWC2019 - today#EngvSA#SAvEng

— Mohandas Menon (@mohanstatsman) May 30, 2019
This is Jason Roy's fourth consecutive fifty-plus score in ODIs. He went past 75 runs in all previous three occasions. #ENGvSA

— Umang Pabari (@UPStatsman) May 30, 2019
Eoin Morgan scored a fifty playing his 200th ODI but could not kick on from there.
What a wonderful moment for @Eoin16 ! He becomes the 8th English skipper to score a #CricketWorldCup 50+ score! 3 - M Gatting 3 - G Gooch 3 - A Stewart 2 - M Brearley 2 - A Strauss 1 - M Atherton 1 - M Vaughan 1 - E Morgan👈#MakeStatsGreatAgain #ENGvSA #CWC19 — Victor Tarapore (@VictorTarapore) May 30, 2019
Ben Stokes' 89 got England to a good score on board as South Africa went into the innings break happier of the two sides.
Just about par that for @englandcricket . It's should be an appetizing chase this - need one of the top 4 to get a 💯👍🏼 Once you get in there's plenty on offer on that surface. Great team hustling effort by @OfficialCSA so far

— Robin John Peterson (@robbie13flair) May 30, 2019
Can England be pleased with their effort. I say no as 311 is far from being a winning score. Again it will be the bowlers that will decide the game. What we will find out is which set of bowlers! — Roshan Abeysinghe (@RoshanCricket) May 30, 2019
Decent score by England on a non-typical Oval surface. Now know what pace to bowl at. Still put them marginally ahead.

— Harsha Bhogle (@bhogleharsha) May 30, 2019
I'll take 311 against England's strong batting lineup. We certainly bowled well for the most part and this total is definitely a total we can chase. #CWC19 #ENGvSA #ProteaFire — Tim-CricketGuy (@Tim32_cricket) May 30, 2019
Creditable comeback by the Proteas after 35 overs. At that stage, England looked set to score around 350. But could only manage 310 in the end. Ngidi & Rabada deserve a smattering of appreciation. #ENGvSA #worldcup2019

— Navneet Mundhra (@navneet_mundhra) May 30, 2019
In the chase, Hashim Amla had to walk back to the dressing room after being hit on the head by a Jofra Archer bouncer and the Proteas were in a lot of trouble with the pacer sending back Aiden Markram and Faf du Plessis.
So is Jofra going to win England #CWC19? He certainly strengthens what used to be England's weakest link... #ENGvSA — Hemant (@hemantbuch) May 30, 2019
Big Trouble at little mountain now. SA 44-2 with Hash retired hurt having concussion tests. Markram (11) and Faf (5) gone. Target 312...

— Neil Manthorp (@NeilManthorp) May 30, 2019
The kind of kick this Archer gets, he reminds you of West Indies fast bowlers of yore #ENGvSA — Bharath Ramaraj (@Fancricket12) May 30, 2019
Quinton de Kock fought hard but fell trying to go after the England bowlers and the Saffas lost their way.
De Kock has got out to that shot so many times. It's his strength but weakness as well. #ENGvsSA

— jigar mehta (@jigsactin) May 30, 2019
Stokes wasn't done with his effort with the bat and took a stunner to get rid of Andile Phehlukwayo.
Takes a stunner, hi-5s teammates, goes and signs autographs while the next batsman walks in.... just another day in the life of Ben Stokes. #CWC19 #EngvSA — Chetan Narula (@chetannarula) May 30, 2019
Seen some great catches today. This one by Stokes to dismiss Phehlukwayo was insane!

— Cricketwallah (@cricketwallah) May 30, 2019
I can hear @irbishi in my ear: "Ben Stokes, Remember the name!" That was a gravity-defying catch!#MakeStatsGreatAgain #ENGvSA #CWC19 #WeAreEngland pic.twitter.com/Wkeymkirqw — Victor Tarapore (@VictorTarapore) May 30, 2019
Stokes cant believe he's taken the catch of the tournament... on the first day of the tournament😂 #ENGvSA #CWC19 pic.twitter.com/XnlXN7gOmy

— Naveen (@ImNsamy) May 30, 2019
This match belongs to Ben Stokes. Runs with the bat. Catches—including a stunner. Run-Out. England starting the #CWC19 with an emphatic victory. — Aakash Chopra (@cricketaakash) May 30, 2019
Wow!!!! That is incredible!!! As good as you see! #stokes #ENGvsRSA #cwc19 🔥

— James Taylor (@jamestaylor20) May 30, 2019
Ben Stokes just took an all time great catch. What an athlete!!! — ian bishop (@irbishi) May 30, 2019
England has made a colossal statement on day 1 of the tournament. The team to beat and showing us why they are favourites. The brand of cricket they play is levels above any other team ffss!. What a tournament ahead #EngvSA #CWC19

— Naveen (@ImNsamy) May 30, 2019
England operate with surgical precision. South Africa absolutely no match for mighty England. Clinical performance with the bat, with the ball and on the field. The favourites making a massive statement on day 1 at home. Real quality! #WorldCup #ENGvSA — Srini Mama (@SriniMaama16) May 30, 2019