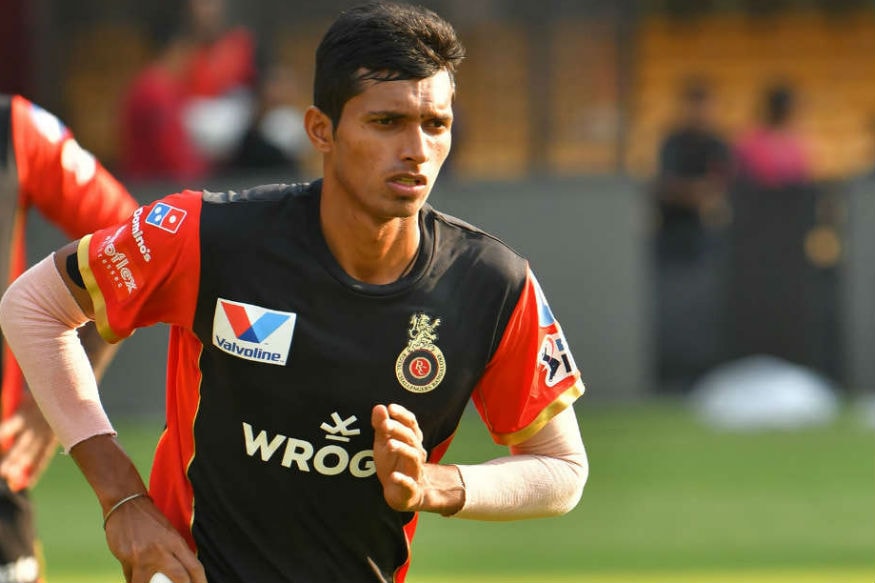 Life has been a roller-coaster for paceman Navdeep Saini who was considered to be an outsider from Karnal in the Delhi cricketing circles. Had it not been for then Delhi skipper Gautam Gambhir, who backed Saini against the entire might of Delhi & Districts Cricket Association (DDCA), the speedster wouldn't have been one of the five official standbys for the Indian squad for the ICC World Cup and flying to the UK next week as one of the four net bowlers.
Saini has been billed as one of the finest pace bowling prospects and some of the optimists felt that the speedsters should have been part of the final 15 for the World Cup. In a disappointing campaign for the Royal Challengers Bangalore, Saini came through with flying colours – finishing the season as second highest wicket-taker for his franchise with 11 wickets in 13 games.
More than his wickets, it was Saini's pace which caught everyone's eyes – regularly clocking 150kmph with a fastest of those being 152.85 kmph on the speed gun just behind South Africa's Kagiso Rabada's 154.23 kmph.
The lanky seamer, a regular with the India 'A' team for the last couple of seasons, had the opportunity to travel as a net-bowler to South Africa a couple of years back before Ankit Rajpoot, eventually, made the trip. A call from Gambhir to Saini telling him that Delhi required his services for the Ranji Trophy semifinals and final in 2017-18 season convinced him to stay back in Indian back then.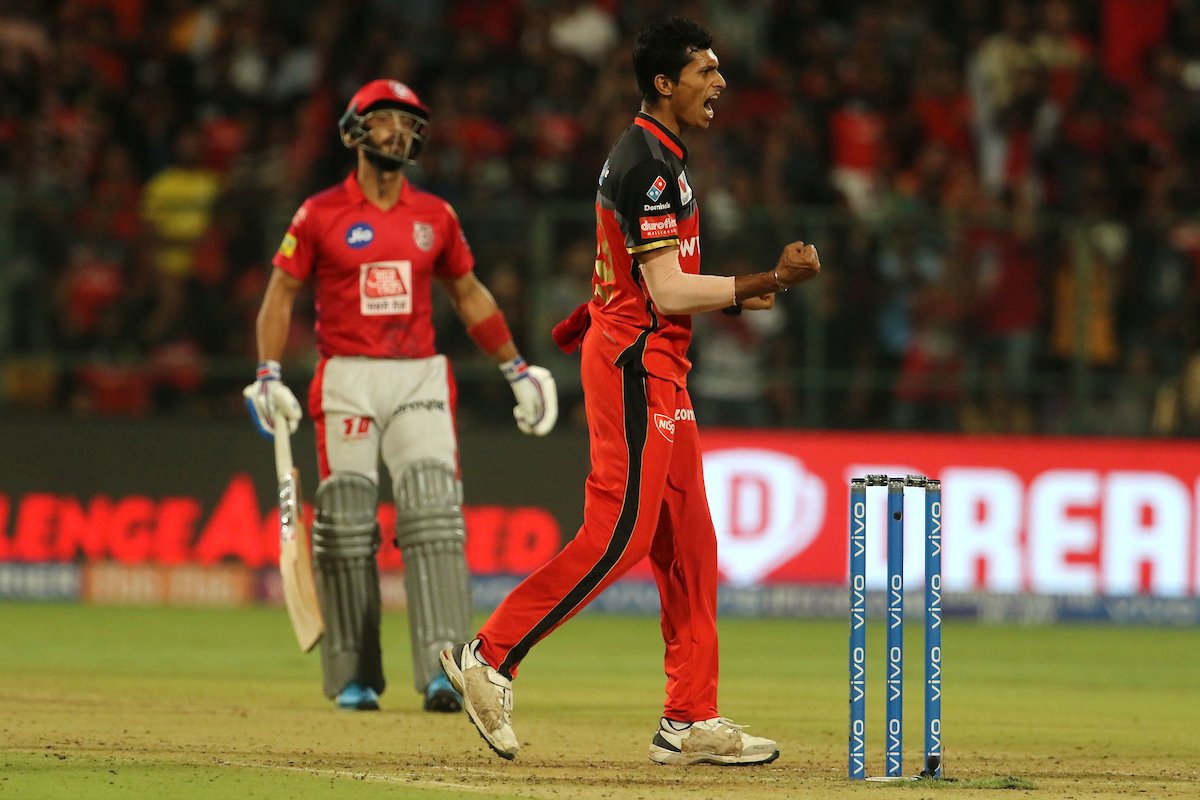 Navdeep Saini bags a wicket. (Twitter/ IPL)
"This is a huge opportunity for me. Travelling with the Indian team and helping them prepare for such a big tournament is a really big deal for me," Saini told CricketNext ahead of his departure with the Indian team for the United Kingdom.
"We have been instructed to travel to UK on May 23rd. There is no extra pressure on being the standby bowler. The good thing is that right now I am travelling as a net bowler, I am not thinking that someone is going to get injured and I am going to be called up. I have to concentrate on what I have got to do at the moment," he added.
RCB bowling coach and former India seamer Ashish Nehra is one of Saini's strongest backers and feels if luck goes his way the young paceman could be making his debut for India at the World Cup.
"He's got pace and bounce and the most important thing is that he is confident right now because he's really quick. He's the first standby, so if any fast bowler gets injured he (Saini) will be the one playing in the World Cup," Nehra said about Saini, who was bought for Rs 3 crore by RCB this season.
Saini credits inputs from Nehra as well as India 'A' bowling coach Paras Mhambrey for improvement in his bowling.
"Every opportunity that you get is very important – whether it's with the 'A' team or the State side – you learn what areas you need to improve and how are you going to improve. Coach (Paras) Mhambrey's inputs were very important with the 'A' team. This is a level that is above the Ranji Trophy and then in IPL, Ashish (Nehra) bhaiya helped me a lot.
"IPL is a very big event, at par with international cricket. Bowling to some of the top batsmen in the world and giving great performances was very important for me," the 26-year-old from Karnal, Haryana, said.
Asked about the inputs from Nehra and Mhambrey, Saini said, "Both of them advised me to stick to my strengths. My strength is not pace, it's hitting the back of the good length consistently, the pace helps in keeping the batsmen from going after this length. It was my first season of IPL, I didn't experiment too much," Saini, who one of Virat Kohli's main strike bowlers through the season, said.
The Delhi paceman believes one of the keys to bowling fast is understanding one's body. "Gym, diet and understanding your body is very important to bowl at pace. I have hired a trainer for a few years and he's the one who makes my fitness schedule. The diet is also based on the needs of the body," he said.
It also helped Saini that his RCB skipper Kohli is also from Delhi and knows the young man very well. "For me playing under Virat (Kohli) was a big plus point all season. He asked me to give 110 per cent effort – whether it's in the nets or in the match. He said that the most important, no one can bowl for you in the middle. His advice was to back yourself no matter what.
"There was no extra pressure from Virat. His thought was just to learn from the mistakes and improve yourself. He just told me to enjoy myself," Saini added about Kohli's attitude after RCB had lost the first six games of the season.
Finally asked about his closest mate in the RCB franchise, Saini said, "Kulwant Khejroliya was my closest friend. It helped that both of us play for Delhi and were roommates as well. Even during matches, when he was not picked he would come to me near the boundary and supported me with advice if I was getting hit around."