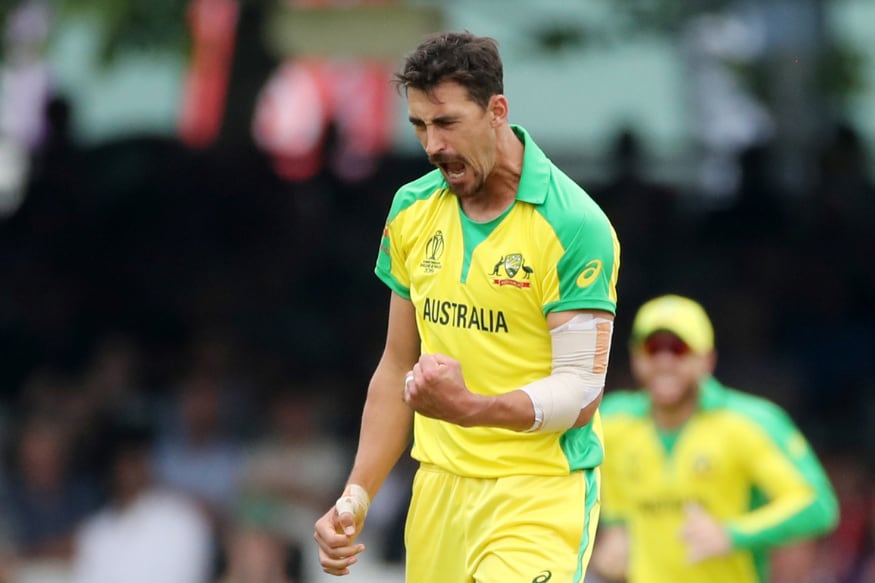 Brad Haddin, Australia's assistant coach, remarked that Mitchell Starc missing all of the national team's ten One-Day Internationals leading into the World Cup might have been a blessing in disguise as it has helped him "reset" and come back stronger.
Starc missed the entire tour to India and UAE earlier this year due to a pectoral injury. But he has since come back into his own and is currently the leading wicket-taker in the ongoing World Cup with 24 scalps which includes two five-wicket hauls.
"You never like to see players get injured, but it was probably a good thing," Haddin told reporters on the sidelines of Australia's group game against South Africa, in Manchester.
"It let him reset where he was and he has come back fit and strong and we're getting the rewards for being injured for a few months."
Starc was the leading wicket-taker in Australia's winning 2015 World Cup campaign with 22 wickets to his name. He has already eclipsed his tally from four years back and with a minimum of two more games up his sleeve, looks set to add more to the wickets column.
Haddin refused to comment whether he felt Starc was bowling better than what he did four years back replying with a simple, "I will tell you if we win", but said that he has been mighty impressed with what he has seen so far of the speedster.
"He had gone through stages in 2015 where no matter what he did turned to gold. It looks like he is one of those passages of form at the moment. He's done a lot of work going into the tournament," quipped Haddin.
Further elaborating on the one area which has impressed Haddin the most, the former wicket-keeper batsman stated that the lengths bowled by Starc throughout the competition have been impeccable. Starc has pitched a lot of balls in the good length to full zone and has reaped rewards.
"One thing I have been impressed with Mitch has been the length he's been bowling," said Haddin. "He's got that unbelievable yorker and he can go through a tail and a middle of the game really quick.
"I've been impressed with has been how he's using the new ball. He's got that length right and a lot of work has gone in to that.
"Someone coming from that height and pace, if they've got that length you'll ask a lot of question of the opposition's feet and that's what he's doing at the moment."
Haddin also reiterated that he does not see Starc or Pat Cummins rested for the final group game against South Africa despite Australia already through to the semi-finals insisting both pacers were in good rhythm.
"There is a lot of planning that goes into a World Cup to make sure the guys are peaking at the right time. The ones you are talking about, Starc and Cummins, it will be pretty hard to rest them at the moment," Haddin said.
"They have got a really good rhythm around the game and these decisions lightly but my gut feeling is that it will really, really hard to rest them especially in a massive campaign like the World Cup."