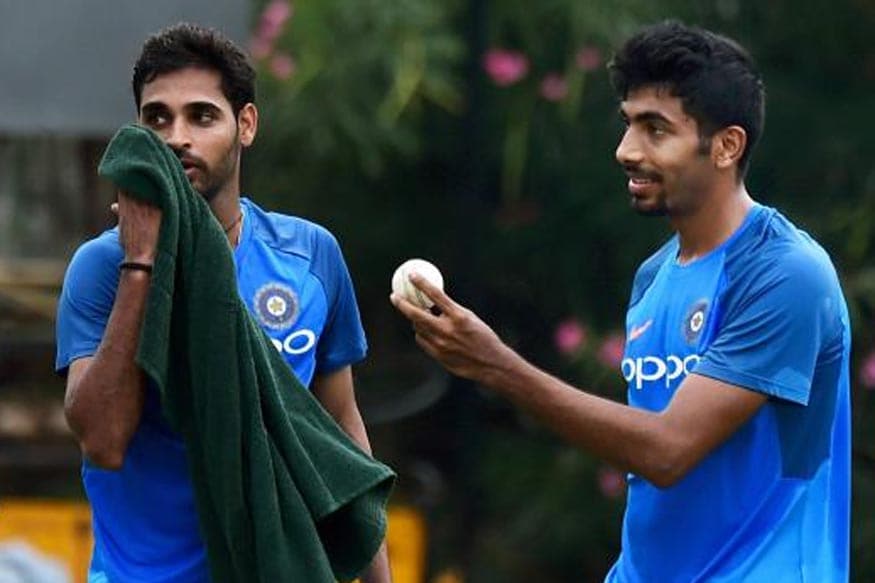 Despite not having a great IPL 2019, Bhuvneshwar Kumar remains optimistic about playing his role to perfection in the upcoming World Cup in England and Wales beginning May 30.
The Indian fast bowler, unlike teammates Jasprit Bumrah and Mohammad Shami, did not have the same impact in the IPL, but believes the troika can be handful on any surface on any given day and is looking forward to enjoying his time in conditions he feels will be conducive to his style of bowling.
"Our performances over the last few years speak for us. The Indian bowling attack has grown from strength to strength. Each one of us has our own strengths that we bring to the bowling unit. As a bowling unit - we back ourselves to do well in any conditions," Bhuvneshwar told TOI.
Bhuvneshwar's previous visit to England is not something he will remember fondly as he aggravated a back injury which forced his tour to end prematurely. For Bhuvneshwar, 2018 was a year to forget with inconsistent performances and recurring fitness issues which saw his numbers take a massive hit.
Bhuvneshwar played 14 ODIs and claimed only 11 wickets before bouncing back in style on what was a successful tour to Australia. In the last year however there has been an improvement in the numbers with 28 wickets in 19 matches, mostly aided by his return to form post the injury rehab.
"There has definitely been an improvement in my bowling in terms of pace and variations like the slower ball and knuckle ball. I have also improved fitness-wise."
Past that now, the Indian fast bowler, who is an integral part of the national team, says he has come back stronger and expects his experiences in the IPL, where in 15 games he took 13 wickets with a strike rate of 27.23, to hold him in good stead for the World Cup.
"The IPL has definitely helped and given players the much-needed match practice before the World Cup. Once you have wickets and runs under your belt, the confidence levels automatically go up. For me, it was important to be in good rhythm and be among wickets which I was able to do for Sunrisers Hyderabad. I was able to execute my plans and that's a very good sign."
The 29-year-old, who is well known for his ability to excel at the top of the innings and in the death overs, is one of seven players in the current squad who played in the 2015 edition. The pacer believes that eventually it will all come down to executing plans accurately against players who can take the game away single-handedly.
"Teams will be wary of India's bowling unit since we can be potent both at the start and at the death. It will all boil down to how we execute the plans on the given day.
"Going by the IPL, Andre Russell was superb while my SRH teammate - David Warner - too was in great touch. They are the kind of players who can take the game away from you and it's imperative that you are at your best while bowling to them."
India open their World Cup campaign against South Africa on June 5 at Southampton.