Manchester: MS Dhoni made a generation of Indians who were used to switching off televisions after Sachin Tendulkar's dismissals watch on with hope and belief. In a nutshell, that's his biggest achievement in cricket.
Like many other '90s kids, I grew up watching Tendulkar, wanting to be a Tendulkar. Posters on wall, wallpapers on computers, imitate the signature abdomen adjustments, try the straight drive and the straight six off Michael Kasprowicz - I've done it all.
It helped that I grew up in Chennai, one of Tendulkar's favourite venues. I'd bunk school to watch him score century after century at the MA Chidambaram stadium. I was among the many tearful faces in the epic '99 Test against Pakistan. I was among the many happy faces in the other centuries against Australia ('98 and 2001) and England (2008).
It's embarrassing now - but my first e-mail id went 'tendulkarthik@ ...'
AFP
Towards the end of Tendulkar's career, an empty feeling began to strike. I wasn't one of those 'won't watch cricket after Tendulkar retirement' fans - my job wouldn't allow me that anyway - but the fanboy feeling went missing.
Finding new heroes and inspirations in your 20s is perhaps not as easy as it is in childhood. As kids, you're just naturally and unconditionally attracted to someone without any logic or reason. It's almost like first love. In the 20s, it's not as natural as your mind also gets involved along with the heart.
And then came Dhoni. The transition from being a fan of Tendulkar to Dhoni - it's not mutually exclusive, by the way - is in some ways moving from thinking beyond self to understanding cricket in more detail. Tendulkar is the perfect role model for young cricketers to emulate for their personal skills - his technique and correctness as a batsman are a coaching manual in itself.
Once you imbibe those lessons, you could look towards Dhoni to understand the game deeper and read situations. Now, this isn't to say Tendulkar didn't read situations or contribute for team, so don't outrage.
I can't quite recollect when exactly I began to admire Dhoni. My earliest memory is of wondering how on earth he is playing for India with that technique, around the time he made his debut.
Remember I was in peak years as a Tendulkar fan then.
And then, gradually, Dhoni along with the Yuvraj Singhs and Suresh Rainas began to do something Indian fans aren't used to - win chases regularly. It was the period of Rahul Dravid and Greg Chappell, when finisher Dhoni was born.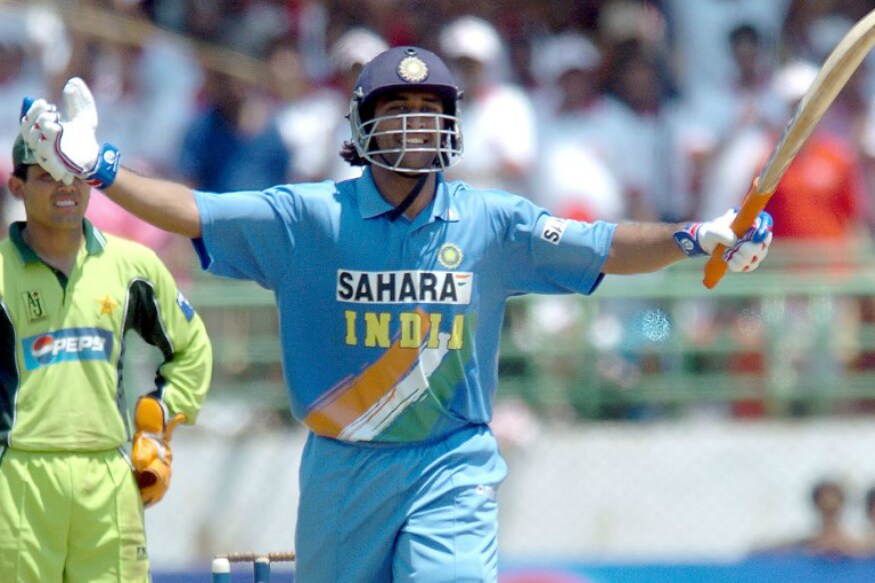 (AFP)
And then came another thing Indian fans aren't used to - an ICC event trophy in the World T20 2007. And then the CB series in Australia, and so on. The biggest of them all was the World Cup 2011, and the manner in which he sealed it.
In my mind, Dhoni the team man stood out in one of Tendulkar's biggest personal milestones - the 200 against South Africa in the Gwalior ODI of 2010. Tendulkar was approaching the milestone but was also tired and slowing down. Dhoni took charge in a 68* (35), to an extent where he hardly even gave Tendulkar the strike. With Tendulkar on 199, Dhoni played all six balls of the penultimate over and even took a single in the last ball to retain strike.
That Tendulkar even got strike in the third ball of the last over was because Hashim Amla made a diving stop in the deep.
Social media outraged, but I saw a man putting team beyond even the most ridiculous of personal records. It helped that he played for a team that represented my city in the IPL; the bonding between Chennai and Dhoni is one to experience, not describe.
Other snapshots of Dhoni memories include his other trophies and numerous finishes, but also his handling of defeat; calling for a team huddle after CSK lost the IPL final of 2008, and breaking into a victory lap to thank the Chepauk crowd after losing the 2012 IPL final narrowly. It showed the way he dealt with highs and lows of sport.
But more than the trophies, stats and other victories, it's his self belief come what may that should be a big takeaway from his career. It came out to the fore in his highest career point - the World Cup final at Wankhede.
(Twitter)
Think for a moment how the country would have reacted had the out-of-form Dhoni's decision to promote himself over in-form Yuvraj Singh backfired. But to not have bothered about the external voices and consequences, and focus only on the cricketing logic makes that decision one of the toughest ones taken by an Indian captain.
Dhoni's self belief also came to the fore in one of his toughest career points - the semifinal against New Zealand in World Cup 2019. He took the game deep, deep and deeper, sticking to his belief despite not being in the best of hitting forms. In his mind, he'd have been calculating that the last over was to be bowled by James Neesham. He would have believed he could target Neesham's inexperience, even though Dhoni isn't the batsman he was.
A gripping fairytale last-over finish was very much possible, before Martin Guptill got in the way. It was a rather abrupt, ironic and even cruel ending, at least to Dhoni's World Cup if not international career.
A man who takes the game till the very end. A man who calculates every run and prides himself on being able to run fast despite his age. A man who speaks about converting one-and-a-half into two runs. Run out by inches. No fairytale to the man who gave my childhood hero - and his - a fairytale. Sport is cruel.
As Dhoni walked back to the pavilion, the journalist next to me in the press box stood up to applaud. The others stayed glued to their seats, perhaps due to notions of objectivity. I couldn't get up too - I was struck by that same empty feeling I felt years back for Tendulkar.