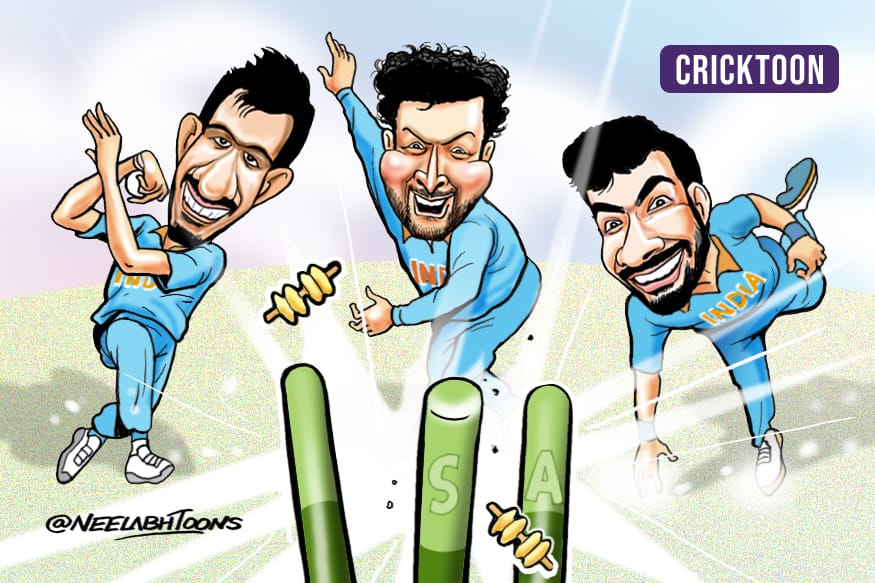 There's no way you can hit Jasprit Bumrah. With new ball, in the middle overs, or in the death. It's not the wisest of options to target Bhuvneshwar Kumar with the new ball, especially in overcast conditions. Once - or should I say even if - you pass them, it's tough to score off Kuldeep Yadav and Yuzvendra Chahal in the middle overs, especially if you're from outside Asia. You could possibly target the fifth and sixth bowlers - Hardik Pandya and Kedar Jadhav - but it's likely that you would have lost a few wickets by the time they arrive, making it a risky option.
Much of the talk around the World Cup 2019 has been the need to score 300s. India arrived knowing if they got their bowling combination right, they wouldn't need to score as much too often. India did just that in their opening game against South Africa in Southampton, picking their best bowling attack. Among the six bowlers India used, only Bhuvneshwar Kumar has played a World Cup match before - the one against UAE in 2015. That it doesn't feel that way shows how much India's bowling has evolved in the last four years.
Irrespective of the conditions, India's best attack includes Bumrah, Kuldeep and Chahal. With Kuldeep and Chahal playing together, India have won 20 of their 29 matches. When Bumrah too joins in, India have won 15 of 20. The average score India concede when the three play together is around 215. Only once has a team scored 300+ against the troika.
The mutually successful association was on display once again on Wednesday. Bumrah set it up by dismissing the openers in a stunning first spell, before the spinners, led by Chahal's 4 for 51, ran through the rest of the order.
Bumrah first. Bowling your first World Cup over could - or ideally, should - mean a bit of nerves. But then, this is Bumrah. The first over to Quinton de Kock was a lesson in angles, and set the tone for the game. One ball chopped on to the boots. One left outside off. Three beaten in the same channel, the batsman just not able to put bat on ball even though each one pitched in the same back-of-length area.
The play and miss game continued in Bumrah's next over, but this time MS Dhoni fumbled behind the stumps to give the batsman a breather. It turned out to be a blessing though, for Bumrah had Hashim Amla nicking to second slip the very next ball. Bumrah's slower balls and yorkers are well known for being dangerous, but his back of length skidders are just as effective.
Within no time, Kohli realised that Bumrah was onto something special. He moved himself from point - a position he doesn't always stand in - to third slip. And voila! De Kock finally stopped playing and missing, instead playing and edging straight to the new fielder. Less than a month back, there was a lovely moment involving Bumrah and de Kock when the bowler consoled the dejected wicketkeeper after conceding crucial byes in tense moments of the IPL final. This time, there was no love on display as Bumrah unleashed his lethal self on his franchise teammate.
Bumrah could have had Faf du Plessis first ball too, but the inside edge missed the leg stump by inches. The rest of his first spell had the South African captain dancing around, as South Africa made the worst Power Play score this World Cup - 34 for 2.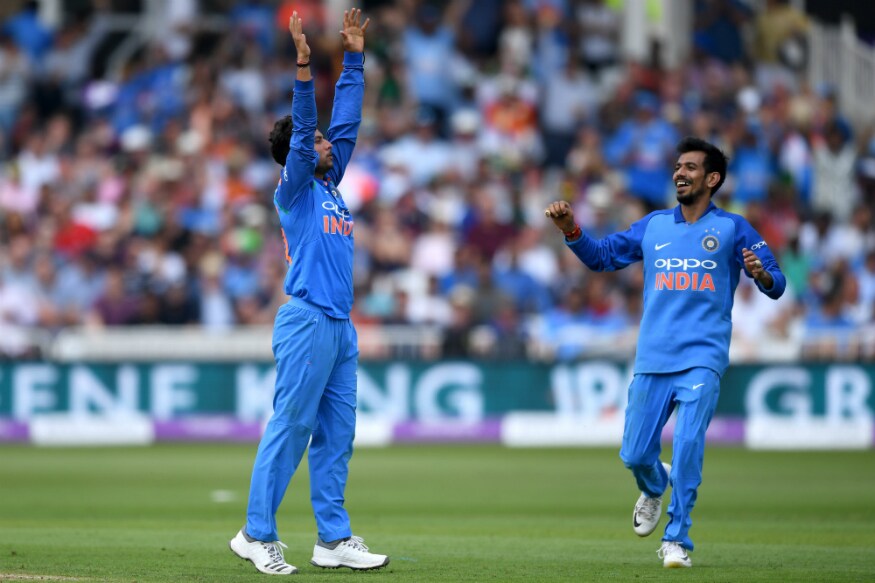 Bumrah conceded just 13 of those in five overs, and passed on the baton to the spinners. Chahal took it with both hands, spinning South Africa's middle order out each time they tried stitching a partnership. He first had Rassie van der Dussen and du Plessis bowled in the 20th over, which was just his second in the game. The two batsmen had added 54 for the third wicket before van der Dussen tried an ambitious reverse sweep. Van der Dussen had looked compact until then, but Chahal's drift was too much to handle; the ball moved from middle stump to leg stump line in the air before spinning back in past the bat. It was also a well set-up wicket for Chahal had left a huge gap through backward point, tempting the batsman to score under pressure.
Chahal's dismissal of du Plessis was a thing of beauty too. The previous ball was a slow googly, which du Plessis had no idea about. The next one was a slider - flatter and quicker. Du Plessis was neither forward nor back, and the ball skidded past him to hit the stumps.
Chahal was in action later, breaking David Miller and Andile Phehlukwayo's 46-run stand for the sixth wicket. The left-handed duo were just about set to take on the legspinner in the 36th over, but it's not easy to target Chahal; Miller hit one straight back, Phehlukwayo was stumped by miles. Between Bumrah brilliance and Chahal's craft, Kuldeep finished with 1 for 46. On another day, it could have been him among the wickets.
In many ways, Wednesday's game was a short version of India's tour of South Africa early last year. In that series, Kuldeep and Chahal had bagged 33 wickets between them (Kuldeep 17, Chahal 16). Bumrah had eight wickets, but squeezed South Africa with an economy of 3.97, just like he did at the Ageas Bowl. In that series too, a batsman stole their thunder; Virat Kohli smashed three tons. It was Rohit Sharma's century that sealed the game this time, but the win was set up when India picked their best bowlers.