I have no idea where I was and what I was doing when Mohinder Amarnath dismissed Michael Holding on June 25, 1983. That is hardly surprising given that I had only recently turned two.
My parents have no idea what they were doing that evening. Where were you when India stunned the great West Indies, I once naively asked my father. "Must have been at home," he said, smashing my curiosity into a thousand pieces. This is also understandable. My father thinks cricket is only slightly less useless than WWE – and back in 2000, he pointed out that cricket is actually worse than the World Wrestling Federation because it fools people (like me) into thinking it is real.
My father's father – bless his soul – also had no idea what he was doing that June evening. This is a shocker because my grandfather was the biggest cricket fan in our family and perhaps the most loyal West Indies fan of all. He vaguely remembered radio commentary from the Indian innings but couldn't recall much else. Surely he would be able to re-live the shock that ran through him when he opened the newspaper the next day? Nope. He had no clue when he learnt of that result.
To follow cricket is to experience a number of JFK moments: you know exactly where you were and what you were doing when a remarkable event occurred. But occasionally, the moment simply passes you by. You don't catch it live, nor can you fit it into your life's personal narrative. It is the obverse of "I was there". Not only were you not there, you don't remember your whereabouts.
(AFP)
Take another World Cup stunner, 13 years on: Kenya beating the West Indies on February 29, 1996. I don't know where I was when that victory arrived. School, maybe? It was a Thursday, so that is possible. On the bus back home? Again, possible. But I can't say. How did I learn about the result? I don't know. How did I react? I don't know. I can't even dredge up a single memory from the South Africa-Pakistan game on the same day. Scanning the scorecard now, nothing is familiar. This is peculiar because I was so immersed in that World Cup that my mother sat me down to say she was seriously considering a TV ban till my exams were done. I nodded – then watched most of the games anyway, sometimes on mute.
My memories are so vivid for the most part… except for that blackout on February 29. Two days earlier, India had played Australia in Mumbai. I can talk for hours about that match: the first time I watched a whole innings with my dad and the first (and last time) I saw him scream with delight at something that was unfolding in a cricket match (Tendulkar launching into McGrath). My dad has most certainly forgotten this but trust me, it was so bizarre to see him gripped by that run-chase that I knew I wouldn't forget the scene all my life.
In 1999, I remember where I was when Javagal Srinath and Venkatesh Prasad mowed through the Pakistan top order in Old Trafford. A group of us were playing carrom in a recreation room. Soon we stopped our doubles game and began shrieking at the monitor – letting out our loudest wooohoos when Azharuddin took two catches at slip. "Is Wajahatullah Wasti playing?" Harish had screamed. "No," said Sridhar with a chuckle. "That would just be Wajahatullah Jaasti." [Translation: 'Jaasti' means 'excessive'. Sridhar was punning on Wasti and his non-selection.]
Fast-forward nine days later, though, and I have no personal memory from that semi-final at Edgbaston. I was most certainly at home – the game finished well after 10 pm after all – but I can't call to mind much else. Did I feel as bad for Klusener as I had for Richie Richardson in the semi-final in 1996 (when I was close to tears)? Was I upset that Australia had pulled off yet another jailbreak to worm their way into another World Cup final? This was arguably the greatest one-day match ever played. So much tension and drama. Warne's curler to get Gibbs. Reiffel's drop. Klusener's blistering square drives. Darren Lehmann's missed run-out. Bill Lawry's wonderment at the climax. The mayhem in the stands. And yet, I don't know whether I saw all this live or whether I caught up on all the action via the highlights. I don't even remember talking to any of my friends about the match the next day (a Friday). What had Harish and Sridhar made of it? Had I read the match report in the newspaper the next morning? I don't have the faintest clue.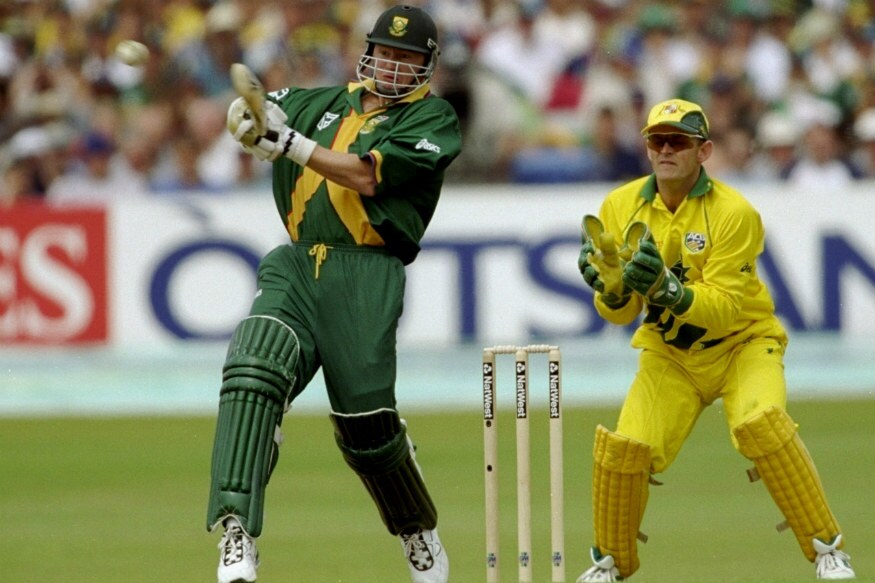 (AFP)
For spectators, there are two parts to a sporting contest: the on-field action and your off-field reaction. The first is recorded in scorecards and captured on photographs and in video. There are match reports and interviews to paint a picture. What nobody records is your off-field reaction. Your fist-pumps, your yells, your whoops, your bitten nails strewn on the floor, your anger, your tears. Nobody notes down where you are and what you are doing when a great event occurs. You could be sleeping. Or in an airplane. You could be in a traffic jam. Or in a boring meeting at work. The players are being closely monitored. You, on the other hand, are left to your own devices.
Through the 1990s I filled several scrapbooks with scorecards and match reports. I clipped photographs from glossy magazines and collected every single Sportstar poster for about five years. I wrote amateur essays – on India's one-run loss in Brisbane, Sri Lanka's triumph in Lahore and Sachin returning from the death of his father to make that hundred in Bristol.
But I paid no attention to myself. Where was I? What part of the games did I watch? What were the emotions that overcame me? What was my highpoint of a match? How did I celebrate? Some of it remains etched in memory. So much of it is lost forever, swallowed up by the passage of time. I didn't know better then, but I wish someone had told me to note these down in the margins. How precious those nuggets would have been after all these years. They would have revived so many rich experiences. And they would have allowed me to fill in the gaps in my World Cup jigsaw.