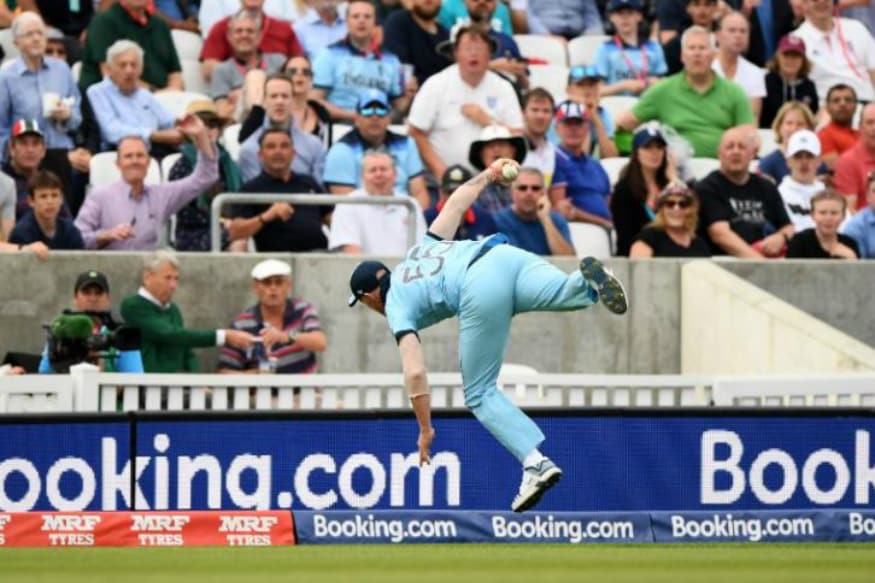 For England all-rounder Ben Stokes it was a day out that he isn't going to forget anytime soon thanks to an out-of-the-world catch, which he believes he was lucky to hold onto.
Andile Phehlukwayo looked stunned as Stokes pulled off a very Adam Bacher-like catch to dismiss the all-rounder for 24 and kill all hopes of a recovery for the Proteas at the Oval.
"I had a bit of a panic on, I was a little further in that I should have been, but I've the nickname, 'The Claw'," Stokes, the man of the match, said after the game.
"Luckily it stuck!"
The left-handed batsman was instrumental in helping England begin their campaign with a win as his 89 off 79 balls propelled the score to above 300 on what he found was a tricky wicket.
"It was a tricky wicket and to get it up to 300-330 especially with the slower balls digging in a bit was important. The boundaries were hard to get away, but psychologically getting over 300 was a big thing. Unbelievable atmosphere, great turn-out for [my] first World Cup game."
England captain Eoin Morgan was undoubtedly delighted and noted that the 'smart cricket' on display was a testament to their progress in recent years.
"Absolutely delighted with that performance, the maturity and smart cricket that we played shows our improvement in the last two years," Morgan said at the post-match presentation.
"He (Stokes) had a field day and especially that catch he took was absolutely outstanding. To have a match-winner like that in the side, he is someone who lifts absolutely everybody."
Among the things that derailed the Proteas was the bowling of Jofra Archer at the top of the innings and the impeccable fielding performance by the hosts.
Archer, who's inclusion was a topic of much conversation ahead of the World Cup, eventually finished with figures of 3/27 in seven overs in his first ever World Cup outing, which drew high praise from his captain.
"The slowest pitch and he bowled fast and accurate, outstanding from a young guy at the start of his career. He is taking everything in his stride at the moment and he is improving every day and that's very exciting."
Meanwhile South African captain Faf du Plessis did not hold back and conceded that his side had been outplayed through and through, especially since the batting did not hold up their end of the deal.
"We were outplayed in all three departments and there were some real good batting performances from England.
"Tahir at the top was a plan as we were looking to take the pace off since they are good players of pace bowling, and it worked. We kept getting wickets, but when chasing we need partnerships, and losing Amla, was a momentum-breaker.
"He's okay now, when he came off he was a bit all over the place, we were a bit worried about him, but hopefully he's okay now."
Du Plessis, who himself could not affect the game the way he would have liked is however looking forward to the return of Dale Steyn.
"When we have Dale in our resources, we back ourselves to bowl sides out as we don't have the luxury of all-rounders at 7, 8 and 9."