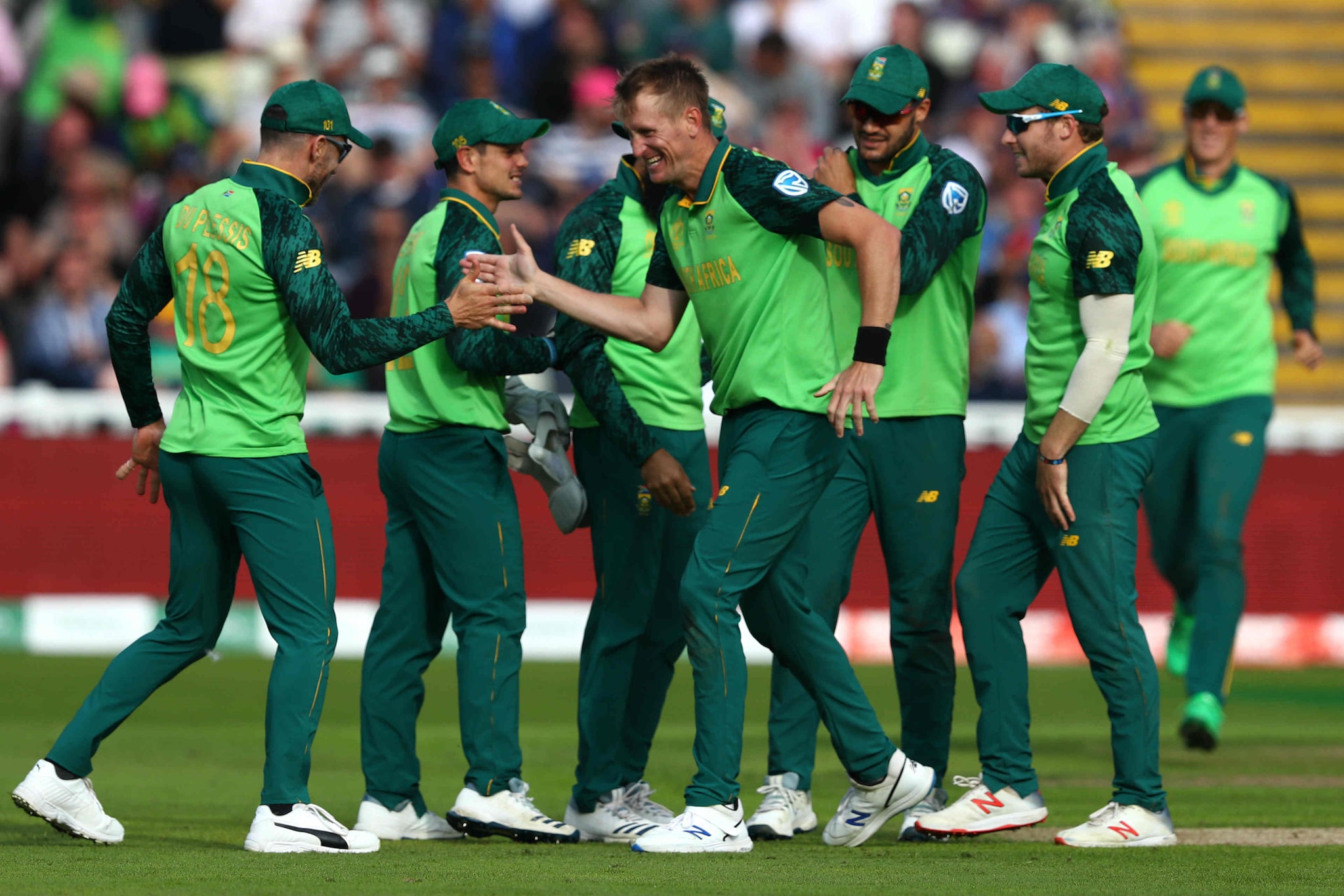 Having bowled out Sri Lanka for 203, South Africa needed one big stand and the senior players stepped up to do just that and ensured Proteas won their second game of the tournament, beating the Islanders by nine wickets in Match 35 of ICC World Cup 2019.
Clinical Proteas! Where have you been... I still dont think major changes are needed. Strategic changes, yes, definitely!! Before the defence force try and jump down my throat- it is my opinion and you are entitled to yours!

— Alviro Petersen (@AlviroPetersen) June 28, 2019
SA too late SL too dismissive, overall an one sided-affair which had slight chances for the latter but that too vanished now.#SLvSA #CWC19 — Reema Malhotra (@ReemaMalhotra8) June 28, 2019
South Africa v Sri Lanka:

World Cup 2015: SA won by 9 wickets

World Cup 2019: SA won by 9 wickets #SAvSL #SLvSA #CWC19

— Sarang Bhalerao (@bhaleraosarang) June 28, 2019
If you had been told in advance #CWC19 Sri Lanka would put up sub-par 200-odd totals vs both South Africa & England - but would win one game because the chasing team seemed to lose their heads & lose one game to a powerful batting reply - who would you have guessed won & lost... — Saurabh Somani (@saurabh_42) June 28, 2019
Winning the toss and electing to field first, the Proteas were off to a good start. Sri Lankan skipper Dimuth Karunaratne was dismissed on the very first ball of the game as Kagiso Rabada got the first breakthrough.
First "Royal Duck" of the World Cup! Karunaratna out to a short one off Rabada ! #royalduck 👑👑👑

— Dean Jones (@ProfDeano) June 28, 2019
What a way to begin! @OfficialCSA drawing first blood early on, they want to run through this batting unit quickly!#CWC19 #SLvSA — R P Singh रुद्र प्रताप सिंह (@rpsingh) June 28, 2019
Could be a good move by Karunaratne to be out first ball of the match. Of the previous four number one batsmen who have been out to the first ball of a World Cup match, three have ended on the winning side. #youcannotfightthestats

— Andy Zaltzman (@ZaltzCricket) June 28, 2019
Karunaratne became the 1st Sri Lankan to be dismissed off a first ball in a World Cup game and 8th in ODIs #SLvSA #CWC19 — Thilak Ram (@Thilak_Rama) June 28, 2019
The track assisted pacers and Sri Lankan middle order again witnessed a collapse. None of the middle order batsmen managed to convert their starts as Dwaine Pretorius picked up 3 wickets.
Sri Lanka batsman generously donating wickets to the proteas😁

— Herschelle Gibbs (@hershybru) June 28, 2019
The strategy of denying Imran Tahir wickets by giving them all to Pretorius first might have sounded pretty good in the team meeting... — Andrew Fidel Fernando (@afidelf) June 28, 2019
Told you Pretorius should have played more in this World Cup #CWC19 #SLvSA #ProteasFire

— Tim-CricketGuy (@Tim32_cricket) June 28, 2019
Sri Lanka has just done something they should have never done and that is to lose the two set batsmen close to each other, and let SA bowl to two brand new batsmen! Advantage of the 2nd wicket stand completely squandered. — Roshan Abeysinghe (@RoshanCricket) June 28, 2019
49(39) & 30(29) are the scores of Avishka in last two matches. He has been playing some delightful shots but giving his wickets after the great start but he is so young and will learn from these mistakes.

— Johns (@CricCrazyJohns) June 28, 2019
Just saw that Angelo Mathews' strike rate in the World Cup is just a tick over 83. As context, the following players have MORE WC runs at a HIGHER S/R 1. Aravinda de Silva 2. Viv Richards 3. Mark Waugh#MakeStatsGreatAgain #SLvSA #SAvSL #CWC19 #LionsRoar — Victor Tarapore (@VictorTarapore) June 28, 2019
KMendis' 23(51) the slowest #WorldCup 23 since PCollingwood's 23*(74) in 2007.

— Ric Finlay (@RicFinlay) June 28, 2019
There was an interesting segment in the match as a swarm of bees took over the stadium and the cricketers had to lay flat on the ground to avoid getting stung.
Bee 🐝 attack in Durham..amazing!!! #SLvSA — Hemant (@hemantbuch) June 28, 2019
Bees on the pitch up at Durham #CWCUP2019 #bbccricket pic.twitter.com/ojv09rh99S

— Elliot Barker (@_Barkles_) June 28, 2019
🐝 bees attack warning ⚠️ at #SLvsSA match #Cwc2019 pic.twitter.com/IrxbebO6Ml — Anjana Kaluarachchi (@Anjana_CT) June 28, 2019
In the chase, South Africa lost Quinton de Kock early but half-centuries from Faf du Plessis and Hashim Amla saw them home with plenty of time to spare.
England, even South Africa beat Lanka.#SLvSA

— Vishwas k (@vishwask1) June 28, 2019
Another result goes in Pakistan's favour. Sri Lanka lose to South Africa. Pakistan's best scenario now is: win next two games vs AFG & BD and expect ENG to lose one game. #CWC19 — Mazher Arshad (@MazherArshad) June 28, 2019
Ohhh SA if only you were this dominant few weeks ago #ProteasFire

— Naveen (@ImNsamy) June 28, 2019
The Proteas absolutely bossed it today at Durham. Too bad they're dishing out a performance as clinical as this when they're already out of the #CWC19 #SLvSA — Amit Banerjee (@akb287) June 28, 2019
Comfortable win for @OfficialCSA super knocks by @faf1307 and @amlahash ... sad #RSA never delivers as a team when it matters in big tournaments. It's in the mind as they have all the talent! #SLvsSA #CWC19 #CWC

— Hemant Dua हेमंत दुआ (@inspiranti) June 28, 2019