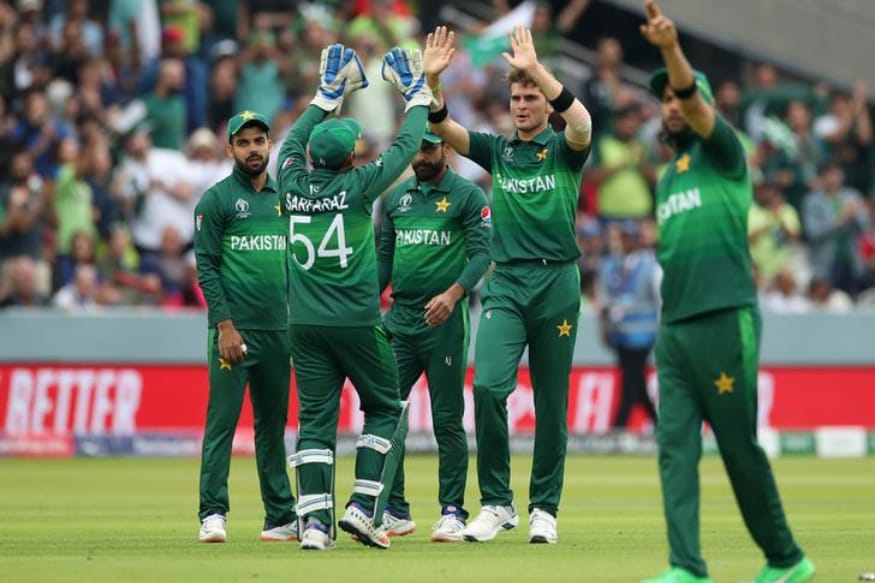 Pakistan may not have made it to the semifinals of the ICC World Cup 2019 but ensured they ended their campaign in style with a 94–run win over Bangladesh at Lord's, London. After the Pakistan top order put up a tall score, Shaheen Afridi just blew the Bangladesh batsmen away.
Pakistan win. If a win can be satisfying and hollow at the same time, this is it. Lots of positives to take from the second half of #CWC19 but it was too late to compensate for the shambles at the start and reward the team's incredible support. Much to build on and to put right.

— Kamran Abbasi (@KamranAbbasi) July 5, 2019
Shaheen Shah Afridi has been one of Pakistan's shining stars in this World Cup. Becomes the youngest bowler to pick 5-wicket haul in a World Cup — 19 years 90 days Impressed v NZ at Edgbaston. Won't be surprised if he leads the Pakistan attack very soon#PAKvBAN #BANvPAK #CWC19 — Sarang Bhalerao (@bhaleraosarang) July 5, 2019
Pakistan have left out both Shaheen and Imad at various points in this tournament. Forget net run rate, not having their best team on the field regularly is what has cost them. #CWC19

— Patrick Noone (@patnoonecricket) July 5, 2019
PAK today - Had their youngest ever centurion in the World Cup (Imam) - Had the youngest ever bowler take a 5-fer (Shaheen) They're going to be serious contenders in 2023 (I hope). Are they going to be the England in 2023?#MakeStatsGreatAgain #CWC19 #PAKvBAN #WeHaveWeWill — Victor Tarapore (@VictorTarapore) July 5, 2019
Frankly, I'd rather this Pakistan team was playing the semi-finals than New Zealand. Anyway, good show by both Pak & Ban in this tournament.

— Ramesh Srivats (@rameshsrivats) July 5, 2019
Winning the toss and electing to bat first, Pakistan stared at a mountain as they required to score a minimum of 400 runs to give themselves a chance to qualify for the semifinals. Fakhar Zaman who began slowly, continued his poor form as he handed a catch straight to point off Mehidy Hasan.
Fakhar is not playing his natural game I don't know why

— Sharjeel khan (@SharjeelLeo14) July 5, 2019
Fakhar Zaman at the World Cup: 13, 0, 9, 44, 62, 0, 36, 22. Innings 8 Runs 186 Hundreds 0 Fifties 1 Average 23.25#Cwc19 #PAKvBAN — Saj Sadiq (@Saj_PakPassion) July 5, 2019
Fakhar needs to be jolted out of his complacency. If that means bringing back Ahmad Shahzad, then so be it. Or giving Abid Ali a go, or Sharjeel when he's back.

— tubz (@rwpexpress14) July 5, 2019
Babar Azam who has been Pakistan's best batsman in the World Cup was very unfortunate to miss out on a hundred as he was dismissed for 96.
Pity Babar Azam misses out on a century. Pak's best batsman by a mile, and delightful to watch: wide range, crisp timing, handsome strokes — Cricketwallah (@cricketwallah) July 5, 2019
BABAR

Crossed the moat

Broke the gates

Marched up to the throne.

Just at the nick of the ascension time

Saif came & tripped him.

The Babar Empire could not be set up this time.

Alas!

— Jose Puliampatta (@JosePuliampatta) July 5, 2019
Babar Azam loves the 90s more than Peter Andre — Geoff Lemon Sport (@GeoffLemonSport) July 5, 2019
Pakistan batsmen to get out in the 90s in World Cup:

Zaheer Abbas 97 v SL, 1975

Zaheer Abbas 93 v WI, 1979

Ahmed Shehzad 93 v UAE, 2015

Babar Azam 96 v Ban, 2019 #CWC19 #PakvBan

— Bharath Seervi (@SeerviBharath) July 5, 2019
Just accept the fact that Babar Azam's cover drive is a greatest shot ever played by any Pakistani — Haroon (@ThisHaroon) July 5, 2019
Babar Azam breaks Javed Miandad's record of 437 runs. Babar now holds the record for most runs by a Pakistani batsman in a single World Cup. That's one of the positives you can take from this world cup

— Rehan Ulhaq (@Rehan_ulhaq) July 5, 2019
Imam-Ul-Haq went on to register his maiden World Cup century at the Home of Cricket. However, he was dismissed hit-wicket soon after. A handy cameo from the lower order took Pakistan to a good total on the board.
Imam-ul-Haq (36 innings) has become the 2nd Fastest Batsman to score 7 ODI Centuries, only behind his teammate Babar Azam who did it in 33 innings. Fastest to 7 ODI Centuries (by innings) 33 Babar Azam 36 IMAM-UL-HAQ* 41 Hashim Amla 42 Zaheer Abbas#PAKvBAN #CWC19 — Israr Ahmed Hashmi (@IamIsrarHashmi) July 5, 2019
Classy hundred by Imam-ul-Haq.

Time for Pakistan to find a new opening partner for him IMO. They'll be better for it.#BANvPAK #PAKvBAN #CWC19

— CricBlog (@cric_blog) July 5, 2019
23 years old. Venue is Lords. In a world cup. Imam scores a hundred, what a moment for this youngster. — Johns (@CricCrazyJohns) July 5, 2019
"That is a terrible shame!" - Mark Nicholas on Imam stepping on his stumps to be out hit wicket. Pretty sure the bigger shame was Pakistan not hitting a single six this entire innings to even threaten the impossible of a 400 total & give themselves a chance of overturning NRR.

— Peter Della Penna (@PeterDellaPenna) July 5, 2019
Very well played @babarazam258 & @ImamUlHaq12 babar has been unlucky couldn't complete his century.Congratulation imam for your 💯good luck boys #CWC2019 — Kamran Akmal (@KamiAkmal23) July 5, 2019
Massively impressed by Imad Wasim over the last two years, but he's massively underused by Pakistan and suffers from being an all-rounder.

Perception is that he's a #bitsandpieces all-rounder like Jadeja 😅😅😅

Could he be as good as Shakib? Give him a chance, I say. #banvpak

— Radio Cricket (@RadioCricket) July 5, 2019
This will be Bangladesh's most successful World Cup if they can win today. 316 is a challenging ask but Pakistan no longer have a semi-final to play for. And who will keep wicket if Sarfaraz can't? #BanvPak — Rick Eyre on cricket (@rickeyrecricket) July 5, 2019
In reply, Pakistan kept taking wickets at regular intervals to keep Bangladesh in check and despite a 64 from Shakib Al Hasan, the Tigers could not cross the line.
Tamim Iqbal and Mushfiqur Rahim have been disappointing with the bat. Yes, Rahim scored a century but he wasn't the force we know him to be. #RiseOfTheTigers

— Omkar Mankame (@Oam_16) July 5, 2019
First in #CWC19 to reach 600 runs! Fabulous player Shakib Al Hasan. Take a bow @Sah75official 🙏🏻 Huge asset to the @BCBtigers campaign in the tournament. — Venkat Parthasarathy (@Venkrek) July 5, 2019
Shakib Al Hasan... You give him a green jersey, he'll score runs. You clothe him in red and he'll score runs. What a champ! Over 600 runs in this World Cup alone, only the third player ever to do so. This man has taken his batting to a crazy next level. #PAKvBAN #CWC19

— S. Sudarshanan (@Sudarshanan7) July 5, 2019
Shakib. Legend. Take a bow. What a World Cup. — Nitin Sundar (@knittins) July 5, 2019
Shakib's magnificent World Cup is over! Incredible consistency with the bat.

Congrats on an amazing #CWC @Sah75official

— Arjun Ashok (@arj_90) July 5, 2019
In WC: Shakib - 1146 runs @ 45.84 Mushfiqur- 877 runs @ 38.13 Tamim- 718 runs @ 24.75 All 3 of them have featured in all WCs since 2007 but Tamim Iqbal has massively underperformed, despite being #Bangladesh's leading run-scorer across formats. #PAKvBAN#CWC2019 — Prasenjit Dey 📰 (@CricPrasen) July 5, 2019
Shaheen Afridi continued his good form as he picked up a five-wicket haul thereby creating history.
Shaheen Afridi (19y 90d) is now the youngest player to take a five-wicket haul in ODI World Cups. The previous youngest was Collins Obuya (21y 212d).#PAKvBAN

— Umang Pabari (@UPStatsman) July 5, 2019
Sensational from Shaheen Shah Afridi, the way he's mixed pace, varied length and bowled yorkers! — Cricketwallah (@cricketwallah) July 5, 2019
The 19-year old Shaheen Shah Afridi has bowled Bangladesh out of this contest. It is unfortunate that we won't be able to see him in action anymore in this #CWC19 ...#PAKvBAN #BANvPAK

— Sandipan Banerjee (@im_sandipan) July 5, 2019
Not the ideal way to get knocked out of the World Cup but nevertheless Pakistan exceeded our expectations. Thank you Babar, Haris, Imad, Wahab, Shaheen and Amir for the memories. A rollercoaster ride of emotions throughout the #CWC19 Till then.. Pakistan Zindabad! 🇵🇰 pic.twitter.com/QATZkBN0lM — Azlan Khan (@Azlan_Khan7) July 5, 2019
Pakistan have not made it to the knockout stage but they have got some really impressive individual performances. 6/35 from Shaheen closed the game for them after their youngsters batted well👏#PAKvBAN #CWC19 pic.twitter.com/vFGvqqnbjc

— Reema Malhotra (@ReemaMalhotra8) July 5, 2019
19 year old Shaheen having a hug with 37 year old Malik, it's end of an Era in Pakistan cricket. Thank you Malik. pic.twitter.com/a782ESTknV — Johns (@CricCrazyJohns) July 5, 2019