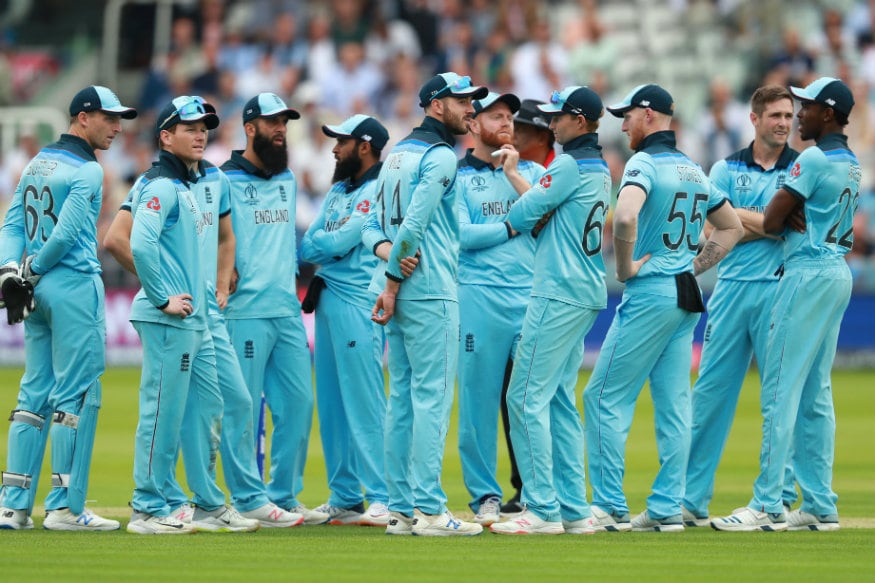 England sealed their semifinal spot with a massive 119–run win over New Zealand as after putting up a par score on the board, the Kiwis never got enough partnerships to threaten the hosts.
Great performance .. Strong mentality over the last few days .. Bring on #India in Birmingham .. #CWC19

— Michael Vaughan (@MichaelVaughan) July 3, 2019
Well played England. 5wkts for Durham and ex Durham players.

— Graemefowler (@GFoxyFowler) July 3, 2019
Fantastic win from England! Great to see us hold our nerve for two crunch games to ensure we are not just in this World Cup, but still right up there as front-runners. India and Aus still formidable in semis. Big challenge now... but it's our best ever chance! #ENGvNZ #CWC19

— Jack Mendel (@Mendelpol) July 3, 2019
So England are good again, apparently.

I'd say it's a huge fillip for them to have batted rather poorly overall and still cleared 300 without a contribution from Stokes or Buttler.#ENGvNZ #cwc19

— Radio Cricket (@RadioCricket) July 3, 2019
So...the hosts are through. The formula of winning the toss and batting first is foolproof. But will it stand the test of the knockout pressure?? We shall find out.... for the time being. Favourites haven't disappointed in the end. #CWC19 #EngvNZ

— Aakash Chopra (@cricketaakash) July 3, 2019
Very disappointed by New Zealand's steep decline at the World Cup. Will scrape through on NRR but don't see them troubling Australia in the semi-final.

— Harsha Bhogle (@bhogleharsha) July 3, 2019
The reality is that you shouldn't rely on other teams to help you qualify for the semi-finals. You should control your own destiny with consistent performances #CWC19

— Saj Sadiq (@Saj_PakPassion) July 3, 2019
Earlier, England opted to bat and were off to a flying start with Jason Roy setting up the platform with a brisk 60.
Two flattest tracks of the tournament just in time. England's ODI is once-in-a-generation gifted but they don't half rely on flat-ass tracks to show off those gifts.

— Osman Samiuddin (@OsmanSamiuddin) July 3, 2019
Pairs with three consecutive 100-plus stands in a World Cup:

Dilshan/Sangakkara, 2015

Roy/Bairstow, 2019*#ENGvNZ

— Umang Pabari (@UPStatsman) July 3, 2019
Because of tampered flat pitches... Prepared after Morgan & Bairstow cried foul publicly! Two flattest tracks of the tournament especially conjured up for England to help them qualify for semis #CWC19 https://t.co/VZdWmiuOaq

— Navneet Mundhra (@navneet_mundhra) July 3, 2019
Flat pitches creates boring cricket 99 times out of a hundred

— Tim-CricketGuy (@Tim32_cricket) July 3, 2019
Jonny Bairstow hit a century New Zealand though came back with a good bowling performance to keep the England total to a par score on a slow deck.
I am not a betting man really. But think New Zealand will absolutely walk this... IF England don't get length right. Short stuff will go. Length will go. Width will go. Need to strike v early #ENGvNZ #NZvENG

— Jack Mendel (@Mendelpol) July 3, 2019
New Zealand's fortunes depend a great deal on how the pitch behaves. Has it slowed down so much that playing strokes is very difficult as seemed in 2nd half of England's innings? We'll know soon enough. But Kiwis have given themselves a chance

— Cricketwallah (@cricketwallah) July 3, 2019
I'm supporting New Zealand, Pakistan and India all at the same time by hoping the Kiwis chase this down. I'd rather have the most dangerous team in the tournament (England) out before the semis! #ENGvNZ #CWC19

— Hemant (@hemantbuch) July 3, 2019
England's score of 305/8 might turn out to be just enough considering the change ups the Kiwi bowled. It could be an indication of what is to come on this surface.

— Roshan Abeysinghe (@RoshanCricket) July 3, 2019
One thing that has been noticeable during this #CWC19 is that just when you think batting teams are getting away....the bowlers fight back, plus the pitch & softer/used balls are having their say in restricting totals. #ENGvNZ

— Lisa Sthalekar (@sthalekar93) July 3, 2019
England churning out batting beauties fr World Cup would be akin having green tops n India.!Half o the charm o English conditions is encountering variable pitches which was totally missing!Commerce is vital but not the only cog n the wheel o fair contest..Bowlers soft targets.!!

— Bishan Bedi (@BishanBedi) July 3, 2019
In the chase, England kept taking wickets at regular intervals to never allow New Zealand back in the game and sealed their spot in the semifinals of the tournament.
Gut says they'll make the semis anyway. But it's going to be interesting to see how the batting copes up if they do. I sure hope they can pull things together. Guptill and Taylor have to step up.

— Rishad D'souza (@RD_Wisden) July 3, 2019
Meanwhile, England are now in the World Cup semi-finals. #1992MeiBhiAisaHuaTha

— Saurabh Malhotra (@MalhotraSaurabh) July 3, 2019
NZ and Eng can't hope to start slow chasing and expect to make up the deficit later. The pitches are slower and the bowlers are a lot better.

— Subash (@cricketcouch) July 3, 2019
One of the easiest things to predict was perhaps how NZ would sneak through :) Barring 2015, when they were strong contenders, NZ usually follow this path in a major tournament #ENGvNZ

— Bharath Ramaraj (@Fancricket12) July 3, 2019
Now New Zealand need to bat sensibly and reduce the margin of defeat and end any mathematical probability of losing out on a semifinal berth, hence perhaps the 'lack of intent' #ENGvNZ #CWC19

— Hemant (@hemantbuch) July 3, 2019
This is the first time that New Zealand have lost three consecutive matches in a World Cup.#ENGvsNZ

— Umang Pabari (@UPStatsman) July 3, 2019
Jonny Bairstow today:

- second consecutive World Cup hundred

- third consecutive ODI hundred against New Zealand

- second consecutive man-of-the-match award against NZ in Durham #CWC19 #ENGvNZ

— Shubh AggarWall (@shubh_chintak) July 3, 2019
So the win for SL against England just delayed the inevitable. The three favorites have made it as expected and fourth team was decided thanks to Rain. NZ lucky and Pakistan unlucky. Hopefully we have a better system in place in 2023. #WC2019

— Gaurav Sundararaman (@gaurav_sundar) July 3, 2019