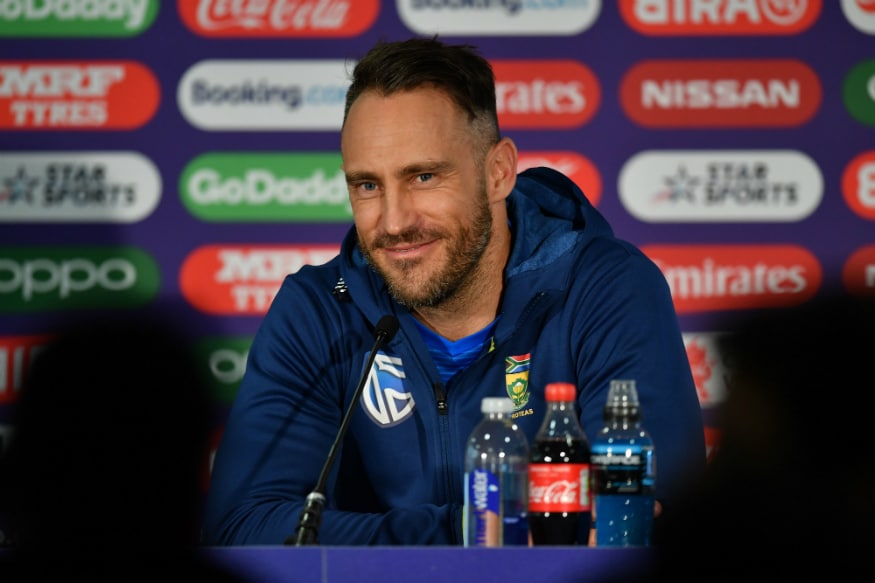 Faf du Plessis was a relieved man after South Africa won their first game of the 2019 World Cup, beating Afghanistan on Saturday (June 16).
The Proteas endured a torrid start to their campaign in England and Wales, losing their first three matches before a no result against the West Indies.
But the outcome never looked in doubt in Cardiff, with man-of-the-match Imran Tahir taking four wickets as South Africa bundled Afghanistan out for a meagre 125 before cantering to victory by nine wickets.
South Africa skipper Du Plessis said his players had upped their game in the match, which was reduced to 48 overs per side after two rain delays.
"Very relieved. Feel a little bit lighter. But I think in all our cricket today was much better and much more competitive. We spoke a lot about energy in the field and stuff and I think you can really, really see a big difference today on the team.
"So really pleased with the bowlers. I thought once again Andi and Chris were very good through the middle there. The two of them are starting to put in some real consistent performances now for us with the ball, and that's very, very pleasing to see.
"Imran, as always, is special, but I think especially on a wicket like that today where it's not suited for spinners, straight boundaries, to get four wickets like that today was an amazing bowling performance."
South Africa's next four games are against New Zealand, Pakistan, Sri Lanka and Australia and du Plessis feels this win will serve as a confidence booster for all the players.
"The first three games we didn't play like we did today. Forget the opposition. It's the stuff that you can control yourself, and there was energy in the bowlers. There was energy in the fielders. Batters were clear in what they needed to do.
"So hopefully, hopefully this is a real confidence booster for everyone on the team. And there's a little bit, as I said, a little bit of weight that you feel that's off your shoulders now, so now the guys -- we know what's lying ahead; we need to win every game that we play. But today was a really good step in the right direction."
Du Plessis was also happy with the fact that Hashim Amla was able to spend some time in the middle. The out-of-form opener remained unbeaten on 41 off 83 deliveries and took South Africa over the line.
"He's an important player for us. I think time in the middle is gold for anybody. Guys like Quinton, they're on a different level when it comes to attacking and free all the time.
"But not all players are like him. Some players really just needs time in the middle and runs behind their name or their back, which really gives them confidence. And that's why I say, in a perfect world, yes, we could have pushed a little harder at the end. But for me, sitting on the side, I was okay with him because I see the value in it in the games that's coming up next."
Talking about Lungi Ngidi's recovery, du Plessis is hopeful that the paceman will be fit for the next game.
"I'm hoping that he would be 100 percent. From what I'm hearing from the physios is that that will happen; they're pretty confident. But we were also pretty confident a week ago. So that took a little bit longer.
"But our plan is to make sure he gets his load up as well, because there's one thing having an injury, but secondly he hasn't bowled a lot of overs. When you come into one-day international cricket, it's not just like playing three overs and the next just going through action. You need to be on. Intensity needs to be at 100 percent, because if you are bowling not 100 percent, then the opposition will take you down. So I'm hoping that he will be at 100 percent."