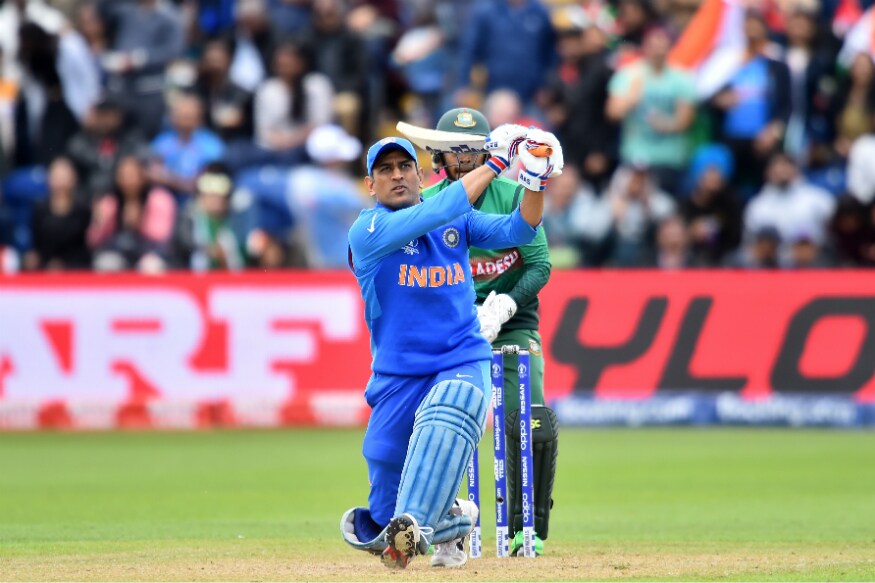 "Do you want me to retire?"
"Do you think I'm unfit?"
"Do you think I can survive till the 2019 World Cup?"
Everyone has seen that interaction between MS Dhoni and an Australian journalist at the World T20 2016. Three years on, Dhoni has walked the talk, beating odds to reach his fourth World Cup. Age, lack of consistent runs over the last couple of years, rise of younger competitors... Dhoni has overcome all.
The odds were stacked against Dhoni not just because of form or the rise of Rishabh Pant. Even if batting form isn't a factor, being a wicketkeeper at 37 years of age is among the toughest of jobs in cricket. The physical demands of being a wicketkeeper-batsman for 15 years is comparable to that of being a fast bowler for so long. Dhoni has kept in more international matches - 529 - than anyone else. The next in the list is Mark Boucher at 466. Add 190 IPL games and plenty more domestic games to the tally. Imagine the number of squats, the toll on the back.
It's a testament to Dhoni's fitness that he has survived this long and is the oldest wicketkeeper in the World Cup. It's a testament to the legendary career that the back-up keeper in the squad, Dinesh Karthik, says he is merely a band-aid should something happen to Dhoni.
But does it feel like an epic career is about to end? In some ways, the scenario is similar to 2011 when another epic career - Sachin Tendulkar's - was heading towards the sunset. 'Do it for Sachin' was the mantra of the Indian team in the 2011 World Cup. Not a single press conference passed without a player hoping to give Tendulkar a farewell with the World Cup trophy.
However, there's no such talk from the current side ahead of the 2019 World Cup. There is an even bigger name - Virat Kohli - who is the centre of attraction. The other major difference is also that Dhoni already has a World Cup in his cabinet - a trophy he grabbed in style on that eventful night at Wankhede.
Like Dhoni is now, Tendulkar was close to 38 during the World Cup 2011. He was a senior figure in the side; his teammates called him 'paaji'. The overwhelming feeling towards Tendulkar was that of 'respect' to an elderly figure.
Dhoni is the senior most in the current squad, but the rapport he shares with his younger teammates is slightly different. On the field, he calls the shots from behind the stumps. Off it, he's as much a friend as he is a senior. While Tendulkar was paaji, Dhoni is Mahi bhaai. His room is known to be open for all throughout. He plays PUBG and FIFA with them. He runs away when called for an interview on 'Chahal TV'. Kuldeep Yadav jokes that Dhoni goes wrong with his tips from behind the stumps, although fans who don't get the joke force him to retract. Chahal jokes about Dhoni's power after he fires in a throw from the deep during training.
Despite the difference in age and experience, Dhoni has found ways to remain one of them. Hardik Pandya sums it up the best, calling Dhoni his 'inspiration, friend, brother and legend'.
(Image: Twitter/@BCCI)
Yet, he is still different and doesn't conform to the norms. He trains in his own manner - he doesn't keep, when even the back up does. Dhoni stands in line to take high catches like others, but commands 'only ground fielding for me' when his turn comes.
Around six months back, there were plenty of questions on whether Dhoni should even be in the World Cup. Since the start of 2019, though, things have changed. At this fag end of his career, Dhoni is the backbone of the dodgy middle order.
The World Cup, in all likelihood, is the last time we'll see Dhoni in Indian colours. Even his response to his IPL future was a vague 'hopefully yes'. There's perhaps only around a month of cricket left in one of the most epic careers in Indian, and world, cricket. Yet, Dhoni is firmly in the back-seat and hardly in the spotlight.
Or who knows. Maybe there's another 'do you think I can survive till the 2020 T20 World Cup' in store. It's hard to predict Dhoni. It's sad that he doesn't do press conferences often anymore.