Nothing about Kedar Jadhav is conventional. From an uncanny bowling action to his quick, frenzied shuffles at the crease, there is nothing copybook about him. Yet, in his own queer way, he has snugly fit into the Indian limited-overs side with his all-round prowess.
Unfortunately, a shoulder injury he sustained while fielding in Chennai Super Kings' match against Kings XI Punjab has put question marks over his availability for the World Cup. The selection panel has opted to adopt a watch-and-wait approach.
It shows how keen India are to take Jadhav to the World Cup. With players like Rishabh Pant and Ambati Rayudu available as back-ups, the easier alternative would obviously be to back one of the two as the extra batter in the side.
But the Indian think-tank realize the importance and worth of Jadhav in the side.
He has added more value than just his batting in recent times. He first bowled for India against New Zealand at Dharamsala in an ODI under MS Dhoni's captaincy in 2016 and immediately proved effective, grabbing a couple of important wickets. He bowled in three out of the remaining four matches of the series and even picked up a three-wicket haul.
Jadhav's importance to the Indian side has grown by leaps and bounds, particularly since the plethora of part-timers India once had at their luxury – the Rainas and Yuvrajs - were no longer part of the team.
The all-round impact
His impact can be seen in how he has climbed up the ladder in the all-rounder category. Since he began bowling, Jadhav is the fourth most successful ODI all-rounder in World cricket (min 200 runs and 10 wickets). He has made over a 1000 runs and taken 27 wickets with batting and bowling averages of 42.83 and 34.7.
A good measure which can be used to estimate the effectiveness of an all-rounder is the difference in batting and bowling averages. Jadhav's average difference is 8.12 which is only exceeded by three other players in World cricket in the time frame under discussion (since he began bowling in Oct 2016).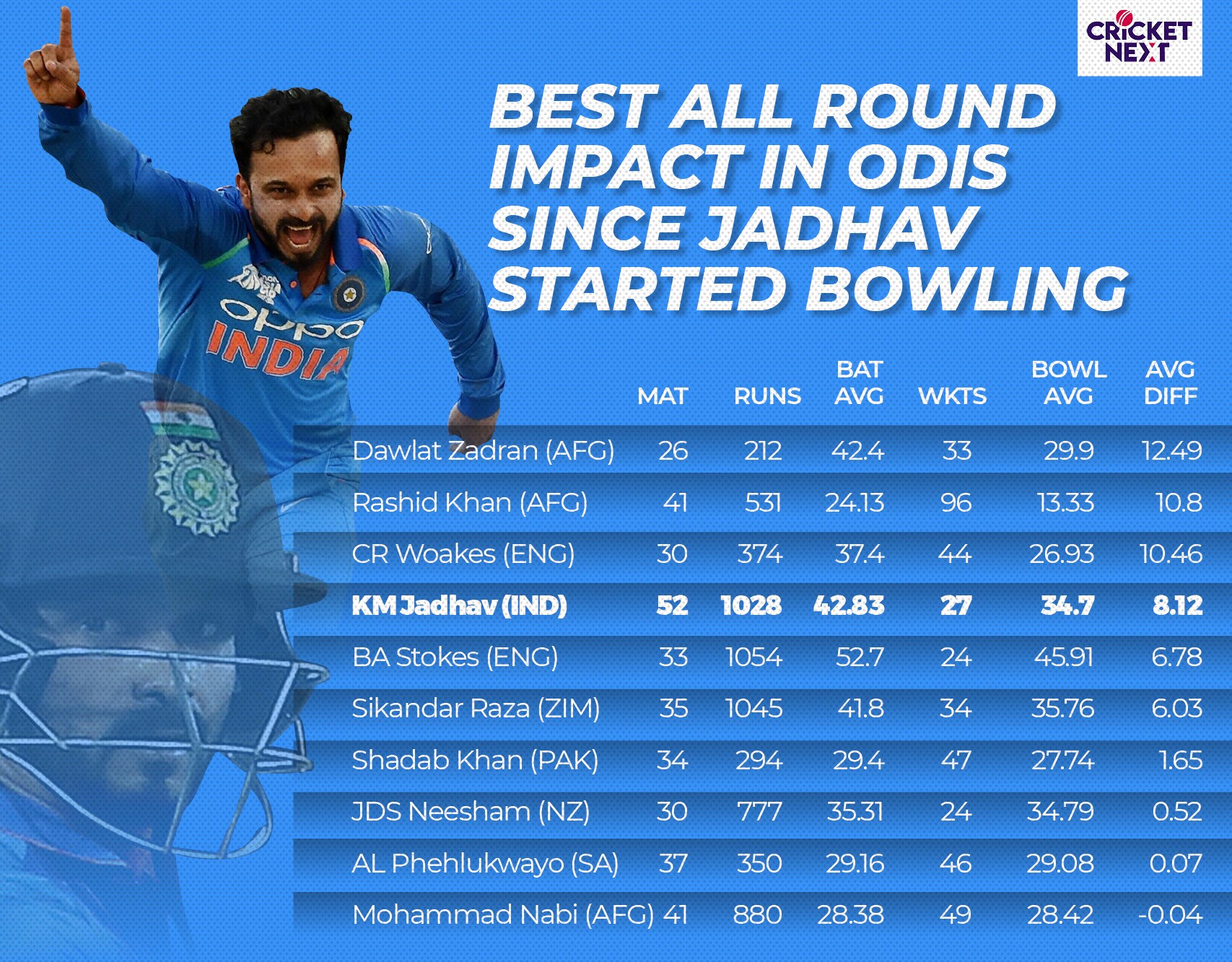 The kind of elite company he shares – the likes of Ben Stokes, Chris Woakes, Rashid Khan and Jimmy Neesham grace this list – shows why Jadhav can no longer be discussed as a bits and pieces all-rounder. It is also to be noted that he is only one of three players in the list – Stokes and Sikandar Raza being the others – to have over a 1000 runs in this period. The primary requirement to elevate from the 'bits and pieces' category to the prestigious 'all-rounder' cadre is to excel in one of two disciplines or be Jacques Kallis. Jadhav's batting numbers put him in the former category and firmly so.
The batting impact
India's middle-order conundrum heading into the World Cup is pretty evident – a shortage of personnel capable of giving the innings a final impetus. While Hardik Pandya's reputation and his exploits in the IPL will give India a major boost, it is too much pressure to put on the all-rounder given that there will be no Kieron Pollard or Krunal Pandya batting alongside him at the World Cup.
With MS Dhoni's strike rate on the wane in ODI cricket, Jadhav's role as a finisher is grossly underestimated in the side. Even after he successfully earned a promotion into the all-rounder category, Jadhav's batting hasn't fallen off.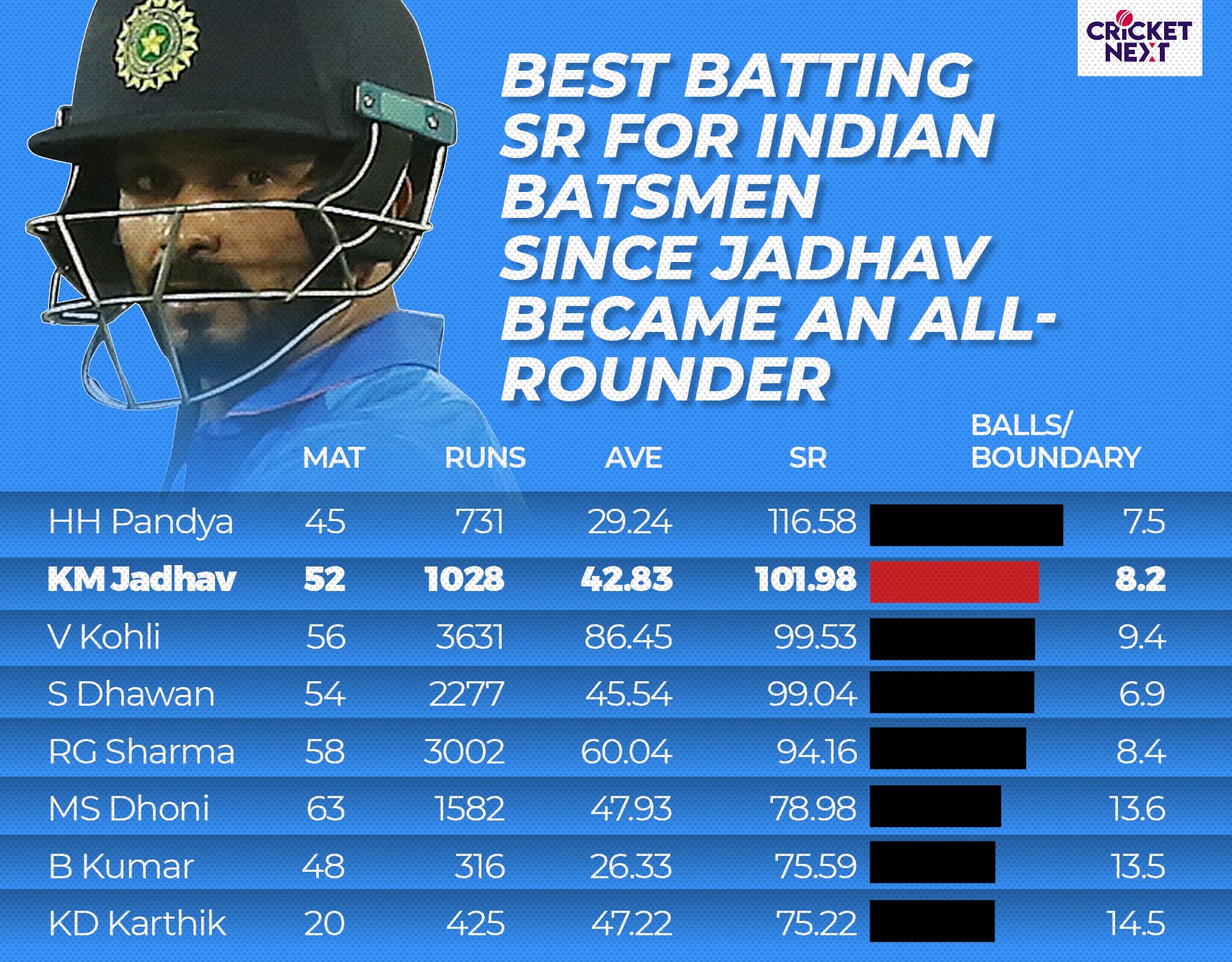 His impact in the lower middle-order is unquestionable for the simple fact that he has averaged 40-plus while striking at a rate of 100 or more. The only other Indian player to strike as quickly in this time frame is Hardik, but his average is below 30. The next best strike rate from the middle-order (4-7 positions) is Dhoni's 78.98. Hardly inspiring.
In fact, even among middle-order batsmen from across the globe, Jadhav fares exceptionally well. For batsmen in 4-7 batting positions (with more than 1000 runs) in the time period under discussion, Jadhav is only behind Jos Buttler in terms of strike rate.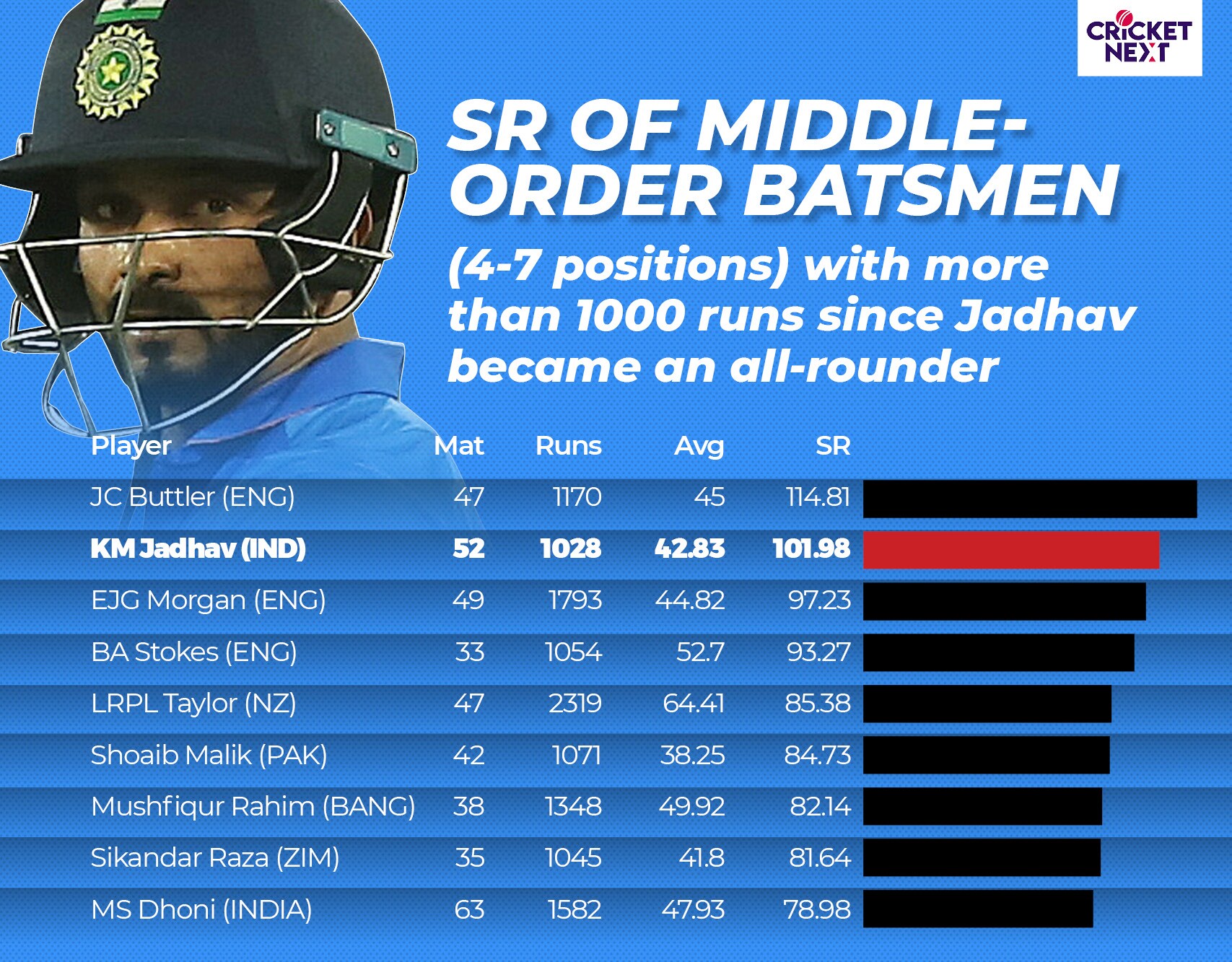 His average and strike rate are comparable to some of the best middle-order batsmen in the business in ODIs. This emphasizes his unmistakable prowess in one discipline. But it is his all-round value that really makes Jadhav indispensable to India.
The bowling impact
While both Ravindra Jadeja and Hardik are seen as bowlers capable of giving ten overs on their day, Jadhav is rarely viewed with such conviction.
However, numbers tell a different tale.
While he has taken lesser wickets than Jadeja and Hardik – a factor that can be attributed to him bowling lesser than the two – Jadhav has a better average and a comparable economy to the two bowlers.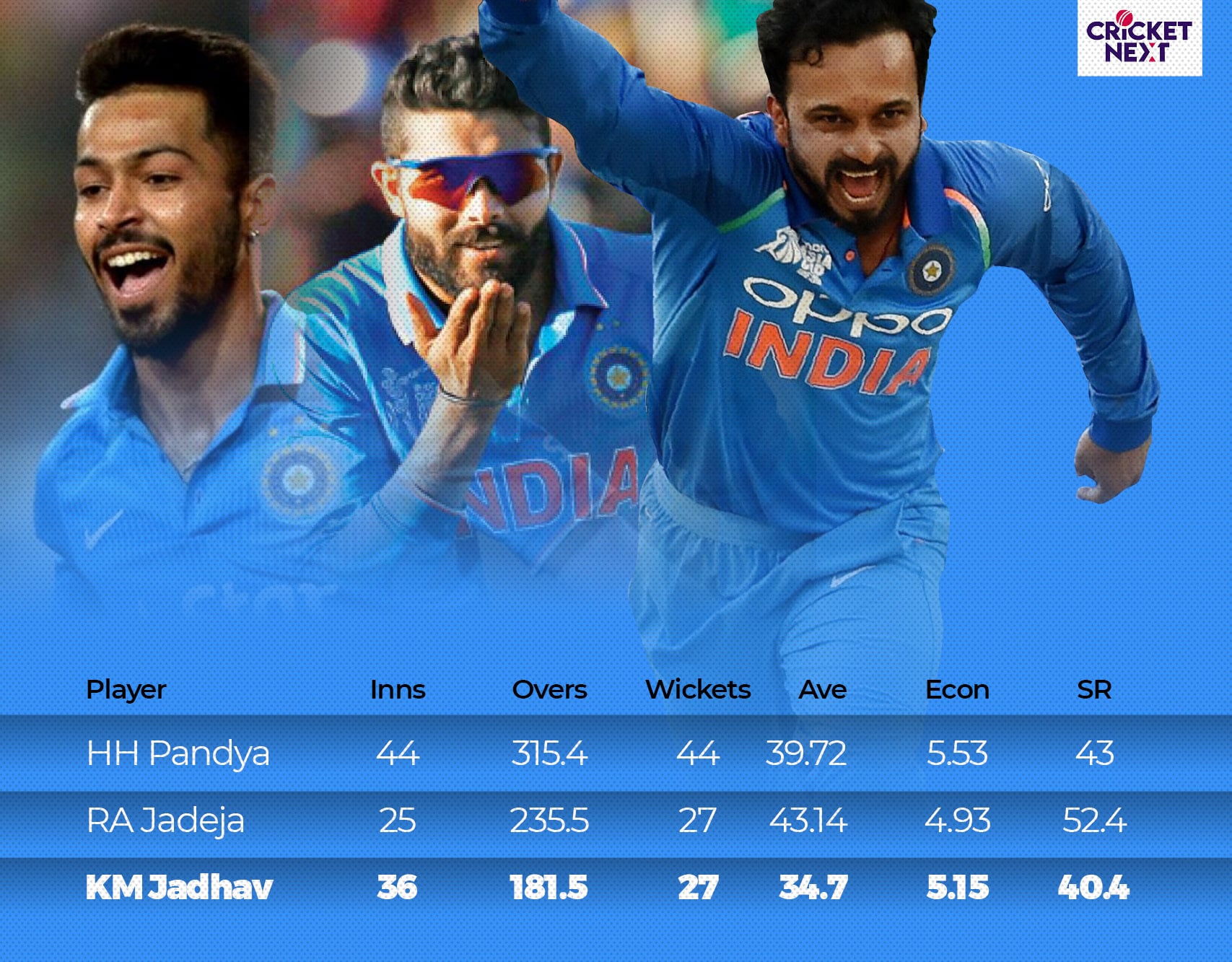 His strike rate is also better than both Jadeja and Hardik. Jadeja has taken exactly as much wickets as Jadhav in ODIs since the latter first started bowling. Although the left-arm spinner has played fewer matches, he has bowled 50 overs more than Jadhav in the format.
What this means is that while he is often viewed as a partnership breaker, Jadhav could be a bigger presence with the ball if India chooses to do so. His seemingly harmless off-spin could also be the key to India being able to fit in the two highly effective wrist spinners in the same side.
The match impact
There is further reason to believe that Jadhav's injury is a bigger body blow than India anticipate it to be. Since transforming himself into a utility all-rounder, Jadhav has been highly critical to the team balance and as such the team's performances.
With Jadhav in the side, India have managed to win 38 of the 52 ODIs they have played, a win rate of 73.08%.
The numbers drop drastically without him in the side in the same time frame. With six losses in 15 matches, India have a win rate of 53.3% without Jadhav. In matches won by India since he began bowling, Jadhav averages 56.16 with the bat and 30.65 with the ball (an average difference in excess of 25). He has taken 23 wickets (as against 3 in losses) and scored his only hundred (in this time frame) in wins.
That India have no reliable bowling option except Vijay Shankar (if he plays) in the top six further lays down the emphasis on the importance of Jadhav recovering quickly.
Is Hardik capable of consistently giving ten overs? Does Dhoni still have it in him to score consistently at greater than run-a-ball? If not, how big a loss is Jadhav if he cannot make it to the Indian World Cup team?
Very big, if numbers are to be trusted.