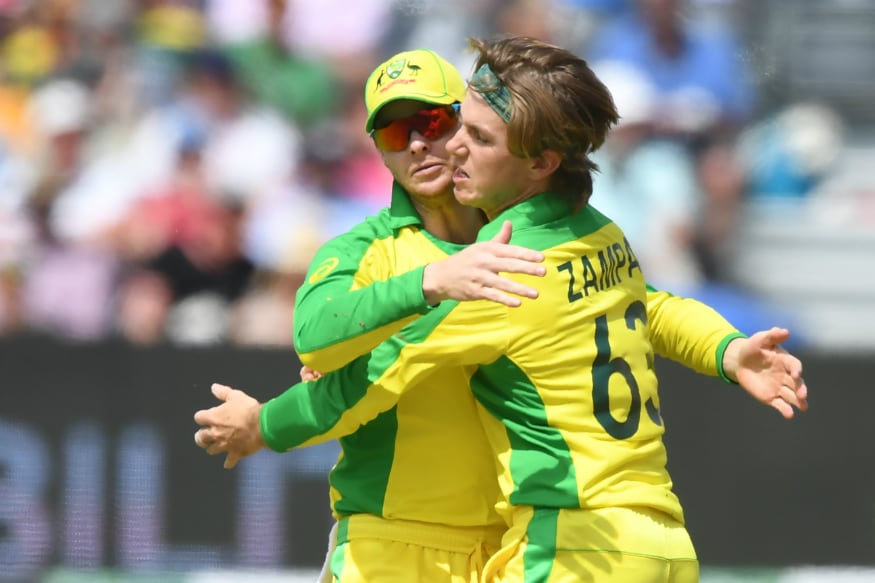 Australia's Adam Zampa entered this battle of leg-spinners as the underdog ironically against Rashid Khan of Afghanistan. While Rashid might be from the newest Test-playing nation, he is without a doubt the premier leggie in the world especially the shorter formats — T20s and ODIs.
Zampa had to carry the spin bowling responsibility for Australia in their opening ICC World Cup 2019 fixture against Afghanistan in Bristol on Saturday, after experienced Nathan Lyon failed to make the playing XI. The young leggie's three-wicket haul ensured that dangerous Afghanistan were restricted to 207 on a good batting surface so that the likes of David Warner (89) and skipper Aaron Finch (66) could chase down the total with more than 15 overs to spare.  
"It is tough sometimes, particularly as a wrist-spinner," Zampa said in the post-match press conference on Saturday. "You know sometimes that is going to happen and the ball didn't come out as well as I would have liked, but that's going to happen.
"I already had two wickets under my belt and I knew I had a huge role to play coming up. We were getting towards bowling to the tail, especially after Marcus Stoinis got those two big wickets. I always forget about that stuff really quickly and try and keep it simple. I probably over-complicated that over a bit and I knew if I had the opportunity again, I would really simplify it," the 27-year-old said.
Zampa was impressive in the ODI series against Pakistan in UAE earlier this year. He picked up his career-best ODI figures of 4/43 in the third ODI of the series which Australia won 5-0.
"I bowled one more over, I got one more wicket, but I just try and let that go quickly otherwise if you let it dwell on you too much as a wrist-spinner, the next three overs of your spell are dangerous. The way the ball has been coming out lately, I'm really happy with. The way I have been preparing for this tour, I'm happy with and it was good to get out there and make a contribution.
"I don't think we played as well as we would have liked through those middle overs bowling-wise, but to get out of it at the other end and take wickets, it's a confidence booster," the New South Wales tweaker said.
The leggie was also full of praise for the way Afghanistan played after slipping to 77/5 in the 20th over and expects Gulbadin Naib's side to cause a few upsets during the tournament.
"I think credit is due to Afghanistan as they came out and played some fearless cricket," he said. "They could have gone into their shell. Everyone has been talking about them so much lately about how much they have improved and, to be fair, they have. They come out and played fearless cricket. 
"So if they keep playing cricket like that, particularly with the bowling attack they have got, they will cause some upsets this World Cup. The wicket today probably didn't suit them as much as it might later down the track. The ball skidded on a bit," Zampa felt.
"I think with the aggressive mindset with the bat, if they can get anywhere around the 250, 260, 270, with their bowling attack later down the track in the World Cup they will cause upsets," he added.
Coulter-Nile sets sight on Gayle next
Australian all-rounder Nathan Coulter-Nile is now focussed on the team's next big challenge — against the power-packed West Indies in Trent Bridge on Thursday. West Indies laid down the gauntlet with a dominant show against Pakistan earlier this week and Coulter-Nile said he would be ready for a possible encounter with Chris Gayle next. 
"Oh Starcy (Mitchell Starc) will knock his (Gayle) off pole out," Coulter-Nile told the media in the ICC mixed zone on Saturday. "It will be easy. You know he's going to hit your good balls for four and hit your bad balls for six. Just keep as bowling as many good balls as you can we'll stick a few up him.
"I think you just need to be aggressive at him. He's still smacking them but he is getting older. I don't know if he's faced too much of Starcy and Paddy (Pat Cummins) recently but they're bowling quick. So we'll see how he handles that early," the all-rounder said.
Coulter-Nile was quick to praise leg-spinner Zampa for his three-wicket haul to keep Afghanistan in check in the middle overs.
"He's got a few big scalps recently," Coulter-Nile said. "You've got to give it to the Windies, otherwise they just get on the front foot. We'll definitely give it to them, we give it to every team. The grounds are so small and the wickets are generally pretty flat.
"We didn't bowl at the death against Afghanistan but they came back pretty hard. We stuck to our lengths pretty well, we tried to get up then a little bit. On that wicket, 200 you will take that any day of the week," he added.
The 31-year-old all-rounder is relishing the chance to back up paceman Mitchell Starc and Pat Cummins on more occasions in this tournament.
"Luckily I got the nod, we're pretty lucky that we've got three pretty good bowlers sitting on the sideline," he added. "I think it's good, it's good to have competition for your spot. Especially with the guys sitting on the bench.
"If they take early wickets my job is just to keep going, bowling second is a real advantage to me, I know I'm either defending or attacking. They set the tone and I just come on and try and follow them."
Afghanistan will upset a few teams: Stoinis
Fellow all-rounder Marcus Stoinis was impressed by his team's clinical display against the Afghans. "It was pretty clinical I guess. They're (Afghanistan) quite a dangerous side. So, I think they'll upset a few teams over the course of the competition. They batted pretty well and put together some partnerships to put us under pressure. Fortunately, Zampa kept taking wickets which got us through the middle and then the quicks did their jobs," Stoinis told the media in the ICC Mixed Zone.
Stoinis managed to pick up a couple of crucial wickets in the middle, including that of Afghanistan top-scorer Najibullah Zadran (51) who put on a dangerous 83-run partnership for the sixth wicket with skipper Gulbadin Naib (31).
"Yeah, pretty pleased but again there's always things to improve on. My last over could've been a bit better, probably could've changed the field and done something different there. So, I'll take a few learnings from there. Again, playing in England, in these conditions, you start to figure out what balls work, what don't and what lengths to bowl. So, good learnings from today," he said. 
On his team's chances of defending the World Cup title, Stoinis said, "We're in a good place as a team, we're looking to have fun, we enjoy each other's company, we're gonna celebrate our success together and every wicket that we take. So, there might be a bit of pressure on the team as reigning champions but a lot of players weren't playing in that World Cup. So, obviously every country wants to do their country proud and that's pretty much where we stand."  ​