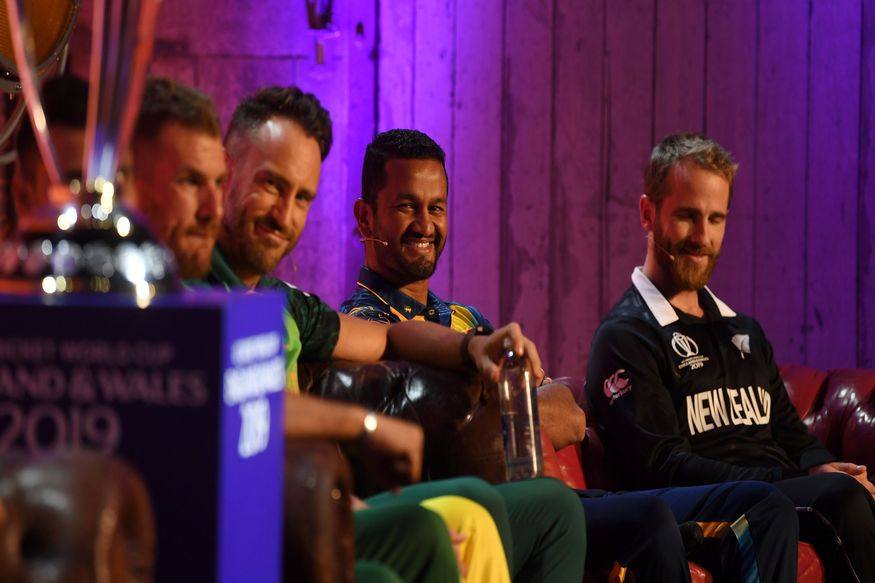 The relationship between South Africa and ICC events is well documented but skipper Faf du Plessis believes his team can turn things around in the 2019 World Cup.
It all started with the 1992 edition where they were robbed of a place in the finals because of the Most Productive Overs Method. In 1999, they once again fell at the semi-final stage in a dramatic collapse against Australia. Something similar happened in the last edition as well where they were undone by Grant Elliott's brilliance.
Despite making it to four semifinals, South Africa have never advanced to the final.
"You can't control history – I am a firm believer in that. All you can try and focus on is what is ahead, if you are good enough on the day then great, but if the opposition is better on the day then that's OK," he said at the pre-tournament captains' press conference on Thursday (May 23).
"The squad that we have here compared to previous tournaments are a lot younger and with those new faces come exciting opportunities. We have some players who are experienced but there is no guarantee that South Africa will come and win. There are ten high-quality teams.
"There were some really good signs in how we played at the previous World Cup. We played our best cricket towards the end of that tournament, our best game was in the quarter-final versus Sri Lanka then we played a good game against New Zealand, who were just better on the day."
South Africa will be involved in the tournament opener where they will take on the favourites England. The tracks are going to be batting friendly and du Plessis feels the side with best bowling attack will win the trophy.
"Using the resources of wicket-takers is important as captain, it is a pivotal role in making your team is successful," he added.
"I think bowlers will win this tournament. Batters will score runs on good wickets, so the team towards the end will be the team that will have done well with the ball. Teams that can take wickets on flat pitches.
"We have had a year or two of planning and putting game plans together. We are excited for the tournament to start – it has been a long process and we are looking forward to it."
No Former England Batsman Would Get Into Our Current Top Seven: Eoin Morgan
Captain Eoin Morgan echoed the thoughts of Stuart Broad that not a single batsman from the previous generation would find a spot in England's current batting lineup.
"I totally agree that no former England batsman would get into our current top seven," he said.
"No-one is head and shoulders above anyone else and there are the ten best teams in the world here but we are confident. We're as best prepared as we can be. We want the first game to be tomorrow and get into the tournament now. We're itching to go.
"It would be extremely cool if we could reach the final. Every captain would lose a left leg to do it. I grew up dreaming of playing Test cricket or scoring the winning runs in a World Cup. I never dreamt of this because it was too wild. Now, we're all desperate to get out there."
The 32-year-old also heaped heavy praise on young sensation Jofra Archer and said the paceman won't be overawed by playing at such a big stage.
"I'm not surprised about Jofra's emergence in the last 12 months. He has performed with us as he has around the world for the last year or more. He is impressive in all three parts of the match. He opens, bowls well in the middle and then can come back at the death.
"There is no doubt this is a huge opportunity for him. He is young, ambitious and confident. He wants to play international cricket for England and it's exciting.
"I think he could have a long future ahead of him. The fact that his first big series is the World Cup is just exciting for him – it's an opportunity. He won't be overcome by it and we expect him to have a big summer."