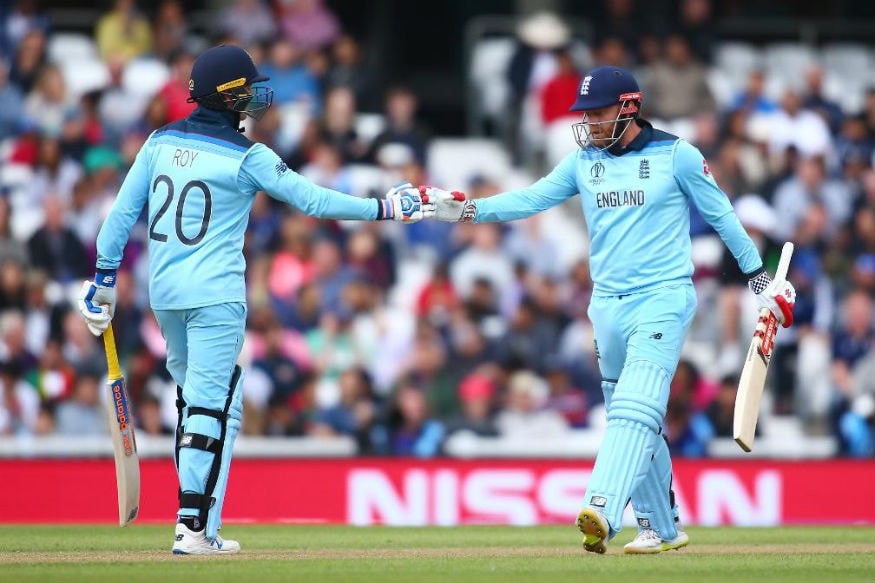 Six innings, 548 runs, four century stands, average partnership of 91.33 and average strike rate of 114.33 – these are mind-boggling numbers achieved by the English opening pair of Jonny Bairstow and Jason Roy in the 2019 World Cup.
A GREAT WORLD CUP 2019
128 in 115 deliveries (run rate of 6.67) against Bangladesh, 160 in 133 (7.21) against India, 123 in 112 (6.58) against New Zealand and 124 in 104 against Australia (7.15) - not only have the pair scored big but also at a breathtaking rate – not surprising then that England have been victorious on all 4 occasions when Bairstow-Roy have put together a 100-plus partnership in the tournament.
What is even more significant is the timing of these performances. Three of these hundred partnerships have come in successive matches (two in must-win group encounters and the third in the semi-final against Australia) after England suffered two consecutive defeats to India and Australia and were on the verge of being eliminated from the tournament.
No pair (opening or for any wicket) has put together four hundred stands in any single World Cup.
While Warner-Finch and Rohit-KL Rahul have added more runs for the opening-wicket (they have batted together in more innings), their partnership average of 66.6 and 79 is much lower than Bairstow-Roy (91.33).
What also stands out is the ferocious manner in which the duo has gone about scoring these runs on pitches that haven't necessarily been flat and tailor-made for high scores. The combined average strike rate of other (excluding England) opening partnerships is 88.83 – much lower than the duo's 114.33. Just for perspective the average strike rate of Warner-Finch is 90.83 and Rohit-Rahul is 94.33.
England's average first powerplay score is as high as 53.8 in a tournament where teams have been forced to respect the conditions and go back to a more solid and old-fashioned start.
Individually, both Bairstow and Roy are amongst the top 10 run-getters in the 2019 World Cup. While Bairstow has scored 496 runs in 10 innings at an average of 49.6 and strike rate of 95.75, including two hundreds and two fifties, Roy has aggregated 426 runs in just 6 innings at 71 at a strike rate of 117.03, including one hundred and 4 fifties.
They have scored a majority of their runs in boundaries (fours and sixes) – while Roy has scored 61.97% of his runs in boundaries, the corresponding percentage for Bairstow is 61.69%.
STAGGERING CAREER NUMBERS
The Bairstow-Roy partnership has aggregated 2223 runs in just 32 innings at an average of 69.46 – it is the highest average for the opening-wicket in ODI history (min. 30 ODIs). They are followed by Greenidge-Haynes (52.55) – which is almost a 17 point difference – even if one adjusts for batting inflation – the difference is staggering! Just for perspective, the famed Indian pair of Rohit-Dhawan is at number 11 (45.89) – that is how good the Bairstow-Roy combination has been at the top.
The pair have recorded 11 hundred partnerships in just 32 innings, ie, on an average a century-stand every 2.9 innings showcasing the staggering consistency by which they have scored big runs for England. No other pair in ODI history (min. 30 innings) come anywhere close. Dhawan-Rohit (hundred every 6.44 innings) and Ganguly-Tendulkar (6.48 innings) follow.
Their partnership run-rate of 7.11 is also the highest for an opening pair in ODI history.
Overall, only two pairs (for any wicket) have a higher average – Amla-AB (72.34) and Kohli-Rohit (65.6) and one a higher strike rate – Buttler-Morgan (7.78) than the English duo of Bairstow-Roy in ODI history (min. 30 innings and 1000 runs).
Bairstow and Roy have been genuine match-winners for England since their debacle in Australia in the 2015 World Cup. 10 of their 11 hundred partnerships have resulted in an England victory and their partnership average in victorious matches rises to 72.18.
Roy has aggregated the second-highest runs for an opener (after Rohit) in ODI cricket since the last World Cup. Bairstow is amongst the five openers who average above 50 in this period. No opening batsman has scored at a quicker rate than him (strike rate of 110.27) and only Munro and Gayle have a better strike rate than Roy (107.54) in this period.
Their contribution at the top is one of the main reasons that England has been the most successful team in ODI cricket (in terms of win-loss ratio) in this period.
Their game plan is simple – total annihilation and carnage and an all-out attack on the bowlers from the beginning to the end.
Live by the sword and die by it! They carry this attitude on the field and have mastered the methodology.
Can they repeat their heroics one more time at Lord's on Sunday? If they do and help England to its maiden World Cup title, they would have led nothing short of one of the most remarkable transformations in the sport.