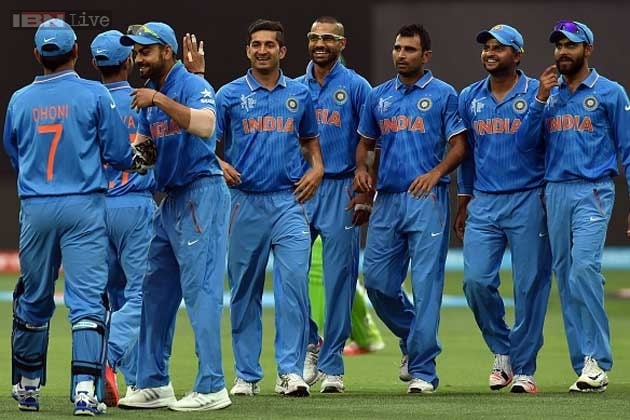 India's first encounter with minnows this World Cup will come at the back of two huge kills made by MS Dhoni's team. First they ensured Pakistan's jinx remained intact and then ended their own against South Africa. Next, it's the UAE. While India may yawn, swap TV channels and not change their weekend plans, it's going to be business as usual for Dhoni & Co.
Systems of international players are so conditioned that there's no drop in intensity, however strong or weak the opposition may be. The only difference is 60 percent of the effort against a big team like South Africa maybe enough to roll over a team like UAE.
But the minnows come to such big tournaments with other ideas. Ideas similar to what Ireland implemented to beat West Indies and were then used to good effect against them by the UAE. Whatever effort the big guns put in, a minnow invariably gives more than 100 percent; and that's where an upset or not is decided.
The economics of modern-day cricket are such that driving on the field is not just enough. For broadcasters and advertisers, TRPs and COM scores are abbreviations as important as BCCI. In fact, both complement each other.
In such cases, advertisements like 'mauka, mauka' weave their magic to keep viewers glued, other than facts such as a Keralite called Krishna Chandran Karate is playing for the UAE after being ignored for his state's Ranji Trophy team.
Such facts and a few interesting possibilities like the below is how you plan viewing a mismatch such as India vs UAE.
Swapnil Patil: A native of Mumbai in India, Patil moved to UAE after failing to be a Ranji Trophy regular and will now brush shoulders with the likes of Dhoni, Virat Kohli and R Ashwin.
Patil, who was once part of the Sachin Tendulkar-led Mumbai in Ranji Trophy, also played for his state side at the under-14, under-19 and under-22 levels. Disappointed, Patil, 29, grabbed an opportunity to move to Dubai when his cricket credentials earned him a job offer with a construction company.
He kept growing as a cricketer making his first class debut at the ICC Inter-Continental Cup in 2010. And now he is standing at the doorstep of playing against his home nation India in a World Cup..
Krishna Chandran Karate: Having played inter-school tournaments against Dinesh Karthik, being in the same school as Robin Uthappa, having Stuart Binny as his mate in college and sharing room with S Sreesanth while in Kerala's under-19 team, Karate could make a World Cup debut for UAE against the Dhonis, Kohlis and Rainas.
That in itself is a story even before the big day arrives for this Keralite who left India to work for a freight forwarding company in Dubai, after failing to move up the ranks in India's cricket circles.
First 400 on the cards? This World Cup, where 300+ has been scored fairly regularly and even once chased down by Ireland to upset the West Indies, has officially declared '300 as the new 250'.
Just 12 matches into the Cup, and we know that a 280 is not safe. Teams have to cross the psychological 300-run mark to feel comfortable, and if chasing, they can still bring that target down. Sounds miserable for the bowlers but that's how it is. A tutorial on that was delivered by Chris Gayle at Canberra on Tuesday, where he smashed 215 off just 147 balls.
And with the Indian batsmen in the kind of form they are in - against an average UAE attack, don't be surprised to see 400 hanging on the WACA scoreboard.
Okay for India to chop and change? Two wins in the bag, two big wins in the bag - Pakistan and South Africa. It's a sort of happy problem for India with one foot in the quarter-finals and a couple of games against minnows available to test their bench. But knowing Team Director Ravi Shastri's 'do not relent' philosophy, it's hard to see the defending champions giving neighbours from the Emirates any easy moments during the game.
Mauka, Mauka: Perhaps the World Cup broadcasters Star have deputed one person to keep thinking of scenarios around which their famous 'mauka, mauka' advertisement can be rolled out before and after every India match. Such has been the rage around this that it has gone viral on social networks with #maukamauka trending globally.
It began with the India vs Pakistan humdinger and is expected to run throughout the Cup with a new storyline rolled out around every India match.
All said, be careful India! The 2007 defeat against Bangladesh hurts every time it's mentioned. So guys, enjoy, but don't give fans back home a heart attack.