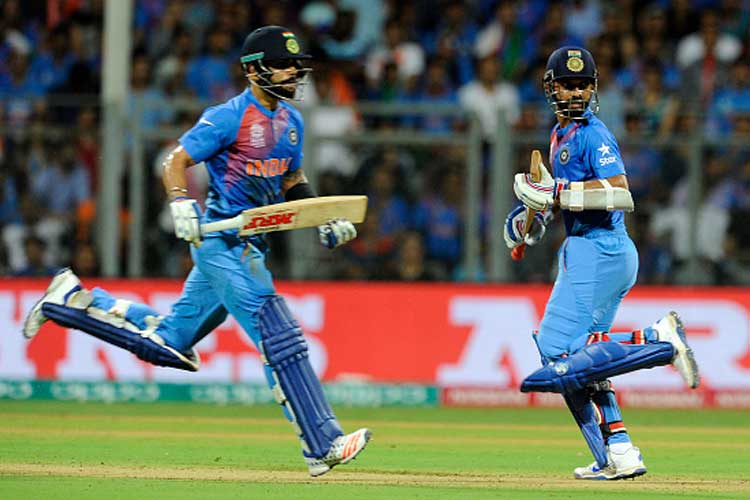 Every time Virat Kohli pressed his partner for a two at the Wankhede Stadium on Thursday, MS Dhoni's words resonated: "Virat likes to bat with individuals who can run hard."
Virat almost authored a tutorial on running between the wickets - first with Ajinkya Rahane and then with his skipper.
In their previous four matches, India had run 25 twos. Until the 14th over of the semi-final against West Indies here, they had run 12. The end count was 19.
For those who like to calculate, it may just read 38 runs; but consider it's importance in the context of the game and how it rattled the opposition. Immense!
If we leave out the fours and sixes, 95 of India's 192 runs came in ones (54), twos (19) and threes (1).
First Kohli and Rahane, in a stand of 66 runs in 8.1 overs, pushed the fielders and then it was the turn of Dhoni to join his 'Superman'. They added 64* in just 4.3 overs, thanks to the many doubles and the three they snatched off Darren Sammy on an overthrow, which put the Windies off.
And to do it in the energy-sapping humidity of Mumbai made it every more commendable.
While the crowd kept wiping their sweat, it was dripping off the Indians batsmen in the middle - so much so that Kohli's tattoo was shining as bright as him - scoring 89* off just 47 balls.
After the game against Pakistan in Kolkata, where Kohli's fifty shouldered India's tricky chase, Dhoni emphasised on the running aspect of Kohli's batting - how it raises his level of confidence to go for the strokes he plays.
"If you see his batting, that's what he really does [take ones and twos]. And where he has an edge over others is he pushes hard," Dhoni had said at the Eden Gardens.
"That's why he loves batting with individuals who can run hard with him, because running hard is the easiest way to score runs. You hit it in the middle, mid-wicket, between long-on and mid-wicket, if you have two good runners, you can convert that one into two or one and a half runs into two. That puts a lot of pressure on the bowler and the fielding side. That's what it's all about," the skipper mentioned.
If that got amplified in the win against Australia in Mohali, it got even more evident at the Wankhede Stadium on Thursday.
The 35,000-odd crowd was almost reading a book on 'How to run and score'.