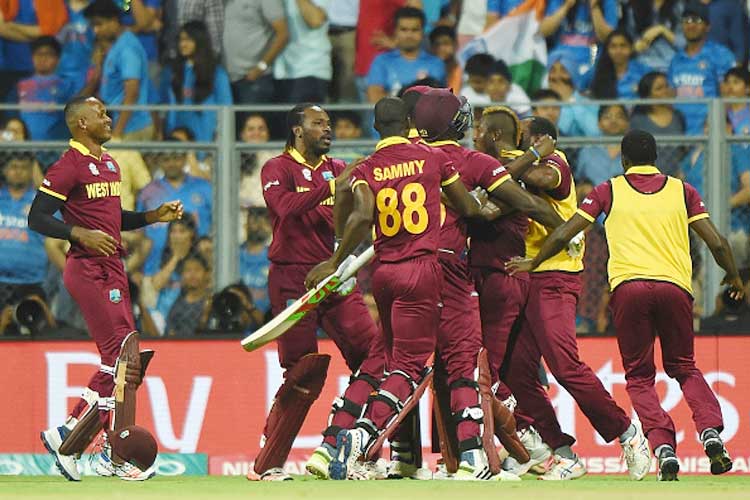 Mumbai: Lendl Simmons came back twice from the boundary ropes and ended up being the hero for the West Indies, after two game-changing no-balls from the Indian bowlers and Andre Russell's ability to hit sixes ended India's run in the ICC World Twenty20 despite scoring 192.
Virat Kohli had done his bit with another sublime 89* off 47, and when Jasprit Bumrah castled Chris Gayle for just 5, spirits in the Indian camp and in the 34,000-strong crowd at the Wankhede Stadium was right at the top.
But in the end, the men from the Caribbean finished it with two balls to spare - the chief architect of that being Johnson Charles (52 off 36), the 80-run unbeaten partnership between Simmons (83*) and Russell (43* in 20) and the 20 fours and 11 sixes hit by the visitors.
Hardik Pandya (0 for 42) and R Ashwin (0 for 20) were the two who should have got Simmons out, but for bowling no-balls that proved decisive in the end. And then when Virat Kohli caught him with his foot touching the boundary ropes, it was sure that Simmons had his name written all over this game.
Ravindra Jadeja (0 for 48) was the costliest of the Indian bowlers at 0 for 48. Only Nehra's 1 for 25 provided Dhoni some respite, other than the surprise wicket from Kohli, who dismissed Charles.
Simmons hit 7 fours and 5 sixes in his knock while Russell muscled 3 fours and 4 sixes.
Dhoni spoke of the problem he faced while choosing his bowlers: it was the dew. That is why, he said, he wasn't sure about bowling Ashwin, who ended up delivering just two overs.
In the early part of the evening, it was another batting show put by Kohli that took everybody's breath away.
But take a look at this: 54 singles, 19 twos and one three. 95 off the 192 runs in a T20 international. If not above, that was at par with massacre by Kohli.
Wonder how many times Navjot Singh Sidhu would have used the world 'gazelle' had he been on air. Such a tutorial it was on 'how to run'.
It was that and Kohli's measured assault which rattled the West Indies; the latter they must have planned for but the former would surely not have been on the drawing board.
The day began with a surprise for experts and fans as Dhoni brought both Manish Pandey and Ajinkya Rahane into the eleven, replacing the ruled-out Yuvraj Singh and out of-form Shikhar Dhawan respectively.
It worked wonders after Sammy inserted India in to bat winning his fifth toss in a row.
The two Mumbaikars - Rahane and Rohit Sharma - put up India's best partnership of the tournament, racking up 62 runs where Rohit was the aggressor.
The slam bang began with six from Rohit against Carlos Brathwaite, followed by back-to-back boundaries in the following over from Suleiman Benn. Rahane got into the act next over, but it was more of an edged boundary off Samuel Badree.
Rohit upped the ante a fair notches with two sixes off Russell and then a four to take 20 runs off the over. India were rollicking at 62 for 0 in 7 overs.
But Badree got his man, Rohit (43 off 31), caught on the crease playing a slider. That followed Kohli's arrival and a dramatic moment.
Getting a free-hit, Kohli tried a heave but couldn't connect and ran for a single, only to see first the wicketkeeper and then bowler Bravo missing the stumps. He was on just 1 then.
Badree bowled out with figures of 1 for 26, and that's when the 'running' tutorial began between Rahane, Kohli and Dhoni.
India's 100 was up in 12.2 overs and the Kohli-Rahane stand reached 50 in just 36 balls. At that stage, the other West Indies spinner, Benn, also finished his quota at 0 for 36.
Russell broke the second-wicket partnership, thanks to a brilliantly judged catch at the mid-wicket boundary by Bravo. But Rahane had done his job by first giving India a solid start and then scoring 40 off 35.
Dhoni announced his arrival by paddling a full toss from Brathwaite over the short fine-leg fielder for a boundary. Kohli followed it with a pulled four behind square to bring up his 50 in 33 balls.
Kohli was in the zone now and took 17 runs off the over to bring up India's 150.
The Kohli-Dhoni partnership was exemplified by the overthrow they stole from Sammy, at the end of which both the Indians were seen almost panting. But they continued to tear apart the West Indians and scored 64 runs in the last 4.3 overs to take India to 192 for 2.
The last two overs went for 31 runs and Kohli had reached 89* off 47 balls, including 11 fours and a six, and Dhoni was on 15* off 9.