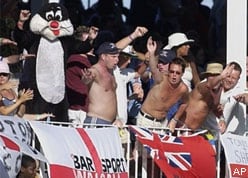 Dubai: Emphasising its 'zero tolerance' stance on racism, the International Cricket Council has agreed to adopt and implement an amended Anti-Racism Code which allows its member countries to impose a range of punishments on guilty spectators.
The amendments are designed to allow ICC Members to impose a range of punishments on spectators found guilty of racial abuse, ranging from ejection from the venue to a life ban, ICC said in a statement issued following its Chief Executive Committee's two-day meeting.
The amendments to the code, first adopted in 2003 and later amended in 2005, follows recommendations in the wake of allegations of racist abuse directed at South Africa players during its tour of Australia early this year.
The statement said that the member countries failing to uphold the Code could also face penalties if racist incidents happen at a venue under their control.
Those penalties range from warnings through to fines and the possible withdrawal of international status from the venue where any incident took place.
"The adoption of the amended ICC Anti-Racism Code is a further illustration of cricket's zero tolerance to racism," ICC Chief Executive Malcolm Speed said after the meeting.
"That is already enshrined in the ICC Code of Conduct where racism is considered one of the most serious acts that can be committed, with the possibility of a life ban for anyone found guilty of such an offence."
"It has also been a part of our regulations for the past three years through our Anti-Racism Code and the further strengthening of this Code is another illustration of our commitment in this area," he said.
The recommendations made by India's Solicitor General Goolam Vahanvati and a working party made up of Speed, Cricket Australia CEO James Sutherland, and Cricket South Africa CEO Gerald Majola were earlier reviewed by the CEC and the ICC's Executive Board in July.
"Cricket is a sport which reflects the world's diversity with a range of races and religions all involved. That diversity is something the game can be proud of and our Anti-Racism Code is something that emphasises the commitment of all our Members to maintaining and enhancing it," Speed said.
The CEC has also agreed to a series of anti-racism policy initiatives including the ICC commissioning an eminent qualified lawyer to draft legislation dealing with racist behavior at cricket matches.
Members would then lobby their respective governments to ensure adoption, establishing powers to deal with the racism menace at sporting events. This will include the adoption of a text message or telephone hotline at venues allowing spectators to report offensive behaviour in confidence.
The holding of diversity days to emphasise the way cricket continues to break down barriers of race, colour, religion and culture.