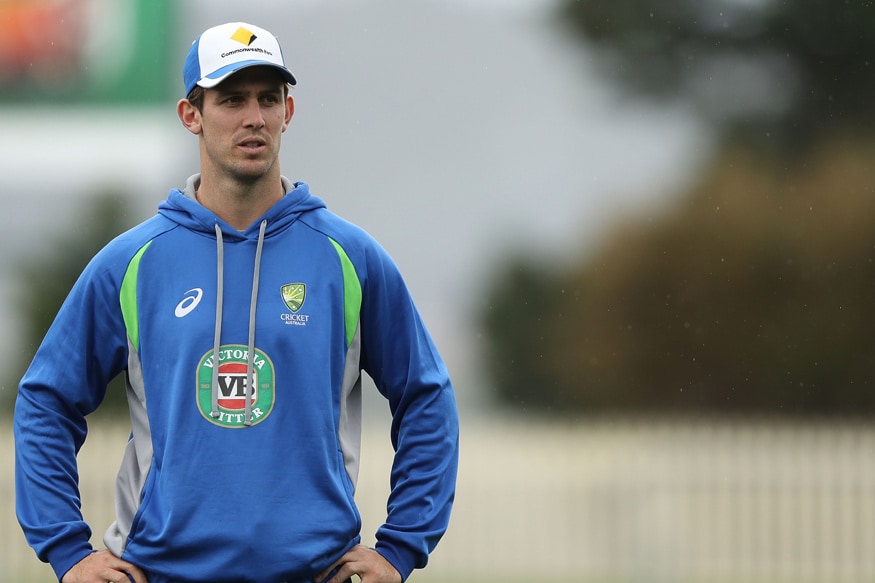 Test all-rounder Mitchell Marsh has made few tweaks in his batting technique so that he can get back to scoring runs and silence all his critics.
"I love the fact that Australians are so passionate about the sport," Marsh said on the latest episode of The Unplayable Podcast. "The world we live in now, with social media, everyone gets to have an opinion and a lot of people see those opinions. It's very easy for that to grow around the country.
"Ultimately, I'll do my best for Australian cricket and not everyone's going to agree that I'm always in the side or whatnot, but I've got a job to do for the boys. I try to do that to the best of my ability, I train hard, get around the boys as much as I can and that's all I can control.
"Hopefully I can perform this year and who knows, maybe I'll change a few opinions around the country."
The 27-year-old is part of Australia's 14-man squad for the first two Tests against India. He is the sole all-rounder in the squad and looks certain to take the field in the opening match in Adelaide from December 6.
Marsh had a horrible time in UAE where he managed only 30 runs at 7.50 in four innings against Pakistan. After returning to Australia, Marsh straightaway got back to work and made few changes in his batting technique. The changes paid immediate dividends as he scored 151 for Western Australia against Queensland in the very first Sheffield Shield match since the UAE sojourn.
"As an international cricketer you're always tweaking your technique, looking back on footage," he said.
"I had a good couple of hits with Scotty Meuleman, my batting coach. He picked up a few things; my eyes weren't really level at the point of release, which for me is really important being so tall. It only takes for me to fall over a little bit and I tend to get hit on the pad.
"I went over to Brisbane and I was able to rectify that and it was really nice to come back and get a big hundred. My spot in the team, there's always a lot of chat and talk about it, so the only way for me to put that to the side is by making lots of runs in Shield cricket and playing well."
Marsh, who has played 30 Tests in his career, believes he is yet to cement his place in the side.
"I don't think I've 100 per cent cemented my spot down but I feel like from where I was 12 months ago I'm a much better cricketer and I showed that last year in the Ashes and the first couple of games in South Africa," Marsh said.
"Then I had an injury and a very poor series in the UAE. I'm only ever one innings away from changing that and hopefully, I'll be able to start well against India if I get picked and go from there.
"I have to believe I'm the best allrounder in the country because if I don't I'm a sitting duck. I'll continue to believe that, I'll continue to train hard and hopefully it all comes off for me."
Marsh had a short stint at No. 4 but hardly did anything. He knows his days at No. 4 are over for now but batting at No. 6 is something he loves to do.
"I enjoyed the opportunity, but I didn't take it," he said. "I would imagine if I play I'll be at No.6. When I first started playing cricket I used to hate batting at No.6 because I was young and wanted to bat at No.4. But the more I've played at No.6 I've learned to really love that role.
"If you bowl a fair few overs as an allrounder you get a bit more of a break and the situation of the game is always changing. You always find yourself in different situations, you can come in when the team's in a bit of trouble or sometimes you come out at 4-300 and get to have a bit of fun.
"I've grown to love that role and I think I'm best suited to No.6 in the Test team."