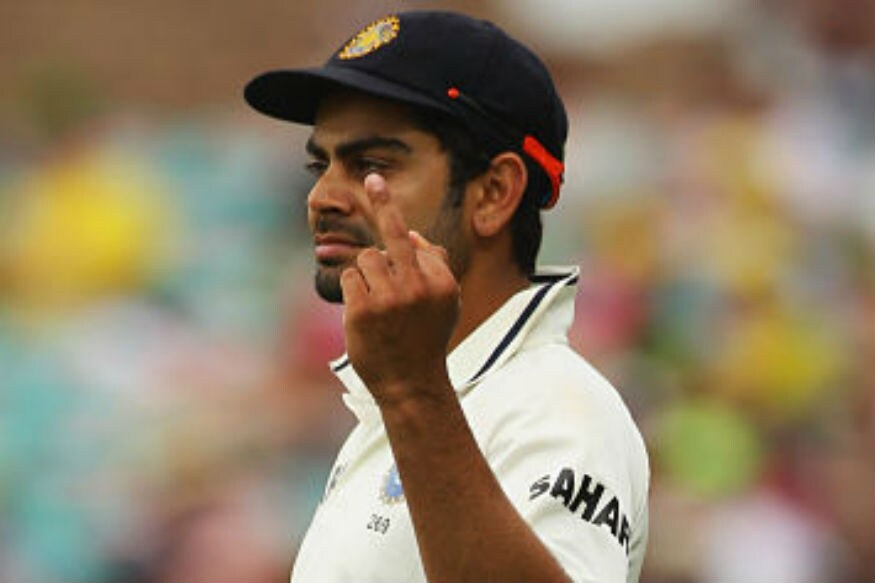 While he still gets himself into the occasional skirmish, Virat Kohli has quite visibly simmered down from his early days in international cricket. There were several controversies involving Kohli when he first started out and in an interview with Wisden Cricket Monthly, Kohli has spoken about out one incident that he would rather forget from 2012, when he was caught on camera showing the middle finger to fans.
"The one thing I remember most is when I'd had enough of the Australian crowd at Sydney [in 2012] and I just decided to flick a [middle] finger at them," he recalled "'I'm so cool'. The match referee [Ranjan Madugalle] called me to his room the next day and I'm like, 'What's wrong?' He said, 'What happened at the boundary yesterday?' I said, 'Nothing, it was a bit of banter'. Then he threw the newspaper in front of me and there was this big image of me flicking on the front page and I said, 'I'm so sorry, please don't ban me!' I got away with that one. He was a nice guy, he understood I was young and these things happen.
"I really laugh at a lot of the things I did when I was younger but I'm proud that I did not change my ways because I was always going to be who I am and not change for the world or for anyone else. I was pretty happy with who I was."
Kohli also credited his coach Rajkumar Sharma for the role he has played in shaping his career, and believes as skipper it is now his duty to guide the youngsters in the team.
"My coach, Rajkumar Sharma, was always looking at things from the outside and he understood me the most after my family, because I had interacted him so much over the years. My family as well. Every time they felt like I was not on the right path they told me.
"But my coach was the one that was very stern with me. If I was doing something wrong he would make sure that he got that across, one way or the other. He was the only person I was scared of when I was growing up. I went into his academy when I was nine and even now I still speak to him about my game.
"I look forward to guiding the young guys in the team to not make the same mistakes that probably I made when I was their age because I want them to have three more years of quality cricket compared to going up and down, struggling here and there and then finally finding their feet.
"If I see someone making the same mistakes that I committed and I cannot correct them, then it's my failure. If I choose to stay quiet I'm not really doing my job. You don't want to suffocate anyone but the mistakes I made early in my career, I would not like to see youngsters make them more than once, because that's just wasting such an important phase of their lives and careers."