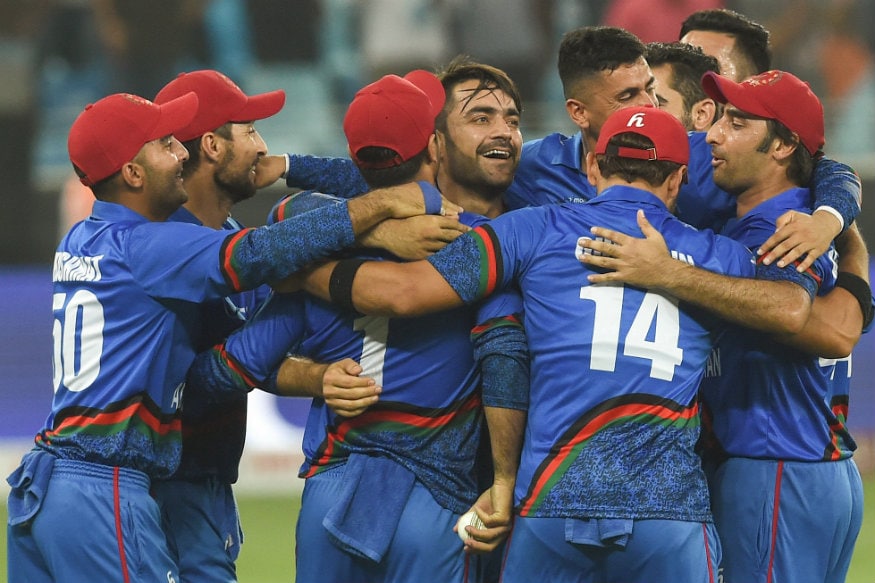 Afghanistan have established their supremacy amongst the minnows in world cricket despite being late starters – they played their first international match in 2009. Having started of playing ODIs that year and T20Is a year later, Afghanistan has shown rapid progress and within nine years since making their debut, were incorporated as the 12th Test playing nation – a massive achievement to say the least!
The progress they have shown over the years in limited-overs cricket suggests that they have the potential to become a competent Test playing nation too.
T20Is
Afghanistan have played 71 T20Is till date and have won 49 of them while losing 22, giving them a win/loss ratio of 2.227. This is the best among teams to have played T20Is since Afghanistan's debut in the format. With their incredible bowling attack, Afghanistan have been a revelation in the shortest format of the game and this is signified by a much better win/loss ratio than the rest of the teams. In fact, they are the only team to have a ratio greater than 2. Of course, these results have to be seen and analysed in context keeping in mind that Afghanistan do not play the best teams in the format that often.
22 of their 71 T20I matches have come again Zimbabwe and Ireland - two sides they frequently play against. They have registered wins in 19 of those matches, with Zimbabwe having never beaten them in seven attempts.
They have played fewer matches against stronger teams and do not have an impressive record on this count – 4 wins in 16 T20Is – with three against Bangladesh and one against the West Indies. However, this is no mean achievement either – especially for a country which is torn by war and political instability. The fact that they have played only 16 of their 71 T20Is against strong teams also shows why the game needs minnows to play better quality opponents to improve.
However, when taking into consideration how Afghanistan have fared in their first 70 matches in the format compared to other sides, the numbers become more telling. Afghanistan top the list in terms of win percentages in T20Is, with 48 wins in their first 70 matches, a win percent of 68.57%. No other side has registered a better win percentage in their first 70 matches. Pakistan, Sri Lanka, India and South Africa are the only teams to clock over 60% but none of them even come close to Afghanistan.
This is a very significant finding as most teams were minnows when they started off in the format.
ODIs
Much akin to their T20I record, Afghanistan have taken like fish to water in ODIs too and are set to play their second ODI World Cup this year having made it through the ICC Qualifiers alongside West Indies. They have played 111 ODIs till date, winning 57 and losing 50 of them, a win/loss ratio of 1.14. Since they made their debut in the format in 2009, Afghanistan have fared better than Pakistan, Bangladesh, Sri Lanka and West Indies in terms of win/loss ratios in this time frame.
But again, bluntly looking at these numbers could be misleading because of the quality of opponents the sides have played. Afghanistan have played 87 of their 111 matches against weaker opponents and have won 50 of those matches which gives them a pretty good win percentage of 57.47% in the format against weaker teams.
Against stronger teams, though, Afghanistan haven't really fared that well. They have registered just seven wins - three each against Bangladesh and West Indies and one against Sri Lanka - in their 24 matches against the Test playing nations (save Ireland). Lack of game time against bigger opponents could also be a factor in this disparity which might be ironed out over time.
However, one factor that does show Afghanistan are on par with some of these top cricketing nations when they were at a similar stage in their ODI career progression history is Afghanistan's win percentage in their first 100 ODIs – at 52% it is only lower than three other teams. Only West Indies, South Africa and England have had a better win percentage in their first 100 ODIs.